The 2000s was the decade of the dance film genre. Many people I know grew up with movies like Step Up and Bring It On.
With great cinematography, decent plots, and eye-popping choreography, these best 2000s dance movies are definitely worth watching when you have nothing else to see on the weekend!
10 Best 2000s Dance Movies That Will Get You On Your Feet
Bring It On
Directed by: Peyton Reed
Starring: Kirsten Dunst, Eliza Dushku, Jesse Bradford, Gabrielle Union
Distributed by: Universal Pictures, Buena Vista International
Running time: 99 minutes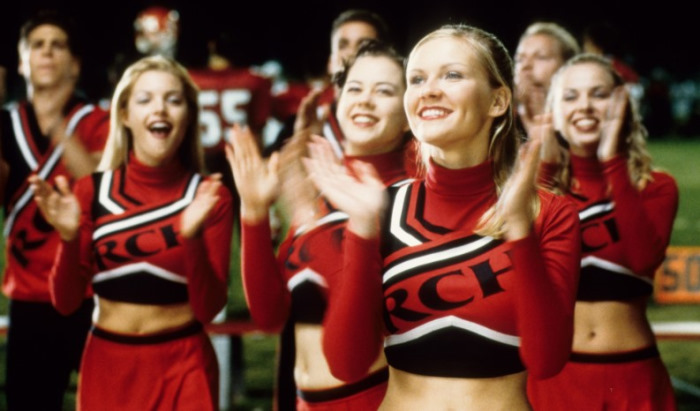 Bring It On is an American comedy dance movie released in 2000.
The plot revolves around an American cheerleading team named the Toro Cheerleading Squad from Rancho Carne High School as they prepare for the national cheerleading championship.
The team members have everything they need to win, from spirit, sass, passion, and a beautiful routine that they're confident would land them at the top spot.
However, the story wasn't so simple.
Things got complicated for the team when the newly-appointed team leader, Torrance Shipman (Kirsten Dunst), discovered that the "beautiful routine" the team had was stolen.
The former team leader of the Toro copied the routine of The Clovers, a hip-hop squad from East Compton.
So, other than having to struggle with the age-old morality question, Torrance also has to work with her team to win the final championship … and juggle a new, budding relationship with Cliff (Jesse Bradford), a new team member.
Besides a compelling plot and great cinematography, Bring It On is also blessed with excellent choreography.
The cheerleading and dance sequences in the movie turned it into a cult classic. Not only are they beautiful, but they're also humorous and charming.
Overall, it's the perfect movie to watch if you're craving some nice moves and actions on the silver screen!
Billy Elliot (2000)
Directed by: Stephen Daldry
Starring: Julie Walters, Gary Lewis, Jamie Bell, Jamie Draven, Adam Cooper
Distributed by: Universal Pictures, United International
Running time: 110 minutes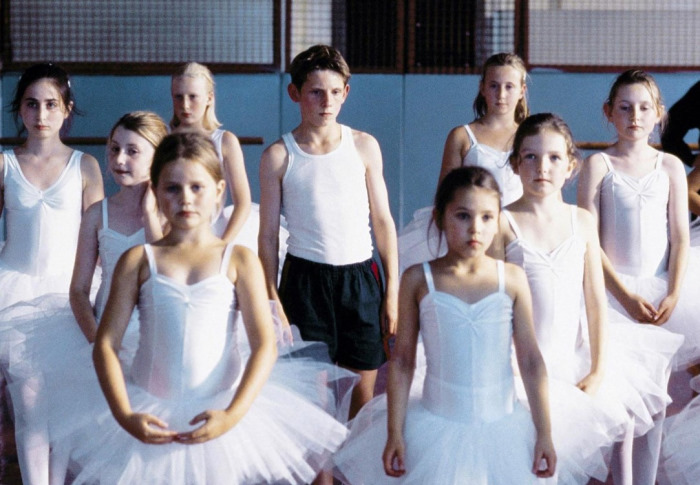 Billy Elliot is a coming-of-age, comedy-drama movie that was a staple of the dance genre in the early 2000s.
The movie's plot centers around the eponymous Billy Elliot, an 11-year-old boy living in the fictional town of Everington in County Durham, England, in 1984.
Though he's a working-class boy whose father is a coal miner, Billy has a deep passion for dancing and aspires to become a male ballet dancer when he's older.
One day, while he's having a boxing lesson, Billy stumbles upon a ballet class. He finds himself auditing before the class' harsh and stringent instructor, Mrs. Wilkinson.
Billy displays a propensity for dancing and a particular talent for ballet that's rarely seen, which pushes Mrs. Wilkinson to take him under her wing.
And as Billy's journey to becoming a professional ballet dancer begins, Mrs. Wilkinson also finds the zest to become a teacher again, as well.
The movie is funny most of the time, but in certain scenes, it can get quite poignant. And when it comes to dancing scenes, Billy Elliot has plenty of them to keep you entertained!
Center Stage (2000)
Directed by: Nicholas Hytner
Starring: Amanda Schull, Zoe Saldana, Susan May Pratt, Peter Gallagher, Donna Murphy, Ethan Stiefel
Distributed by: Columbia Pictures
Running time: 111 minutes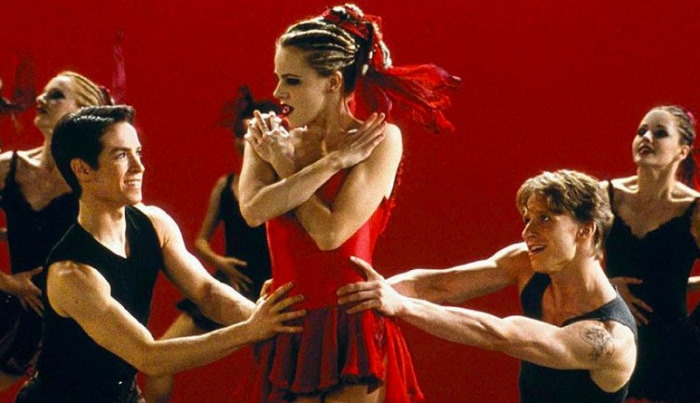 Center Stage is a teen drama movie that follows the footsteps of a group of ballet dancers enrolled in a fictional dance academy called the American Ballet Academy in New York City.
The ballerinas are subjected to a lot of stress and even physical trauma as they struggle and compete with one another for the honor of having a spot in the dance company as pro-level ballet dancers.
Although all of the dancers worked extremely hard by attending classes every day for weeks to become better, they still floundered.
Jody Sawyer (Amanda Schull) has perfect talent, but she's deemed to have the wrong proportions to become a ballerina.
Meanwhile, Eva Rodriguez (Zoe Saldana) is always at odds with her instructors at the school. Maureen (Susan May Pratt) has issues dealing with all of the stress and emotional tolls of being enrolled in such a competitive, toxic environment.
The theme of the movie is definitely dark. It tries to delve deeper into the exacting world of professional dancing.
Center Stage also gives the audience a closer look at the lengths that pro-level dancers have to go to in order to cope with the stress.
Blended right within the message, though, were many excellent ballet dancing scenes and a strong, catchy soundtrack suite. For fans of ballet, I think Center Stage is a definite must-watch.
Save the Last Dance (2001)
Directed by: Thomas Carter
Starring: Julia Stiles, Sean Patrick Thomas, Terry Kinney, Fredo Starr
Distributed by: Paramount Pictures
Running time: 112 minutes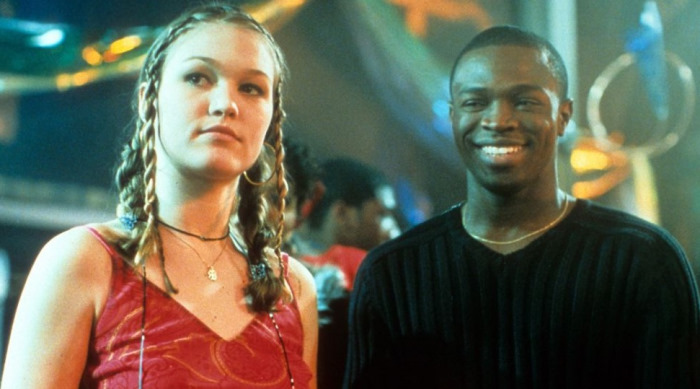 Save the Last Dance is a teen dance film released in 2001 with a very interesting theme.
The movie's story involves Sara (Julia Stiles), who moves from a Midwestern town to southern Chicago to live with her father after her mother dies in a car accident.
After going to a new school, she meets and falls in love with an African-American teenager named Derek Reynolds (Sean Patrick Thomas).
They soon discovered that they had the same passion for dancing. Sara is passionate about ballet, while Derek is about hip-hop.
Together, they discover more about one another (especially Derek's less-than-ideal past) and work together to tackle the problems that plague their interracial relationship.
Though the plot is quite predictable and brings nothing new to the table, Save the Last Dance still has a fairly interesting story.
Plus, with the musical and dance numbers that it has – all of which are choreographed very well – the movie is well worth a watch during the weekends when you have nothing else that's interesting on your watch list.
Honey (2003)
Directed by: Billie Woodruff
Starring: Jessica Alba, Mekhi Phifer, Joy Bryant, Lil' Romeo
Distributed by: Universal Pictures
Running time: 94 minutes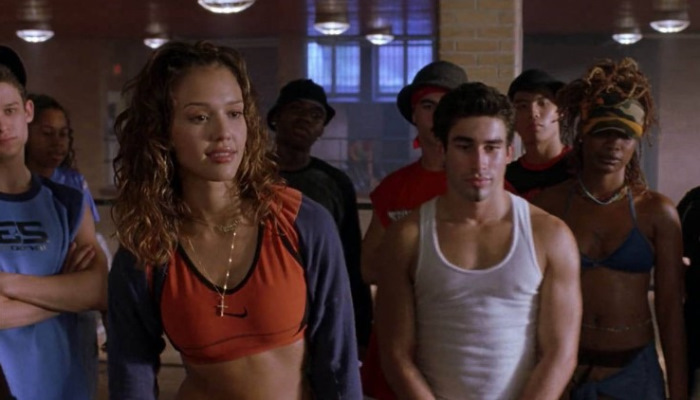 Honey, released in 2003, is a dance film set around the life of Honey Daniels (Jessica Alba), a bartender and a record store clerk.
When she's not hitting the clubs downtown with her friends, Honey also works as a dance instructor for a community center that her mother runs in the middle of New York City.
Though she dreams of becoming a hip-hop choreographer, she's strong-armed by her mother to teach ballet uptown instead.
One day, she meets a famous director who is interested in her. Honey thinks that she's had the opportunity to prove herself and put her name out there until the director demands sexual favors from her.
That's when Honey makes a decision that will change her life forever.
The movie isn't well-received by critics, having a rather atrocious 21% on Rotten Tomatoes.
Nonetheless, I think if you're looking for some nice dance scenes to feast your eyes on and a nice soundtrack suite, Honey has everything your eyes and ears will need to have a good time.
Notably, many real-life hip-hop artists were featured in the movie, like Jadakiss and Missy Elliott.
You Got Served (2004)
Directed by: Chris Stokes
Starring: Marques Houston, Omari Grandberry, Jarell Houston, De'Mario Thorton, Dreux Frederic, Jennifer Freeman, Lil' Kim, Michael "Bear" Taliferro, Alani "La La" Vasquez, Meagan Good, Steve Harvey
Distributed by: Universal Pictures
Running time: 94 minutes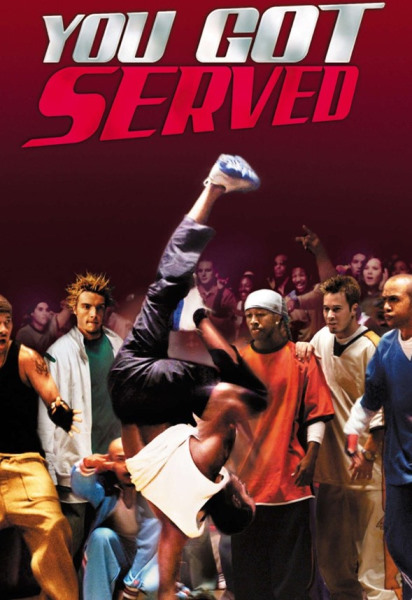 You Got Served is a hip-hop dance movie released in 2004 that follows a group of street dancers participating in a dance competition.
The two leaders of the group, David (Omarion Grandberry) and Elgin (Marques Houston, regularly lead them in breakdance battles in a Los Angeles warehouse owned by a club owner named Mr. Rad (Steve Harvey).
The heat's on when a rich kid named Wade (Christopher Jones) challenges the group to a dance battle for $5,000.
As the two leaders put pressure on the group to train and succeed, cracks begin to show among the members, threatening their chance for $5,000.
This plot isn't new if you've ever watched a dance-theme movie. The predictable plot is one of the many reasons why critics gave the film a fairly low score.
Nonetheless, You Got Served was still a financial success thanks to its many brilliantly executed hip-hop dance scenes.
In addition, you can also see the Crip walk dance – a favorite dance of rapper Snoop Dogg. The movie has some of the best dance scenes I've ever seen!
If you're looking for an energetic and bombastic movie, You Got Served will more than meet the requirements.
Shall We Dance (2004)
Directed by: Peter Chelsom
Starring: Richard Gere, Jennifer Lopez, Susan Sarandon, Stanley Tucci, Lisa Ann Walker, Richard Jenkins, Bobby Cannavale, Omar Miller, Mýa Harrison, Ja Rule, Nick Cannon
Distributed by: Miramax Films
Running time: 106 minutes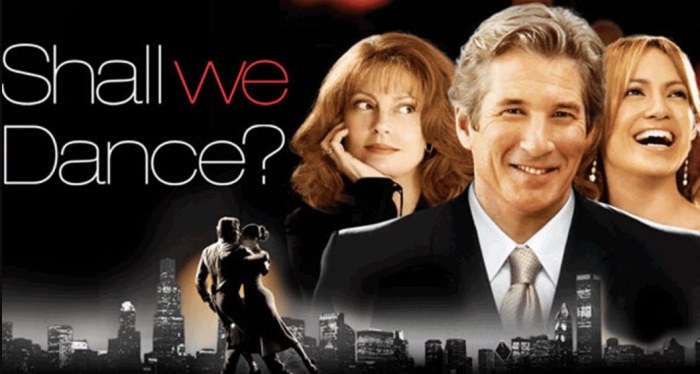 Shall We Dance is a 2004 romantic comedy-drama movie focusing on John Clark, a lawyer with a seemingly perfect life. He has an ideal career and a loving family to return to at the end of the day.
Nonetheless, he finds himself listless and aimless, moving through his day without a purpose.
One day, while returning home from work, he passes by a dance class and sees a stunning woman (Jennifer Lopez) dancing in the studio. So, John impulsively signs up for a ballroom dancing class at the studio, hoping to meet the woman again.
While John is rediscovering his old passion for dancing, his wife, Beverly (Susan Sarandon), grows suspicious at the long periods that John is away from home.
The 2004 American movie is actually a remake of the 1996 Japanese movie of the same name.
And since it's an adaptation, critics didn't take well to it. Saying that although the casting for the movie was excellent, the plot wasn't as compelling as the Japanese original.
Still, like most dance movies on this list, I'm not judging the movie for its cinematographic excellence. Rather, I'm all about the dance. Shall We Dance has a few beautiful dance scenes, like the final waltz.
Step Up (2006)
Directed by: Anne Fletcher
Starring: Channing Tatum, Jenna Dewan, Mario, Drew Sidora, Rachel Griffiths
Distributed by: Buena Vista Pictures Distribution
Running time: 103 minutes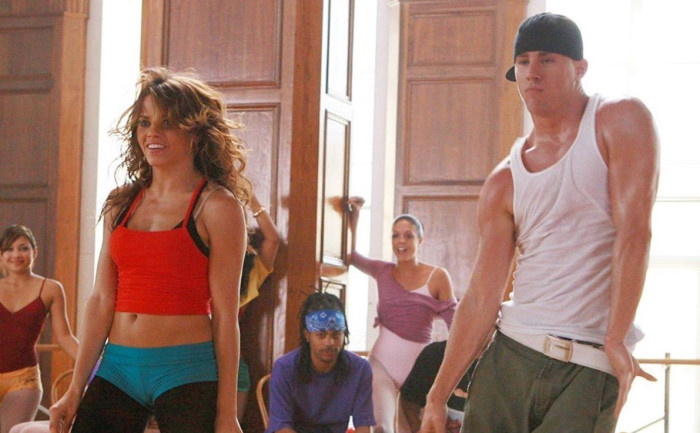 Many young adults these days grew up with Step Up. Released in 2006, the movie's protagonist is Tyler Gage (Channing Tatum). He's a troubled kid who has had several run-ins with the law.
After being caught and put in front of the judge on a vandalism charge, he's sentenced to doing 200 hours of floor-mopping at the local Maryland School of the Arts.
There, he caught the attention of Nora (Jenna Dewan). She's a ballet student trying to incorporate hip-hop elements into her dance routine to come up with a fresh dance style.
After a few back-and-forths and hesitation on Tyler's part, he eventually relented and agreed to tutor and help Nora with her new routines. And, of course, other than their steps, their hearts also fly!
While there are many great dance scenes in the movie, one of the greatest complaints from critics and the audience alike about this dance competition movie in the Step Up series is that there are not enough dance scenes.
Instead, most of the run time is filled with dialogues and "trite" romantic elements.
It's disappointing, sure, but I think the few dance scenes the movie got were done very well. That makes it all worth spending an hour and 40 minutes watching the film from beginning to end!
Step Up 2: The Streets (2008)
Directed by: Jon M. Chu
Starring: Briana Evigan, Robert Hoffman, Will Kemp, Cassie Ventura
Distributed by: Walt Disney Studios Motion Pictures
Running time: 98 minutes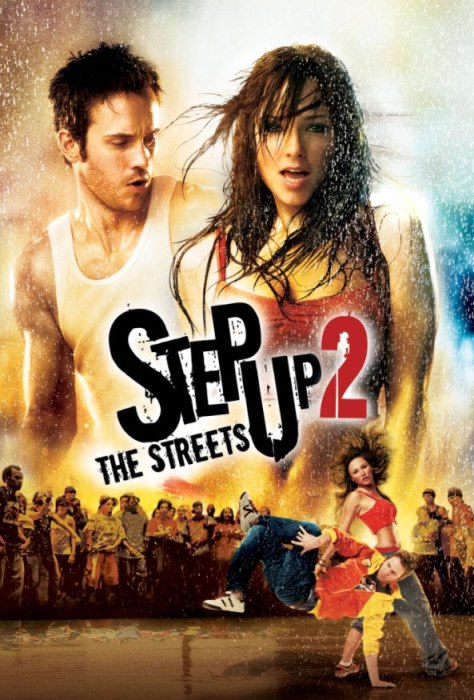 Though it is a sequel to the first Step Up in name, Step Up 2: The Streets, released in 2008, has a totally different cast of characters.
However, the story still revolves around the fictional Maryland School of the Arts which was the "epicenter" of the first movie.
This time, the movie follows Andie (Briana Evigan) as she enrolls in the new school, but, like most kids whenever they're thrown into a new environment, she struggles greatly to adapt.
Nurturing a dream of becoming a street dancer, Andie teams up with Chase (Robert Hoffman), the most attractive dancer at the school to assemble a team of misfits to participate in an underground street dance competition, known simply as "The Streets".
Similar to the first movie, Step Up 2 didn't receive a lot of love from critics. Its generic plot is the main reason for the low critical reception.
But the charisma of the cast as well as the many explosive hip-hop dance scenes in the movie have been admitted to be huge pluses in its favor by critics and audiences alike.
So, if you're searching for an energetic, upbeat movie to watch and don't care much for the plot, then Step Up 2: The Streets will be a great option to put on your Netflix watch list!
Mao's Last Dancer (2009)
Directed by: Bruce Beresford
Starring: Bruce Greenwood, Kyle MacLachlan, Joan Chen, Amanda Schull, Chi Cao
Distributed by: Roadshow Films, Samuel Goldwyn Films
Running time: 117 minutes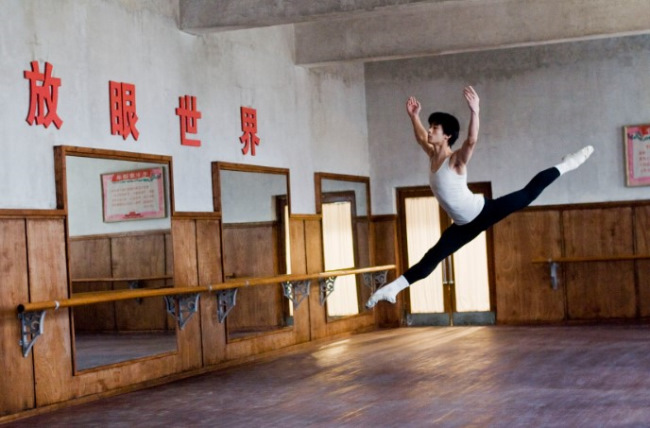 Mao's Last Dancer is a historical-biographical dance film released in 2009.
The movie is set in Mao's Cultural Revolution in China, which lasted 10 years from 1966 to 1976.
The protagonist – Li Cunxin (Chi Cao) – a real ballet dancer, is taken from his family in rural China to come to Beijing and attend the government's dance academy.
The movie follows his path to becoming one of the greatest ballet dancers that the world has ever seen and documents his defection to the US from China to escape the political pressure at home.
The movie's political theme can be sensitive for some viewers, but the compelling story and the well-choreographed ballet scenes create a great cinematic experience for ballet lovers.
The movie, as of 2010, is the 12th highest-grossing Australian movie ever and is definitely one of the best 2000s dance movies about ballet out there.
Check more: 9 Most Popular 90s Dance Movies To Check Out
Closing Words
As you can see, the 2000s is a great decade for dance-theme movies. If you have nothing else to watch for the weekends or are simply craving some beautiful dance scenes, these best 2000s dance movies are worth putting on your to-watch list.
Which movie is your favorite? Why? Tell us in the comment section below!