You can't dance confidently with regular shoes, so what are the best dance sneakers on the market for you?
We've listed here 7 best sneakers for dancing. All of them come from well-known brands, trusted by instructors and dancers, hence you certainly will find something suitable for you.
Top 7 Best Dance Sneakers That Provide Best Support For Your Feet
1. Capezio Canvas – Best overall dance sneaker for men & women
You don't need to stress out about finding the best dance shoes for wide feet since Capezio Canvas Sneakers are made for both men and women.
Most buyers consider this product a classic because it fits without a miss when you get the right size.
As soon as you put these shoes on, you will feel the padding of the collars and tongues in an instant. The next thing that comes to your senses would be the perfect arch support from the footbed.
Don't be shy to do some spinning and experience every advantage offered by built-in flex points and neat toe boxes.
Being a modern style, Capezio Canvas comes with a removable footbed, which allows us to add another insert for extra comfort. These shoes will hug your feet snugly and ensure your confidence while dancing.
If you're looking for something traditional and simple, you would love the neutral black and white shades. However, it might be a slight downside when you need something more radiant and funky.
Starting from street sizes, the brand recommends adding half a size for generous padding and two sizes for men, which is something you should take note of.
Pros:
Non-marking soles.
Removable EVA footbed.
High-quality materials.
Great fit and comfort.
Affordable price.
Cons:
Sizes might be confusing.
Not many options are available for colors.
---
2. Sansha Salsette 1 Jazz Sneaker – The runner-up
Male and female jazz dancers simply can't miss out on Sansha Salsette 1 and its suede sole for effortless and elegant sliding.
Being adored by both performers and instructors is proof of its quality. The arch support is in abundance, you will feel like you're flying with each jump.
Not only are they extremely breathable with the mesh upper, but they also can adjust to our needs with split soles and customizable laces.
Off the dance floor, you will have an easy time washing and keeping them squeaky clean due to the fabrics drying and airing quickly.
These shoes are available in black, red, and purple, which are basic colors that you can make use of on lots of occasions.
It's important to keep in mind that Sansha uses French sizes that are a tad smaller than regular street footwear.
Pros:
Great arch support.
Inexpensive.
Easy to handle and maintain.
Flexible in use with common colors.
Cons:
Might feel a bit stiff at first, wearing socks will help.
Not entirely true-to-size.
---
3. SANSHA Unisex-Adult Sneaker – Featured with Manmade sole
In a sea of dance shoes, Sansha Unisex-Adult sneakers stand out as one of the best products that new dancers can invest in mostly for the very reasonable price and the fine quality it offers.
These shoes share the same traits as many other dance sneakers when it comes to sizing, which means you need to order one size up unless you can visit a store and try them on.
As long as you get the right size, you will experience full support and comfort from the combination of suede and mesh as well as the smart design.
It can compete as the best dance sneakers for turns and spits with a great arch. Nevertheless, this form might be a little uncomfortable if you are new to dancing or this arch design.
Pros:
Affordable.
Breathable material.
A lot of arch support.
Cons:
Only one color is available.
A bit rough at first.
---
4. Capezio Women's DS24 Rockit – Best dance sneakers for Zumba
The perforated arch with great support is something every dancer would love to have. They are amazing and compatible with powerful Zumba steps as well as challenging postures where you have to tiptoe, all thanks to spin spot and boxed toe.
The brand is open about the fact that they use Nubuck to imitate leather and suede for a less costly price. However, it is still very capable as a synthetic material.
The crucial areas like the Achilles notch, collar, and footbed are finely cushioned and padded. If you are not yet satisfied, you can even give the shoes more padding.
Nonetheless, they come in black. Customers are bound to find them slightly dull if they are not too interested in black.
For females, order a size up; for males, two sizes. It allows you to be comfortable with the fit and the socks when the weather turns cold!
Pros:
Ventilation and breathability are great.
Generous support.
Inexpensive.
Cons:
Only one color is available.
Different from street sizes.
---
5. Capezio Women's DS11 Fierce – Best Sneaker for hip-hop dancing
Now, if you are keeping an eye out for something more colorful, Capezio Fierce sneakers will make your head turn. The available colors rank from black, white, and rest to combinations of them – outside and inside.
In terms of appearance, they are possibly the best for hip-hop dancers, yet they still have more to offer.
They have the traditional padding of Capezio for stability and comfort. The removable footbed can absorb impact from intense moves and also help you adjust the fit to your liking.
Friction and irritation are far from your concern with this smart design. At close inspection, we can spot the high arch and the split sole that guarantee comfort and durability.
With sizes running from 3 to 14, everyone is likely to find something they truly want. Like many dance shoes, these sizes are smaller than streetwear.
The width might affect how your feet feel in the shoes as well, hence trying them on in person is the ideal.
Pros:
Simplistic design with various colors.
Arch, collar, and tongue support.
Ventilated and breathable.
Cons:
---
6. Bloch Women's Boost DRT Suede Dance Shoe – Durable, lightweight, good for Salsa
For dancers who are in need of a powerhouse, Bloch Boost DRT might be it! They are one of the best dance sneakers for salsa and any other dance with impactful movements.
The rubber sole is right for a good grip without hindering your steps, while the suede material is both durable and lightweight – what else do we need for a quality performance?
With every move you make, the arch support is evident and sensible. The elevation and the pivot point allow difficult jumps and turns with no unwanted shock on your feet. How tight the laces are is entirely up to you.
They don't have a lot of colors for your option, though their two available choices black and pink are quite easy to style and combine.
Its lining is resistant to wrinkling, odor, mildew, and similar factors, thus you can easily maintain the prime condition for it regardless of the color.
Pros:
Great materials with durability and comfort.
Ensured arch support and grip.
Affordable.
Cons:
Smaller sizes compared to regular shoes.
The arch feels rough for beginners.
---
7. Bloch Dance Women's Troupe Split Sole Dance Sneaker – Best price
The phrase "last but not least" seems to fit Bloch Troupe Split Sole sneakers without fail. They cost about half the price of most dance shoes, but they manage to provide a trendy style with decent materials: mesh and suede.
Wrinkles and scratches are the last things you should be worried about, plus these materials are extremely light!
Not only does this product come with a nonmarking and split outsole, but it features a forefoot and heel segment as well. Your feet can move at your will with little to no restriction. The arch support and the tied laces will help tighten the fit.
If you need a pair of colorful shoes for line dancing and want to stick to your budget, Bloch Troupe Split Sole shoes are a brilliant choice. However, they are not good for walking or running.
Pros:
Breathable and comfortable.
Affordable.
Great material and design.
Cons:
Not true to streetwear sizes.
---
How To Choose The Best Dance Sneakers?
The best dance sneakers are the ones that you can feel comfortable in. That means you need to look for a pair of shoes that will fit your feet and be comfortable to wear all night long.
The best way to do this is by trying them on before you buy them. But if you don't have access to a store that sells dance shoes, there are other things that you can look for as well.
Sneaker Color
Dance sneakers come in a variety of hues. Each with its own set of advantages and disadvantages.
Black is a classic color. It goes with everything else, be sleek and professional.
If you're a guy and you want to wear dance sneakers outside of the studio, black is the safest choice.
However, black might be boring.
They look clean and fresh. It's a perfect color for summertime when your feet get hot quickly.
However, white is not as easy to keep clean as other colors because it shows dirt easily. So, you must be extra careful about them getting dirty first. Also, white shoes tend to get dirty fast.
They're fun, and they look cool. If you're the type who loves to stand out in a crowd, then colorful sneakers are perfect for you.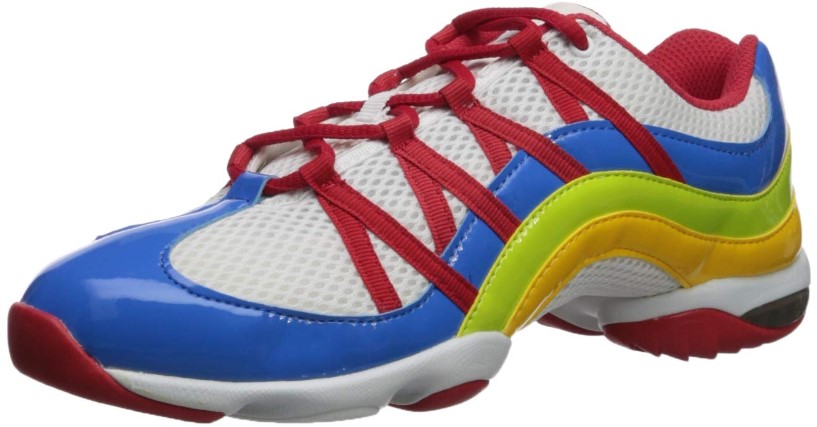 However, they might not be as easy to match with your outfit because of all the colors involved.
When it comes to dance sneakers, there are plenty of colors and designs to choose from. While you may be tempted to go for the boldest, most eye-catching pair, it's essential to consider the context in which you'll be using them.
If you're part of a dance team or taking part in a performance, you may need to match your sneakers to a specific outfit or adhere to a dress code.
In this case, opting for a more neutral or versatile color that can easily be paired with various costumes is best.
On the other hand, if you're dancing for fun or exercise, feel free to express your personality and style through your dance sneakers.
Full Sole vs Split Sole Dance Sneaker
One of the critical decisions when choosing dance sneakers is whether to go for a full sole or a split sole. It's better to learn about the pros and cons of each type before making a purchase.
Full-sole sneakers have a continuous sole that runs the entire shoe length. This provides more support and helps protect your feet from injuries. They're also great for anyone with flat feet, offering more stability.
However, the full soles may not be as flexible and durable as split soles. They may also create a heavy feeling on your feet – especially when participating in fast-paced activities.
Split-sole sneakers, on the other hand, have a separate sole for the ball and heel of the foot.
This design allows for greater flexibility and enables you to articulate your foot movements better.
The split soles, therefore, are ideal for fast-paced activities like aerobics or dance classes, where you need to move quickly from one exercise to another without difficulty.
The Upper
The upper portion of a dance sneaker is another essential factor to consider. Choose materials that are breathable, lightweight, and long-lasting.
Standard options include mesh, leather, and canvas.
Leather is usually breathable and durable, but it can be expensive.
Mesh is another popular option because it allows air to flow through the shoe. So, your feet don't get too hot when dancing for long periods.
Canvas is less common than leather or mesh but is still an excellent choice for dancers looking for comfort and durability at an affordable price.
The decision ultimately boils down to personal taste and the demands of your particular dancing style.
Fit
A proper fit is crucial for dance sneakers, as it directly impacts your comfort and performance. Look for a shoe that fits snugly but not too tight, allowing for some wiggle room for your toes.
Remember that dance sneakers often run smaller than regular athletic shoes. So, it's a good idea to try on a few different sizes and styles to find the perfect fit.
When trying on dance sneakers, wear the same type of socks you plan to wear while dancing. This will help ensure an accurate fit.
Also, test out the shoes by performing some basic dance moves to assess comfort and mobility.
Price
Lastly, consider your budget when choosing dance sneakers.
While investing in a quality pair is essential, you don't necessarily need to break the bank. Plenty of affordable options still offer excellent support, comfort, and performance.
Dance sneakers can range from $40 to $200, depending on the brand and features.
The most expensive shoes will have thicker soles, more padding inside, and better arch support than those that cost less.
However, there is no need to spend much on dance shoes; most pairs under $100 are good enough for beginners or casual dancers.
Keep in mind that more expensive shoes may have additional features or higher-quality materials. But, it's crucial to find a pair that meets your specific needs and budget.
FAQs
Which shoe brand is best for dancing?
They are not among the category of luxurious brands, but they make the best sneakers for dance and earn their reputation in their field. A few names you will come across when searching for dance shoes are:
Always in high demand, Capezio offers a wide range of dance shoes along with every accessory a dancer might need. They have shoes for dancing, tapping dance, ballet, ballroom dance, and more to come.
Also popular among beginners, Sansha provides the best experience with materials like suede and satin. No matter what type of dancing you do, you will find something you like in their catalog.
Focusing on support and quality, Bloch favors leather and canvas for nonpareil comfort. There are quite many designed shoes for ballet dancers in their product lines.
Mirella, Miller & Ben, Dance Naturals, Soul Dancer, and Aris Allen are also honorable mentions that an aspiring dancer can consider for the best performance and protection while practicing.
Check more: 7 Best Tap Shoes For Beginners & Professionals
Do dance sneakers have arch support?
For dancers, sneakers with arch support are the most important, a must-have.
If you can go to the store and try your sneakers on, it will be the most ideal.
The shoes should fit the arches of your feet perfectly and offer enough comfort, so you can dance your heart out without feeling like you are stepping on a rough surface.
Can you wear dance sneakers outside?
We have been talking about how durable and comfy dance sneakers are, yet it doesn't mean they are always good for running or doing sports.
From the materials to the designs, these shoes were made for dancing. That utterly pleasurable feeling you get comes from suede, which is extremely sensitive to environmental factors.
If you get suede soles wet and stained, they will be ruined before they wear out.
Therefore, no matter how tempting and convenient it is to put your dance sneakers on for a walk, you should refrain from doing so. They can handle a long dance practice, but they will be pretty vulnerable outside.
How tight should dance sneakers be?
Experts would say your dance shoes should feel snug around your feet because you can only dance freely if the size is right.
When the footwear is too tight, your movement might feel restricted; but when it is too loose, you won't get that necessary steadiness.
The best starter is a pair of true-to-size shoes. If it feels loose even just a bit, getting half a size smaller will be a safe solution, for it spares the shoes some room to break in later.
Likewise, if they feel too small, go up half a size as well.
What is the difference between dance shoes and regular shoes?
The most noticeable difference would be the soles.
With normal shoes, you would usually expect a firm grip from a rubber sole, but that sort of grip is not favorable for dance shoes. Instead, the grip should be enough for you to glide and slide without slipping.
Furthermore, the design should focus on your footwork and commend your leg lines rather than just looking good and fashionable.
Final Words
For all aspects such as materials, comfort, designs, and cost, we would like to recommend Capezio Canvas as the best dance sneakers. It's quite an all-rounder up for grabs at a very reasonable price. It's made for earnest practice and success, it's made for you.