If you're a fan of ballet dancing and don't have anything to watch this weekend, then there's good news: there are many best ballet movies that will entertain and delight you for as many free hours as you have!
From narrative-driven feature films to documentaries, this review round-up of the top ballet films can act as your guide to the best ballet-theme films. Hopefully, other than entertaining you and your family, it'll give you some inspiration to look into this wonderful classical art, too.
Anyway, let's get right to it!
10 Best Ballet Movies To Watch
All of the movies listed here are available for renting or streaming on all major movie distribution platforms.
10. Center Stage (2000)
Directed by: Nicholas Hytner
Starring: Amanda Schull, Zoe Saldana, Susan May Pratt, Peter Gallagher, Donna Murphy, Ethan Stiefel
Running time: 111 minutes
IMDb: 6.6/10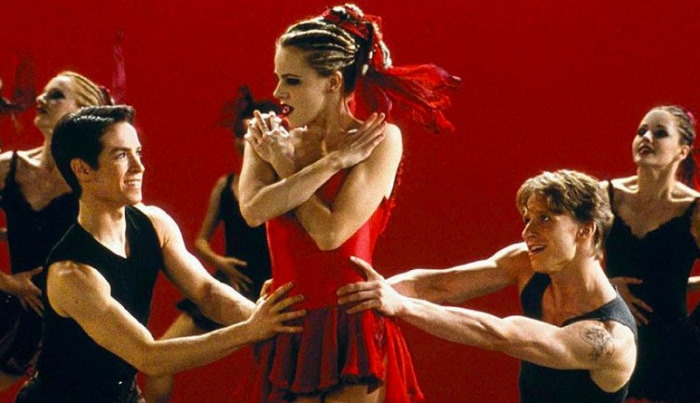 In this teen drama movie directed by Nicholas Hytner and released in 2000, you'll follow the journey of twelve young dance students enrolled in the prestigious American Ballet Academy (based on the real-life School of American Ballet).
All twelve aspired to become pros and worked extremely hard to that end by attending classes every day and attending as many workshops as their packed schedule allowed.
The movie chronicles their struggle to make a name for themselves and compete in big-league competitions to try and come out on top in the rather ruthless world of competitive ballet. Whether they make it or not … it's up to you to discover as you watch the film!
Center Stage is interesting because it delves into the darker, dirtier details of competitive ballet that not many movies of its kind were willing to explore. You'll find dark themes like eating disorders, abusive relationships, and injuries.
So, if you have very young children to consider, Center Stage may not be a very friendly movie to watch. But for teenagers and adults, it's an intriguing look behind the curtains of the ballet stage.
You'll find yourself appreciating what ballet dancers regularly have to go through to get the chance to stay and dance in the spotlight.
9. White Nights (1985)
Directed by: Taylor Hackford
Starring: Mikhail Baryshnikov, Gregory Hines, Geraldine Page, Helen Mirren, Jerzy Skolimowski, Isabella Rossellini
Running time: 136 minutes
IMDb: 6.6/10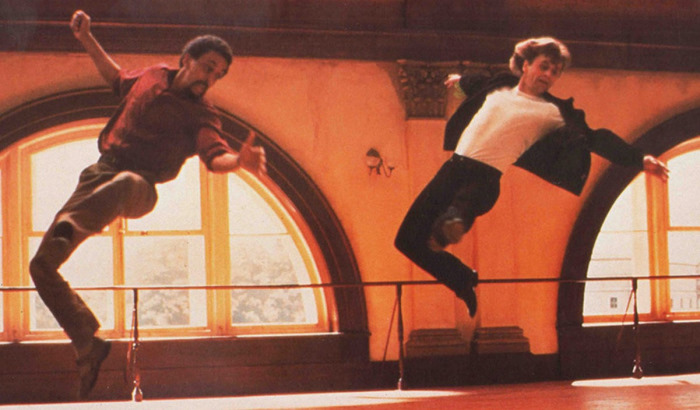 In this Cold War-theme musical drama movie directed by Taylor Hackford and released in 1985, you'll get to follow the thrilling story of Nikolai Rodchenko (Mikhail Baryshnikov). Nikolai is an accomplished Russian ballet dancer who previously defected from the Soviet Union to the West for a better life.
But on his flight from the US to Tokyo to attend a show, his plane is forced to make an emergency landing in Siberia. Recognized by the border guards as a defector, Nikolai is quickly taken into custody. He takes the opportunity to return to Leningrad, where he reunites with his old love Galina Ivanova (Helen Mirren), a prima ballerina.
When he meets Galina, he also gets the opportunity to come into contact with Raymond Greenwood (Gregory Hines), an American dancer who defected to the Soviet Union during the Vietnam War, but is now secretly disillusioned.
Together, Nikolai and Raymond hatch an escape plan with the destination being the American consulate in the USSR and regain their freedom.
The plot is thrilling, but can sound a little bit ludicrous. But the highlight of White Nights isn't the quality of its plot. Rather, focus on the acting and the choreography, both of which are simply top-tier.
The Duo Dance scene in the movie is still a popular dance scene to this day!
8. Girl (2018)
Directed by: Lukas Dhont
Starring: Victor Polster, Arieh Worthalter, Katelijne Damen, Valentijn Dhaenens
Running time: 106 minutes
IMDb: 7.1/10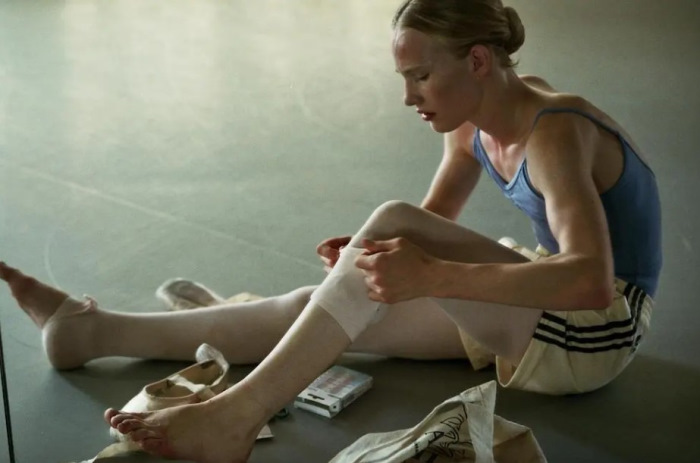 In this 2018 drama dance ballerina movie, the main protagonist is Lara Verhaeghen, a 15-year-old transgender girl who dreams of becoming a professional ballerina. It chronicles her journey as she enters a prestigious ballet school in Antwerp, studying and practicing day and night to realize her dream.
However, a prominent issue weighs her down: she's a girl stuck in a boy's body. Struggling psychologically with gender dysphoria, Lara experiences many hardships as she juggles her schooling, performance, and gender identity all at once.
Girl is highly rated for its unique theme: the struggle of transgender people as they try to discover their identity. Throughout the movie, many heavy subjects are brought to the forefront, from gender dysphoria to genital mutilation, and depression.
It's not a family-friendly movie, but an intriguing, educative, and maybe even sobering watch for adults. Currently, Girl is one of the best ballet movies on Netflix!
7. Mao's Last Dancer (2009)
Directed by: Bruce Beresford
Starring: Bruce Greenwood, Kyle MacLachlan, Joan Chen, Amanda Schull, Chi Cao
Running time: 117 minutes
IMDb: 7.3/10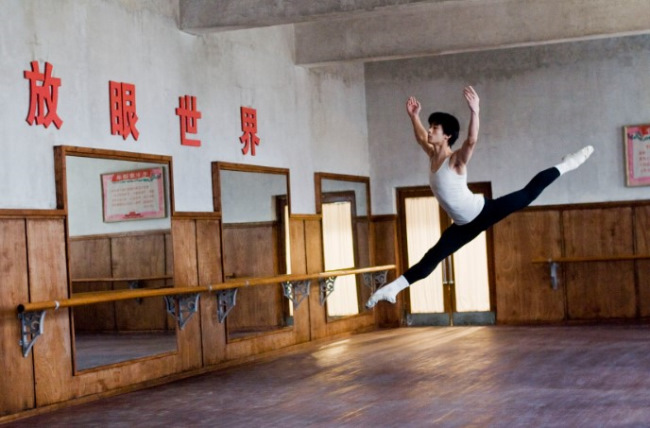 Mao's Last Dancer is a historical-biographical dance film set in the Mao's Cultural Revolution period. The main character, Li Cunxin (Chi Cao) is a real ballet dancer and this movie is a biography of his life.
Li was taken from his family in rural China when he was young and transported to the capital Beijing. There, he attended a government-run dance academy, where he learned and excelled at ballet.
The movie records his meteoric rise in the Chinese restrictive ballet scene and his eventual defection to the US, mostly to escape the heavy-handed censoring in China.
The movie is political by nature, so it's quite sensitive. Nevertheless, the movie should make for a great watch for anyone who enjoys ballet, with many excellent scenes like the Don Quixote scene.
The movie is the 12th highest-grossing Australian movie ever produced!
6. Suspiria (1977)
Directed by: Dario Argento
Starring: Jessica Harper, Stefania Casini, Flavio Bucci, Miguel Bosé, Barbara Magnolfi, Susanna Javicoli, Eva Axén, Alida Valli, Joan Bennett
Running time: 99 minutes
IMDb: 7.3/10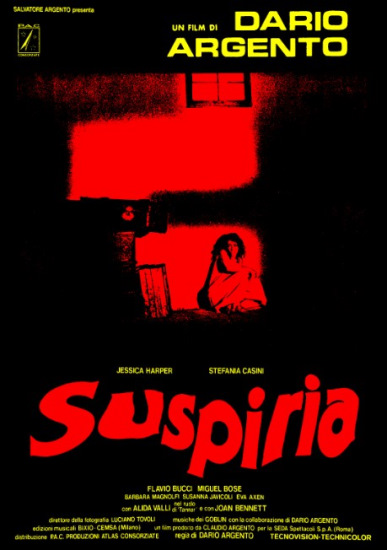 Suspiria is a special movie. It's one of the few supernatural horror titles with a ballet-centric theme. The film follows Suzy Bannion (Jessica Harper) as she travels to Germany to attend the Tanz Akademie, a prestigious co-ed ballet school.
It should have been a normal, fun experience for Suzy at the new school, but even from the get-go, it's obvious that there's something wrong with the academy. When she first arrives, nobody greets her, and she sees Pat (Eva Axén), a fellow student, fleeing from the school.
The next day, Suzy is officially enrolled in the school, but as she spends more and more time in the new place, she experiences more disturbing experiences, from hearing strange noises to feeling ill. People begin to die around her, and Suzy and several other students start to uncover the terrifying secret of the school.
The movie is a cult classic ballet horror movie, which is why it received a remake in 2018. The remake wasn't nearly as impressive as the original movie.
Still, if you appreciate the sharper look of modern cinematography, it's worth checking out (make sure to watch the 1977 original first, of course!)
5. First Position (2011)
Directed by: Bess Kargman
Starring: Michaela DePrince, Aran Bell, Gaya Bommer-Yemini, Miko Fogarty, Jules Fogarty, Joan Sebastian Zamora, Rebecca Houseknecht, Giuseppe Bausilio
Running time: 90 minutes
IMDb: 7.5/10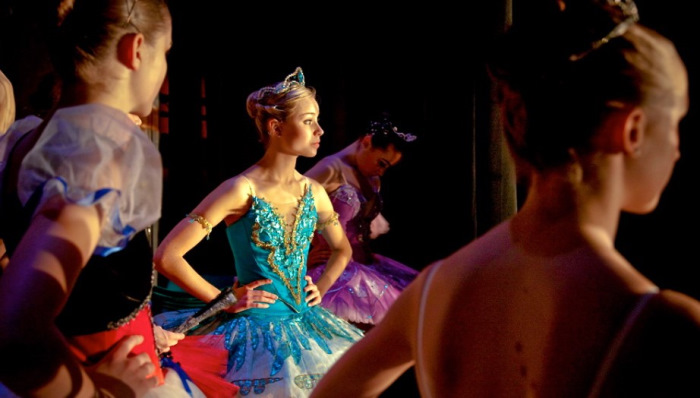 Directed by Bess Kargman, First Position is a documentary that follows the steps of six young dancers as they practice to compete in the Youth America Grand Prix ballet competition. The winner of this competition – hosted for dancers from 9 to 19 years old – will win an extremely sought-after seat in an elite ballet company or school.
Since it's a documentary, the cast is all real people and contestants: Michaela DePrince, Aran Bell, Gaya Bommer-Yemini, Miko Fogarty, Jules Fogarty, Joan Sebastian Zamora, and Rebecca Houseknecht.
The movie received widespread critical acclaim. Critics and audiences noted that the documentary was bright and inspiring. It captures the spirit of its six subjects very well, showing their talent and perseverance as they strive to defy the odds.
This one will do the trick if you're looking for a movie that can inspire your children to practice ballet. Even if you don't have such a plan, First Position is a great movie to watch with the whole family on the weekends, regardless!
4. Billy Elliot (2000) – Best ballet movie for kids
Directed by: Stephen Daldry
Starring: Julie Walters, Gary Lewis, Jamie Bell, Jamie Draven, Adam Cooper
Running time: 110 minutes
IMDb: 7.7/10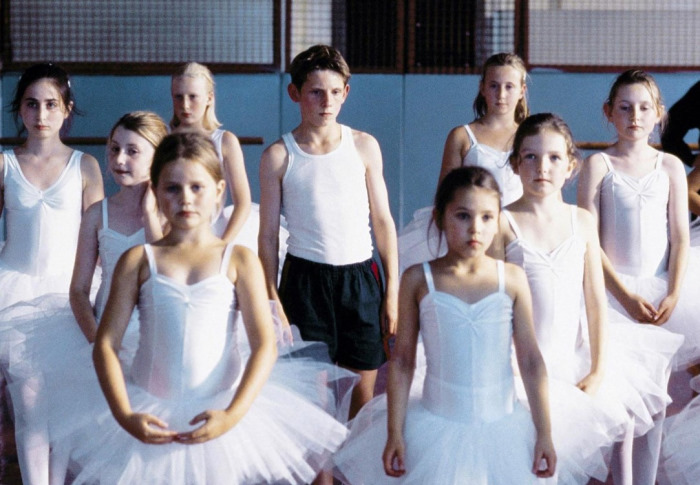 Billy Elliot is a coming-of-age movie that centers around the titular character Billy Elliot.
Billy is an 11-year-old boy living in Everington, a fictional town in County Durham, England, in 1984. Although his father is a coal miner, and he should've had the same aspiration to become a miner as so many kids his age around him, Billy instead harbors a burning passion for dancing.
Rather than dreaming of the mine, Billy dreams of becoming a professional ballet dancer.
One day, while he has a boxing lesson, Billy chances upon a ballet class. On a whim, he auditions for the course and is appraised by Mrs. Wilkinson, a dance teacher. To Mrs. Wilkinson's trained eyes, Billy's exceptional talent is obvious.
So, she decides to take him up as her apprentice. As the movie advances, Billy comes closer and closer to his goal of becoming a pro-level ballet dancer, and Mrs. Wilkinson slowly realizes her passion for teaching once again.
The movie is funny and entertaining, mixed with some poignant moments. When it comes to choreography, Billy Elliot has plenty of dance scenes to keep your eyes glued to the screen, like this unforgettable scene where Billy dances for his father.
3. Ballets Russes (2005)
Directed by: Dayna Goldfine and Dan Geller
Starring: Irina Baronova, Tatiana Riabouchinska, George Zoritch, Alicia Markova, Yvonne Chouteau
Running time: 118 minutes
IMDb: 7.9/10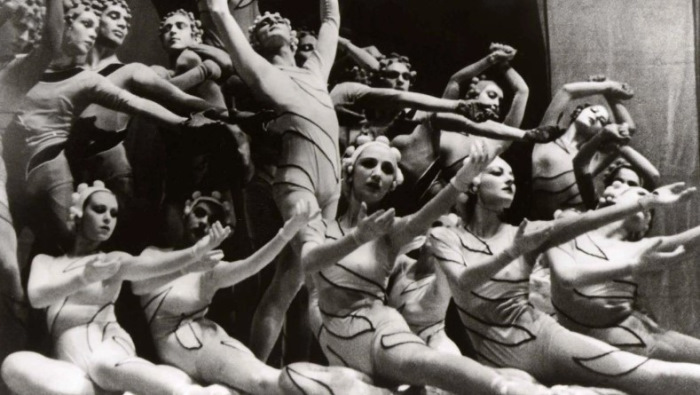 Ballets Russes is a feature-length documentary about the eponymous Ballets Russes, which was a famous ballet company formed in 1932.
Dancers of the Ballets Russes traveled around the globe, setting new records and elevating the name of the company to new heights by collaborating with painters and filmmakers. Although it closed down in 1968, the Ballets Russes is still widely considered as one of the most successful ballet troupes in history.
The documentary centers around a reunion of all surviving members of the troupe in 2000.
If you're looking for an informative movie that can give you more information about the history of ballet, Ballets Russes is one of the best movies about ballet dancers!
2. Black Swan (2010)
Directed by: Darren Aronofsky
Starring: Natalie Portman, Vincent Cassel, Mila Kunis, Barbara Hershey, Winona Ryder
Running time: 108 minutes
IMDb: 8/10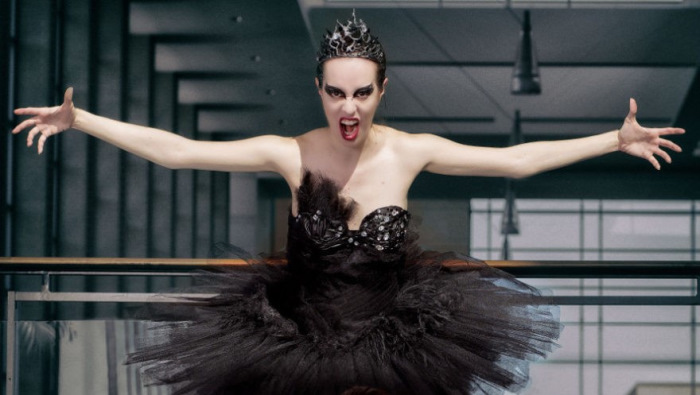 Black Swan is also a horror title, but unlike Suspiria, the horror element of this movie is more psychological than supernatural. This dark ballet dance movie centers around Nina (Natalie Portman), a ballerina whose dancing rules over every part of her life.
When the artistic director of the New York City Ballet decides to change out the prima ballerina for a production of Tchaikovsky's classical Swan Lake ballet, Nina is first in line as a replacement.
Nina is perfect for the innocent and fragile White Swan role; Lily (Mila Kunis) – Nina's rival – fits the dark and sensual Black Swan better. The immense pressure to perform well and compete eventually cracks Nina's psyche, making her mad.
The movie is a critically acclaimed and commercial success. Besides great cinematography and a compelling plot, the film features many beautiful ballet dancing scenes that satisfy your appetite for dramatic dance sequences.
1. The Red Shoes (1948) – Best ballet movie of all time
Directed by: Michael Powell and Emeric Pressburger
Starring: Anton Walbrook, Marius Goring, Moira Shearer, Léonide Massine, Robert Helpmann, Albert Bassermann, Esmond Knight, Ludmilla Tchérina
Running time: 133 minutes
IMDb: 8.1/10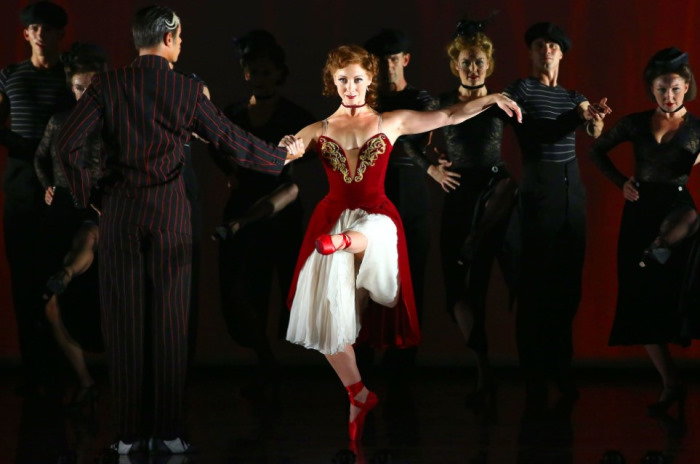 When it comes to the title of the "Best ballet movie of all time", The Red Shoes is one of the top candidates. Though it's released in 1948, The Red Shoes still managed to keep its magic even half a century later.
The main character of The Red Shoes is introduced to Victoria Page (Moira Shearer), a young ballerina whose dance teacher, Boris Lermontov (Anton Walbrook), has an iron-grip on her life and training regime. As a condition to be taught by him, ballerinas under his charge must devote their body and soul to ballet and Lermontov.
Victoria is the best and brightest among Lermontov's students, but she fell in love with Julian Craster (Marius Goring), the composer of The Red Shoes, a ballet that she's supposed to debut in.
Lermontov forced her to abandon Craster and forget her love for him and devote herself entirely to ballet. He threatened her with taking away the chance of becoming a prima ballerina – her lifelong dream – from her.
The tagline of the movie captures this dilemma that Victoria faces very well: "Dance she did, and dance she must – between her two loves."
It's an old movie, but the cinematography is still in great shape. You won't struggle a lot to get used to the look and feel of this vintage movie!
Closing Words
And that's that for the top 10 famous ballet movies to watch! All of these movies have their own charms, but one thing's for certain: every single one of these can satiate your appetite for some beautiful ballet dancing scenes. All of them feature beautiful choreography that's still talked about and enjoyed by casual, amateur, and professional critics alike.
We hope you've found some great movies to put on your to-watch list! Which one is it? Tell us in the comment section below!