Tracing its root in Colombia, this alluring dance style – Cumbia – has been a staple in the nightlife of many South American nations. I
t's not hard to find a dancer doing the famous steps in discos and clubs, you ever got the opportunity to visit!
Here's how to dance cumbia for beginners, if you don't want to miss out on it.
Thankfully, the dance itself is quite simple. You can probably master it in a couple of hours if you put your mind to it (and get a partner, too!)
Cumbia Dance Style: An Overview
History
The term cumbia, according to experts, came from a Bantu word kumbe, meaning "to dance".
Like many other folk dance styles around the world, there aren't any exact historical records about it.
All we know is that cumbia appeared and picked up steam in the 1800s in the beautiful coastal town of San Basilia, Colombia.
Cumbia is described to be a harmonious mixture of Colombian and African cultures. The latter came from enslaved Africans brought to Latin America by the Spanish.
The big boom for cumbia came in the 1940s when Luis Carlos Meyer Castandet – a legendary Colombia singer – brought the dance style to Mexico.
There, it quickly caught the fancy of the masses and soon became extremely popular.
So popular, in fact, that the dance crossed borders into many other South American countries from Peru all the way to Argentina.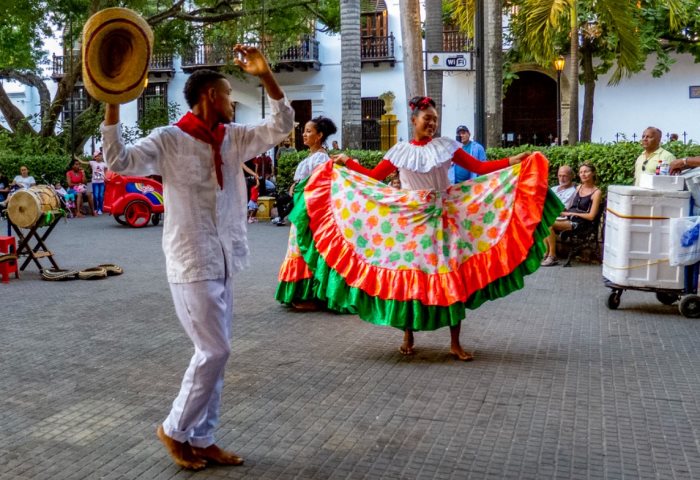 The Music
For cumbia, music is just as important as the dance itself. The lively music can inspire so much energy that many consider it to be the "Mother of all Latin music".
If you want to imagine what it sounds like, it's like a combination of salsa and samba.
The music is played by special musical ensembles, known as conjunto de cumbia (or cumbiamba).
A cumbiamba can entreat you to a feast of sounds from "conventional" instruments like guitars and bass guitars to more traditional instruments like Colombian flutes and maracas.
If you're going to practice cumbia, make sure to get yourself a good recording. The spirit of the dance won't be there if you were to choose some sub-par, non-authentic music!
How To Dance Cumbia Solo?
The basic dance can be packaged into a simple four-count pattern. Once you've mastered it, you're basically ready to take to the floor!
Start from a resting position with your feet together. If you know how to dance salsa, the resting position is the exact same.
Count 1: Step Back The Right Foot
Move your right foot to the side and at a 45° angle. Your right toe should be in line with the back heel of your left foot.
Keep a fair distance between both feet. They shouldn't be touching one another.
Count 2: Step In Place The Left Foot
The second count is very simple. Just step in place with your left foot.
If you have a partner with you, here's a good chance to get your game on and be flirtatious. You can even show your enthusiasm on your face and body language.
Count 3: Step The Right Foot In Place With The Left
Bring your foot back to the resting position (both left and right feet side by side).
Count 4: Wait For A Beat & Shift Your Weight
On the last count, pause for a beat. Then, shifts your weight from the right foot to the left foot.
Shake your hips a little to add some extra flair to your movement.
Switch Sides & Repeat The Steps
Re-do the four-count pattern, but this time, on the left side instead of the right.
Bring your left foot back on count 1.
Step in place with your right foot on count 2.
Retract your left foot on count 3.
Then shift weight to the other side on count 4.
Like any other dance, the first time you do it may feel a bit awkward. But the more you practice, the more natural the steps will feel.
Start From Slow To Quick
Start out slow and gradually speed up as you become comfortable with the pattern. When you no longer have to think about the steps and your feet feel like they have minds of their own, you're ready to hit the club!
However, that doesn't mean there's nothing left to learn. The four-count pattern is the most basic part of dancing cumbia.
If you want to truly wow the crowd, focus on learning more advanced steps and elements of the dance next.
… or learn how to dance with a partner! After all, cumbia was originally a courtship dance. Having a partner is basically half the fun.
How To Dance Cumbia With A Partner?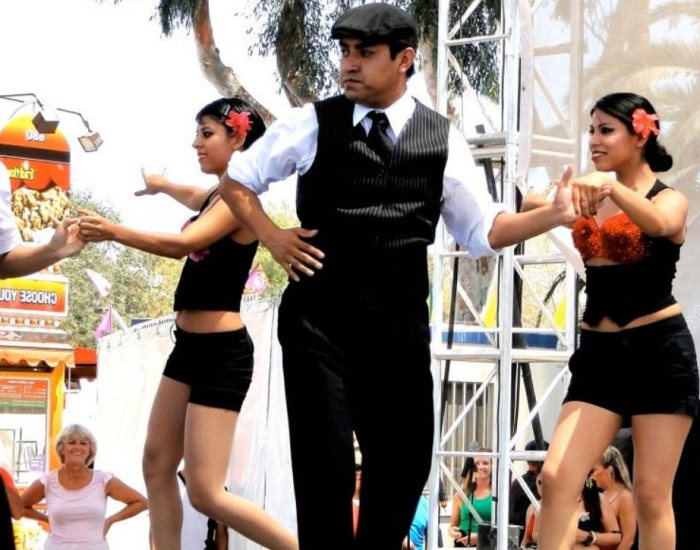 Leader and Follower
When you set out to learn (or dance) cumbia with a partner, establish which of you will lead and which will follow.
Traditionally, the leader is going to be male and the follower will be female. Nevertheless, in the modern age, anyone can be anything.
The reasoning behind this system is to keep both of you in rhythm. Two partners must dance on opposite feet.
The leader will start out on the left foot, while the follower will start out on the right. As you go through the dance, the feet will alternate.
Dancing With A Partner
Not much changes when you dance cumbia with a partner. The basic four-count pattern still applies.
The dance will start out with you and your partner facing one another, about 2 feet apart. Gently link both of your hands together in the middle.
Count 1
The leader will step his right foot back, while the follower steps back on her left foot.
Next, the leader will release his right hand and extend it outward or upward. The follower releases her left hand and does the same flourishing motion. Keep the other hand linked between you two.
When you step back, your shoulders should touch.
Count 2
Step your foot. If you're the leader, step on your left foot (right foot for the follower).
Count 3
Come back to one another and link your hands back up again. Remember to move your hips and sway them side to side as the two of you dance.
Count 4
Pause for a beat, then shift your weight to the other foot.
Switch sides & Repeat
Re-do the pattern again. Keep on switching from side to side until the music stops.
How To Add A Turn?
As we said, the same four counts aren't all there is to know about cumbia.
To spice things up, you can add spins, turns, dips, and other moves to make your performance more exciting, too. The easiest to learn right out of the gate is the turn.
Count 1. Step back
On the first count, step back from one another with the leader on his right foot and the follower on her left foot.
But unlike the standard pattern, don't release one another's hands. Instead, keep them interlinked as you step back.
Count 2. Reset your feet
As you do, assuming you're the leader, let go of your partner's right hand. Your left hand, still holding onto your partner's, will be used to guide the turn.
Count 3. Start a turn
Gently pull your following partner by stepping your left foot forward. The follower will plant her right foot in one place and turn on that foot.
As you go through the motion, lift your left hand and arm.
Count 4. The turn is finished
As the follower turns, the leader will step forward and to the side on his left foot, bringing him back to the resting position with both feet together.
At the end of the motion, the follower will come back to the resting position, too.
Repeat!
Dance Cumbia In A Circle
Cumbia is often danced in a circular pattern, revolving around the group of musicians playing the music. There's nothing difficult about it, really.
As you go through the basic pattern, you will naturally move yourself (and your partner) to the side. Guide yourself in a circle.
If you're dancing with other groups, the whole party will typically dance in a circle. Just follow everyone else!
Advanced Cumbia Moves
Advanced cumbia moves include turns, dips, and spins.
Once you first start out, it's highly recommended that you focus on getting the basic pattern down. Once you do, get a feel for the music.
Keep practicing until the pattern is ingrained in you. Afterward, you can have a bit more fun by experimenting with different moves.
FAQs
1. What Type Of Dance Is Cumbia?
Cumbia is a traditional folk dance. As we've introduced at the very beginning of the article, the dance style and the music have the spirits of different cultures: African and Spanish.
At first, the dance was more of a folkloric, courtship dance. These days, cumbia has evolved into a social dance that can be done with friends, family, as well as lovers alike.
2. How Is Cumbia Different From Salsa?
Cumbia is a bit slower than salsa. Compared to the frenetic rhythm of salsa, cumbia is more gentle and easier to follow.
The relaxed rhythm and the easy, circular pattern are great for social dancing … but not great for competitions.
Salsa is a lot more preferred in dance competitions due to its showy and technical nature.
3. How Is Cumbia Different From Bachata?
Unlike cumbia and salsa, which shares many characteristics with one another, cumbia and bachata are two totally different styles.
Cumbia originates from Colombia, while bachata traces its roots back to the Dominican Republic.
Bachata is danced in a four-step timing, while cumbia dances in either 2/2 or 4/4 dance signatures.
Last but not least, the style, music, and moves are totally different between cumbia and bachata, too.
Check more: Types Of Ballroom Dance With Definition & Pictures
Bottom Line
It's not all that difficult to learn how to dance cumbia for beginners, especially if you've had previous dance experience.
But even if you haven't danced before (or think you're not very good at it), cumbia is still super easy to learn.
It won't take more than a couple of hours to master the basic cumbia steps and move on to more advanced techniques.