Flicks with music and dancing are genuinely fun to watch!
With the mix of old and new movies flooding the film sites, we can easily find what we are interested in on Netflix, HBO Max, Disney+, and more, even if they were released a long time.
But should you need a few names to start searching, here are the best 80s dance movies for you.
Top 7 Best 80s Dance Movies For Nostalgia
1. Fame (1980)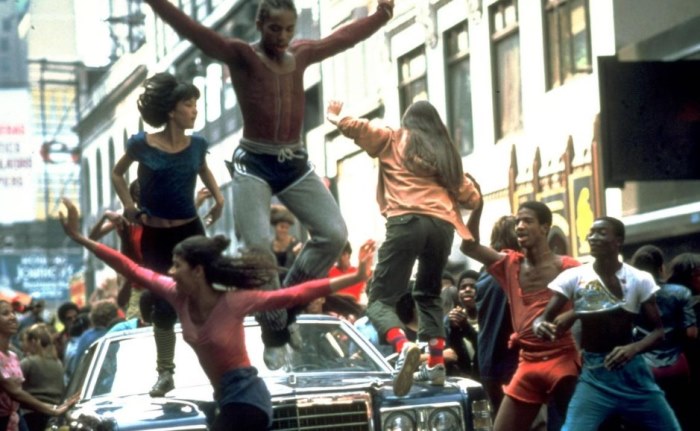 Unlike in modern flicks, where a huge conflict rises and falls within the span of a few days, you will have the impression that you're watching a mini-series when you sit down and play Fame – one of the most iconic 1980s dance movies.
The film follows seven teenagers chosen to attend a school of gifted art students in New York. There are three main departments for them to be sorted into: Dance, Music, and Drama.
Some of them excel in more than one field, and some don't even genuinely like what they are getting. Hence, you get the realistic vibe pretty clearly, for we don't always get to do what we love the most.
As you proceed, the movie seemingly consists of several phases: Freshman year, Sophomore year, Junior year, and Senior year.
Throughout the journey, the youngsters learn more about themselves as well as the difficulties awaiting them if they want to shine.
The production team deserves appreciation for touching on sensitive topics such as abortion, self-harm, homosexuality, and more in the early years of the 80s.
For some audiences, Fame should be categorized as a musical than a dance movie since dancing wasn't the only form of art we would see here.
However, we suppose a few good soundtracks and dramas will make the transition smooth enough for you!
2. Flashdance (1983)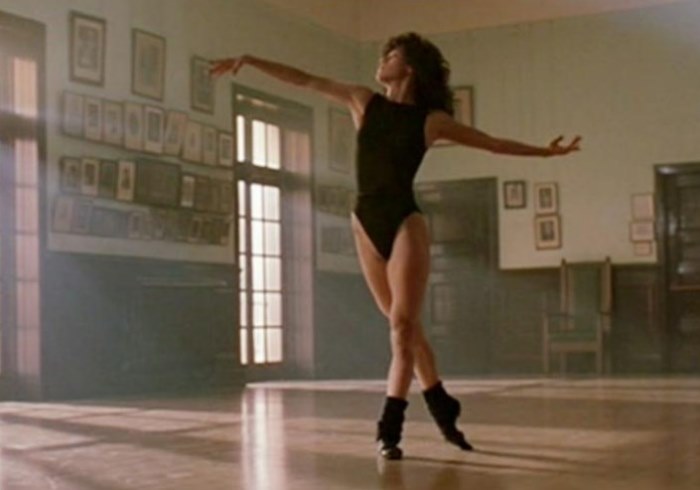 Flashdance is always among the most famous dance movies in the 80s and more than that.
The concept definitely reminds you of a fairytale with the main character following their dream while trying to cope with life.
Alex works as a welder but at night, she is an exotic dancer who aspires to be a ballerina. There will be judgments and challenges – nothing too complicated and tragic.
Compared to other films around its time, Flashdance was certainly fearless with dramas.
During a shift as a dancer, Alex captivates the eyes of her own boss who doesn't know she works for him until someone else points it out.
The differences between them are probably cliché for us now, but a bit of romance was mandatory in this category back then.
This movie was made to target young audiences for sure. From a protagonist that is very likable to the youngsters to the lively soundtrack "What a Feeling!".
If you like this song or have no problem with it being played whenever there's a chance, you are ready for it!
3. Breakin' (1984)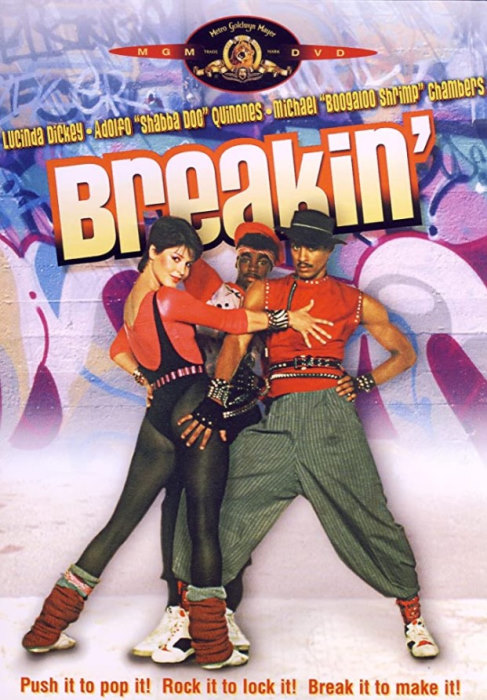 If you don't want a school-themed movie, if breakdancing is more of your type – Breakin' (1984) is one of the 80's breakdance movies you might want on your watchlist.
What do we have to say about it?
A rather clumsy story with excellent dancers that deserve your appreciation.
You don't really need to guess the plot here. Dancer Kelly, who focuses on technique only due to her harsh instructor, meets two break dancers in Venice and grows fond of them because of how they truly enjoy dancing and losing themselves in music.
Of course, there need to be dramas, and the thing is… it might not be for everyone.
For example, a bunch of professional dancers looks down on the team or a famed photographer that harbors an interest in Kelly and thus attempts to prevent them from joining the big dance competition.
Breakdance enthusiasts perhaps will be able to ignore the plotholes in the script and simply let the graceful dancers take their breaths away.
4. Footloose (1984)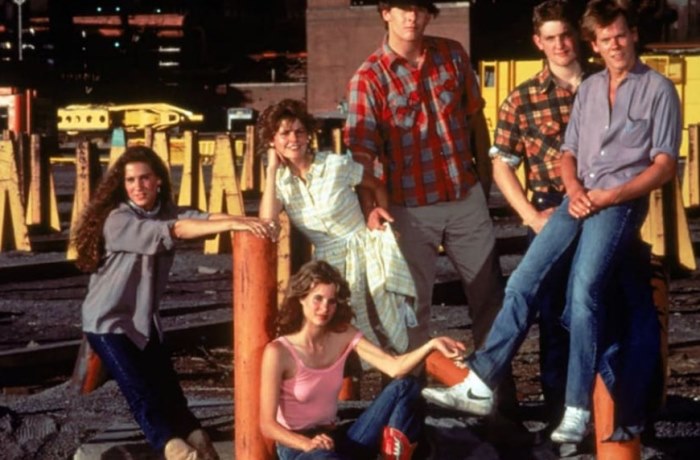 Next, we will experience a more original plot, wherein dancing and rock music are banned from the town, and the rebellious main character will change the residents' point of view.
It has an odd, slight sensation of dystopia as the ban is definitely a culture shock.
However, the relationships of the characters in Footloose can make you cover your mouth and giggle at how typical it is.
The young Ren McCormack hits on a beautiful but troubled blondie named Ariel who conveniently has a jealous boyfriend and a father responsible for keeping the ban valid.
Despite being a famous dance movie in the 80s, the flick has fewer dancing scenes than you might expect.
It was quite obvious that the director and the writer wants to depict a small town with conflicts and flashy teenagers while holding onto the musical aspect. Taking on various agendas backfires at times.
What is the reason to ban rock music and dancing? What does Kevin Bacon look like when he was younger?
Are there any amazing soundtracks to commend the performances?
You need to watch the entire movie and lose yourself in the settings to find out and enjoy it.
5. Beat Street (1984)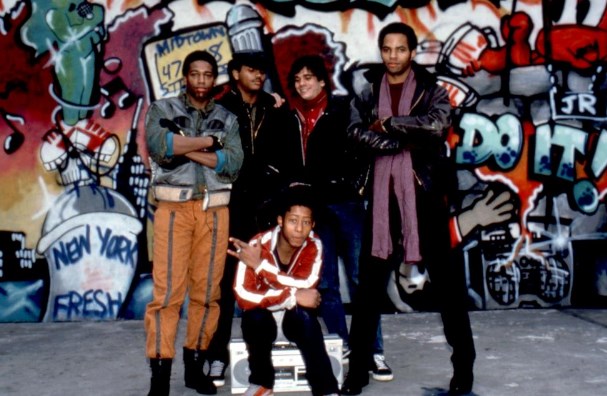 It seems like 1984 was the year of dance movies because we have another film coming right up on the list.
Beat Street gives us a view of hip-hop dance in the early years. It is somehow less popular than Breakin', but that doesn't mean it is inferior at all.
Undoubtedly, Beat Street is more serious about delivering the most realistic view of culture and life. Here, we learn how street dance also emphasizes expressions and what it is like to live in a slum.
When you put yourself in the context of Bronx 1984, you can actually feel the thrills of invading the subways and turning the streets into your stage.
Aside from being a movie about dancing, Beat Street can pass as a decent coming-of-age flick. We have Kenny the aspiring DJ and performer, his brother Lee who is a talented dancer, and Ramon the graffiti artist.
Each of them has a story in which they overcome obstacles and become more mature.
Even though it has interesting quirks, you won't find mind-blowing plot twists here.
But we have to agree, the movie manages to get some talented individuals and teams.
6. Fast Forward (1985)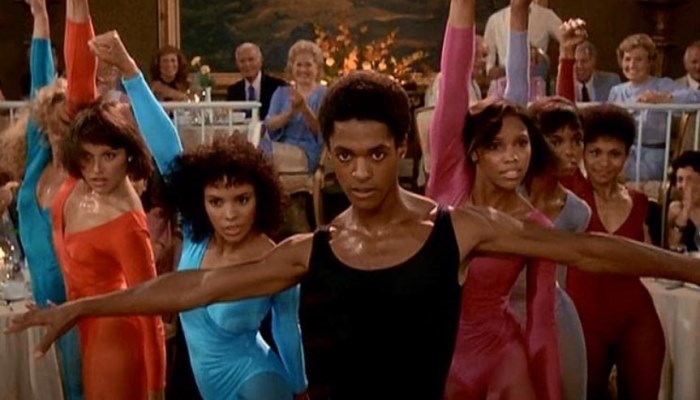 Fast Forward brings us back to the concept of a dance competition with troubles and challenges unfolding in the progress.
Here is the story about eight young dancers from Ohio trying a shot at stardom.
The firm hosting the contest promises to support them as soon as they get to New York.
But unfortunately, they learn that the owner of the firm has passed away, leaving them to struggle for life three weeks before the competition begins.
Happy ending for all, there will be a savior for our teens when they can't seem to find hope anymore.
What you will appreciate about this flick at first is its attempt to close the distance between races and classes without getting too trapped in such matters.
Later on, you will start getting hooked on the high school dance sequences and battles, which were close to reality back in the day.
You can spot kids doing impressive dance moves everywhere, and the movie embraced this detail very well.
And have we mentioned the sisterhood?
All of the ladies here are so feisty and inspiring they become the motivation for one another to shine.
In those early years, you don't get to see so much screen time for women – another plus point for the Oscar winner, Sidney Poitier.
7. Salsa (1988)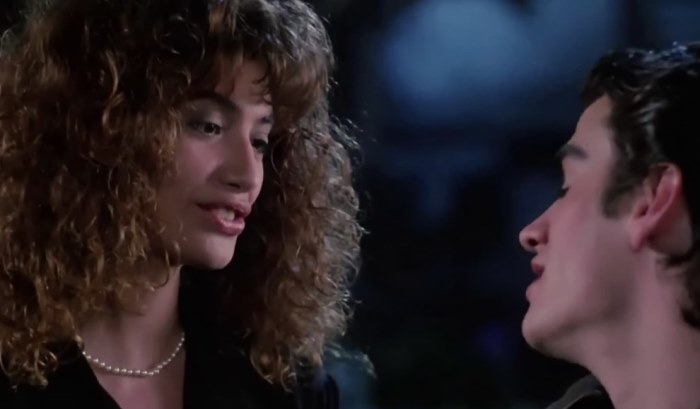 The list won't seem complete if we don't add a little bit of Salsa to the nostalgia.
This 80's Latin dance movie contains numerous factors that earn it a place here: a simple slice-of-life plot and a whole lot more dancing.
Rico is yet another wannabe dancer who has to put up with a job instead of dancing and dancing all the time.
At night, when he lives his dream, the boy is much more alive, even confident enough to make himself the King of salsa.
Nonetheless, he is extremely protective of his sister and stuck in a dilemma between love & ambition, which will lead us to our desired dramas.
If there was something to complain about, it would be the way they left the footwork out of the screen and stopped at the dancers' knees.
Final Words
These best 80s movies about dance will definitely drown you in nostalgia!
Regardless of the reviews in the present day, they all did an excellent job at showing us what we have to conquer to live our dream and become a big hit, and the vibes they give off will always be precious.