It's Valentine's season! And if you're looking for a good movie to watch with the other significant person in your life, we got you covered!
Here are the ten best romantic dance movies you can put on in the evening that will give you a good time (while you're having your eyes on the screen and not one another, of course.) Bonus point if you're both dance enthusiasts or you're dancers yourselves!
Let's get to the first entry, shall we?
10 Best Romantic Dance Movies For Couples To Watch
1. La La Land (2016)
Directed by: Damien Chazelle
Starring: Ryan Gosling, Emma Stone, John Legend, Rosemarie DeWitt, Finn Wittrock, J.K. Simmons
Running time: 128 minutes
IMDb Rating: 8.0
This list wouldn't be a good one at all without first mentioning La La Land (2016), the brain-child of director Damien Chazelle that came to life under the wonderful acting of Ryan Gosling and Emma Stone, with music by Justin Hurwitz.
In this "romantic musical comedy-drama" movie, you get to follow the footstep of Sebastian (Ryan Gosling) and Mia (Emma Stone), two struggling artists pursuing their dreams in Los Angeles.
The film tells the story of their love affair and all of the challenges and setbacks that they need to overcome in order to realize their dreams … and find each other.
As a romantic dance movie, "La La Land" features several elaborate dance sequences that showcase the chemistry between Gosling and Stone. Even the opening scene alone is a beautiful, elaborate dance number that'll get your jam going.
Set during something as mundane as a traffic jam, the movie instantly brightens up with the spontaneous break-out of dozens of performers in a colorful, energetic display that'll fit just as well on Broadway's stage as on the silver screen.
Of course, being a musical, the duo Sebastian and Mia perform various dance routines throughout the film, including a dance number in the iconic Griffith Observatory, at a scenic point overlooking the lights of LA, and a jazz piece.
In addition to its impressive dance numbers, "La La Land" is also known for its breathtaking cinematography and award-winning musical score. The film was a critical and commercial success, having been the recipient of numerous accolades and nominations.
All in all, the movie was awarded fourteen Academy Award nominations (winning six of them), including Best Director and Best Actress.
If you haven't watched it with your favorite person yet, be sure to add it to the top of the list!
2. Top Hat (1935)
Directed by: Mark Sandrich
Starring: Fred Astaire, Ginger Rogers
Running time: 101 minutes
IMDb Rating: 7.7
When it comes to on-screen chemistry in a dance movie, the pair Fred Astaire and Ginger Rogers definitely top the chart. These two legendary dancers have wooed audiences through the decades and continue to be adored today!
While you can pick any movie out of their filmography to set up on the TV and enjoy, we highly recommend you to start out with "Top Hat" (1935) first.
Directed by Mark Sandrich and starring Fred Astaire and Ginger Rogers, "Top Hat" is a musical screwball comedy movie that tells the story of a famous American dancer, Jerry Travers (Fred Astaire), who falls in love with Dale Tremont (Ginger Rogers), a woman he meets while performing in London.
Like most movies of the Astaire and Gingers pair, "Top Hat" is filled with incredible dance sequences. The film includes several memorable dance routines, including the iconic "Cheek to Cheek" number, where Astaire and Rogers glide across the dance floor in a stunning display of pure elegance.
When people talk about the glamorous 30s, that's the vibe they're talking about!
Throughout the film, Astaire and Gingers entreated the audience with various dance styles, from tap and ballroom to jazz.
Besides its award-winning choreography, "Top Hat" is also known for its witty humor and charming characters. The playful banter between Astaire and Rogers adds to the film's romantic charm, making it a perfect example of the romantic comedy genre.
The film also features an array of delightful supporting characters, adding depth to the storyline and making the movie an enjoyable, feel-good experience.
"Top Hat" was a commercial success, becoming the highest-grossing film of 1935. It received four Academy Award nominations and was praised for its outstanding music, choreography, and comedic timing.
The film remains a classic example of the golden age of Hollywood romantic dance movies, and it's the perfect black-and-white view into the movies of the Swing Era!
3. Shall We Dance (1935)
Directed by: Mark Sandrich
Starring: Fred Astaire, Ginger Rogers
Running time: 109 minutes
IMDb Rating: 7.5
Next up on the list is another old romantic dance movie starring Fred Astaire and Ginger Rogers. And just like "Top Hat" (1937), this one is also directed by Mark Sandrich. It is the 7th of 10 movies in the Astaire-Rogers musical series.
Classified as a romantic musical comedy film, "Shall We Dance" was released in 1937. The movie's lovestruck protagonist this time is Peter P. Peters (Fred Astaire), a famous ballet dancer under the stage name "Petrov," who falls in love with a pretty tap dancer Linda Keene (Ginger Rogers), the moment he sees her photo.
While their first impression isn't great, they get a second chance to meet and fall in love with one another when they meet on an ocean liner traveling to New York.
Like all the other Astaire-Rogers movie, "Shall We Dance" features several memorable dance sequences. For example, the "Let's Call The Whole Thing Off" sequence is still extremely popular today. In it, the duo performs a super-synchronized and unique choreography on roller skates.
Under the direction of Mark Sandrich, each dance sequence builds up to a beautiful love story and advances the plot rather than being empty showcases of the duo's apparent talents. The viewers can truly feel the mutual passion for dancing as well as one another in both characters.
Unfortunately, while it's a delightful film to see today when it was first released, "Shall We Dance" wasn't received very positively. It turned a profit that's only half of the previous movies in the Astaire-Rogers series. The critics at the time weren't kind to the movie, either.
But that doesn't mean the movie walked away with nothing. One song appearing in the movie, "They Can't Take That Away from Me", composed by the famous George Gershwin and his brother, Ira Gershwin, received an Academy Award for Best Original Song in 1937.
4. Strictly Ballroom (1992)
Directed by: Baz Luhrmann
Starring: Paul Mercurio, Tara Morice, Bill Hunter, Pat Thomson, Gia Carides, Peter Whitford, Barry Otto
Running time: 94 minutes
IMDb Rating: 7.2
"Strictly Ballroom" is an Australian romantic comedy-drama film released in 1992, directed and co-written by Baz Luhrmann (better known as the director behind "The Great Gatsby", released in 2013).
The film tells the story of Scott Hastings (Paul Mercurio), a talented and rebellious ballroom dancer who defies the strict rules of the dance federation and partners with a novice dancer, Francisca (Tara Morice), to compete in the Pan-Pacific Grand Prix.
If you want a movie that showcases precisely how intricate and demanding ballroom dancing can be as an art form, then "Strictly Ballroom" will do the trick.
Check more: Top 8 Best Ballroom Dance Movies
Plot aside, the movie's dance sequences are stunningly choreographed. Each dance number further elevates the romantic story of Scott and Fran, adding to the film's overall charm and appeal.
Scott and Fran's relationship develops through dance as they go from the awkward phase of working with one another for the first time to impassioned and skilled partners. Their evolving relationship (and dance skill) is most beautifully captured in the film's iconic "Love Is in the Air" sequence!
We also have to give extra points to the movie's supporting cast. The film's exaggerated characters, particularly Scott's mother and his dance federation nemesis, bring an element of quirkiness to the storyline, which balances the film's emotional intensity with comic relief.
The film was a commercial success. In fact, it's one of the most successful Australian movies of all time. "Strictly Ballroom" claimed a vast array of awards, including the Cannes Film Festival Award for Best Picture, the BAFTA Film Award for Best Costume Design, Best Original Film Score, Best Production Design, and more.
Its success led to a successful stage musical adaptation, which debuted in 2014 in Sydney and has since been produced worldwide.
5. West Side Story (2021)
Directed by: Steven Spielberg
Starring: Ansel Elgort, Ariana DeBose, David Alvarez, Mike Faist, Rita Moreno, Rachel Zegler
Running time: 156 minutes
IMDb Rating: 7.2
"West Side Story" is a beloved classic that originated as a Broadway play in 1957 and was later adapted into a movie in 1961. While both of them are excellent (especially the Broadway production) … check out the recent remake released in 2021!
"West Side Story" (2021) is directed by veteran director Steven Spielberg and stars Ansel Elgort as Tony and Rachel Zegler as Maria.
The movie tells a Romeo and Juliet-inspired tale of star-crossed lovers Tony and Maria in the Upper West Side of Manhattan. Tony is a former member of a gang called the Jets, who are in a turf war with the rival gang, the Sharks. But when Tony falls in love with Maria, the sister of the Sharks' leader, the tensions reach a boiling point.
Despite the violent backdrop, the film captures all the magic and heart of the original Broadway production. It's a creative, funny, exciting, and heartbreaking story all at once, complemented by catchy musical numbers and stunning choreography (if you don't believe us, check out the Balcony Scene!)
It's the absolutely perfect movie to watch this week, while Valentine's spirit still lasts.
6. Dirty Dancing (1987)
Directed by: Emile Ardolino
Starring: Patrick Swayze, Jennifer Grey, Jerry Orbach, Cynthia Rhodes
Running time: 100 minutes
IMDb Rating: 7.0
Despite the raunchy-sounding title, we promise that it's a heartfelt movie!
"Dirty Dancing" is a romantic drama dance movie that was released in 1987 and was directed by Emile Ardolino. The film was set in the summer of 1963 and followed the story of Frances "Baby" Houseman, played by Jennifer Grey, who is on vacation with her family at a resort in the Catskill Mountains.
While at the resort, Baby discovers the resort's working-class entertainment staff's secret dance parties and becomes enamored with Johnny Castle, the resort's charismatic dance instructor, played by Patrick Swayze. When Johnny's regular dance partner cannot perform, Baby steps in as a replacement.
And whaddya know, they fell in love!
The film is widely known for its steamy romantic dance scenes and the iconic lift in the final dance number (Time of My Life). Besides the awesome choreography, you'll also love the soundtracks. It has tons of bangers that are still beloved today.
"Dirty Dancing" is a timeless classic that has remained a fan favorite for decades. The way it perfectly captures the spirit of young love and the joy of dance … Trust us when we say that it's one of the best romantic movies about dance out there to put on this week.
7. Step Up (2006)
Directed by: Anne Fletcher
Starring: Ryan Guzman, Kathryn McCormick, Misha Gabriel, Cleopatra Coleman, Stephen "tWitch" Boss, Tommy Dewey, Peter Gallagher
Running time: 103 minutes
IMDb Rating: 6.5
If you're looking for something more energetic and "contemporary," then you can't skip the Disney Channel classic "Step Up" (2006).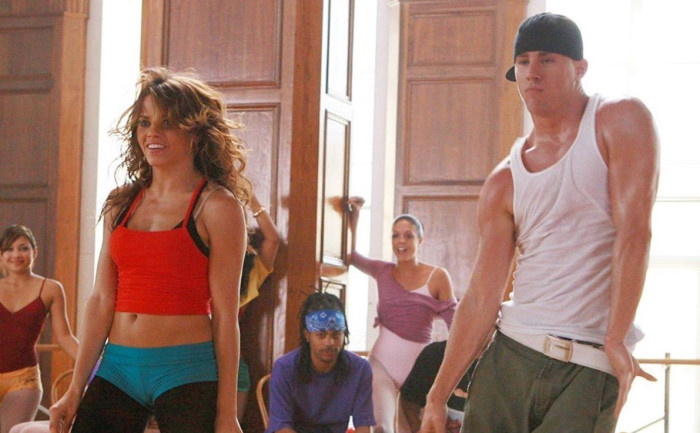 It was directed by Anne Fletcher and featured Channing Tatum and Jenna Dewan as the main power couple.
The movie follows Tyler Gage (Channing Tatum) a troubled teen from the wrong side of the tracks who is sentenced to community service at a performing arts school after a run-in with the law. There, he meets Nora Clark (Jenna Dewan), a talented and dedicated dancer who dreams of joining a professional dance company.
When Nora's dance partner is injured before an important showcase, Tyler steps in. And the two begin to train together and develop a special fusion between ballet and hip-hop. And as the story goes, they fall in love along the way.
The movie is a very exciting mix of contemporary and classical dances. You'll see graceful ballet scenes as well as explosive hip-hop performances in this movie.
"Step Up" is one of the most energetic dance romance movies out there and will leave you tapping your feet and wanting to get up and dance. The chemistry between Tatum and Dewan is electric, and their dance scenes are thrilling to watch (fun fact: Tatum and Dewan got married in 2009 after meeting on set.)
Sure, the film wasn't very well-received by the critics, but that doesn't really matter so long as we have fun!
8. Step Up 4: Miami Heat (2012)
Directed by: Anne Fletcher
Starring: Channing Tatum, Jenna Dewan, Mario, Drew Sidora, Rachel Griffiths
Running time: 99 minutes
IMDb Rating: 6.4
"Step Up 4: Miami Heat" (also known as "Step Up Revolution") is the fourth movie in the "Step Up" series.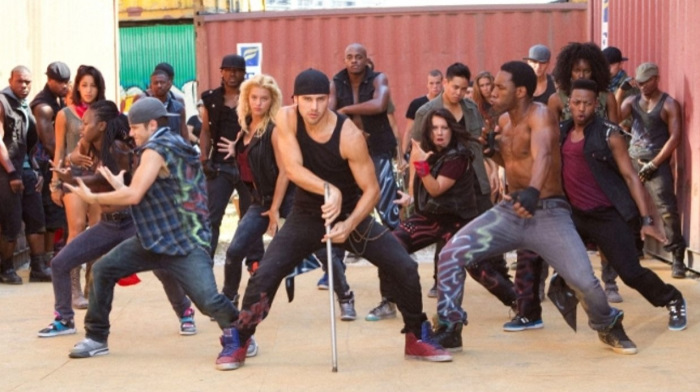 Just like the first one, it's a romantic dance movie. However, it has an entirely new set of dancers. Instead of Tatum and Dewan, we get Ryan Guzman and Kathryn McCormick as the new front runners.
As the name suggests, the movie is set in Miami, where a group of dancers known as "The Mob" is known for performing complex dance routines in public places. This street dance group is led by Sean (Ryan Guzman), who falls in love with Emily (Kathryn McCormick), the daughter of a wealthy businessman trying to redevelop the neighborhood where the Mob performs.
As Sean and Emily's relationship deepens, the Mob struggles to find a new space to dance. And of course, there's family drama mixed into the movie, too: Emily's father doesn't take too well to her new association.
The movie as a whole is a high-energy and visually stunning romantic dance movie. It has the choreography and the pounding soundtrack to leave you on the edge of your seat!
9. Feel the Beat (2020)
Directed by: Elissa Down
Starring: Sofia Carson, Enrico Colatoni, Wolfgang Novogratz
Running time: 107 minutes
IMDb Rating: 6.3
"Feel the Beat" is a Netflix original romantic dance movie that was released in 2020 and directed by Elissa Down. The film stars Sofia Carson as April, a struggling Broadway dancer who returns to her small hometown in Wisconsin after her career hits a roadblock.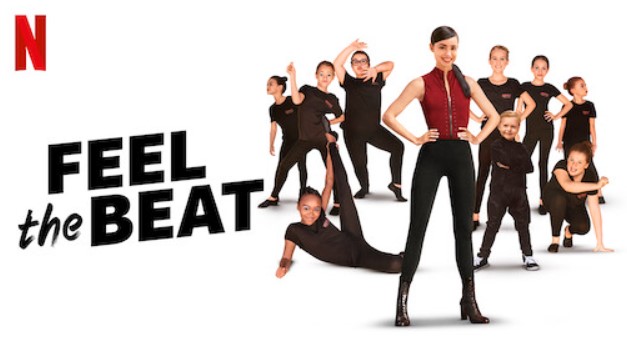 Back in her hometown, April is recruited to coach a group of young dancers for a major competition. As she works with the kids, she begins to rediscover her love of dance and finds herself falling once more for Nick (Wolfgang Novogratz), a former flame who she left behind to pursue her career in New York.
As the competition approaches, April must confront her past mistakes and fears while trying to lead her team to victory.
While it doesn't offer much in the way of plot originality, "Feel the Beat" is a lighthearted and uplifting romantic dance movie that'll definitely be a good fit for Valentine's season.
10. Work It (2020)
Directed by: Laura Terruso
Starring: Sabrina Carpenter, Liza Koshy, Keiynan Lonsdale, Michelle Buteau, Jordan Fisher
Running time: 93 minutes
IMDb Rating: 6.1
And to top the list is another Netflix Original that's currently one of the best romantic dance movies on Netflix!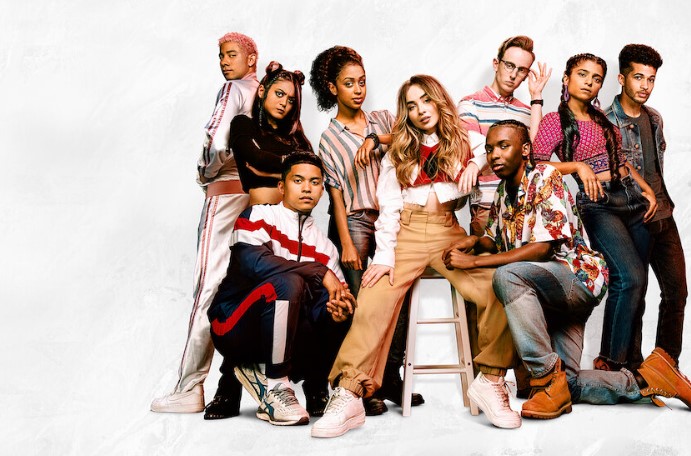 "Work It" is a romantic dance movie that was released in 2020 and directed by Laura Terruso. The film stars Sabrina Carpenter as Quinn Ackerman, an awkward high-schooler who dreams of becoming a student at Duke University.
But when her admission to the school is threatened because the admission board thinks her extracurriculars "don't stand out much", she has to try to win them over by demonstrating that she's an elite dancer.
So, she formed a dance team herself with a bunch of other members, all the while not really knowing how to dance.
Through the course of the movie, Quinn meets Jake Taylor (Jordan Fisher), who, although wasn't very impressed with her at first, later decided to become her mentor … and eventually her love interest.
As they train for the competition, Quinn and Jake grow closer and face numerous challenges together, including a rival team and Quinn's strict mother.
Sabrina Carpenter and Jordan Fisher both deliver strong performances in this movie. The supporting cast, which includes Liza Koshy and Keiynan Lonsdale, also adds humor and depth to the film.
Conclusion
A romantic dance movies marathon is a great way to spend the week with the one(s) you love.
Hope that this list has been helpful for you in figuring out what to watch next. From the classic musicals of the past like "Top Hat" and "West Side Story" to modern-day hits like "La La Land" and "Feel the Beat," there's a title for everyone here.
Which movie is your favorite? Which one have you picked to watch this week?
Tell us in the comments!