If you have watched the super-popular ABC reality TV show Dancing with the Stars, then you probably have heard of the name "Louis Van Amstel".
He was among the first dancers to star in the show, having been on it since the very first season. Although he didn't win the first season, Louis has managed to impress audiences worldwide with his beatific performances.
In today's deep dive, we'll give you a better idea of who Louis is, from his profile, to his biography, net worth, and more!
Louis Van Amstel Biography
Louis was born in the famous port city of Amsterdam in the Netherlands on June 23rd, 1972 (so he's a Cancerian!).
He was born into a family with a rich background in dancing. His grandparents were professional and competitive ballroom dancers. One can say that dancing is in Louis' blood!
Other than raw talent (which he liberally displayed on the dancing stage), Louis also stands out with his strong physique. Louis Van Amstel height is at 1.7 meters (5.5 feet). It makes him slightly shorter than most dancers.
Notably, that was a problem during Seasons 4 and 5 of Dancing with the Stars. He didn't pass the casting call to become a contestant purely because all of the female contestants were taller than him.
As a dancer, he primarily focuses on ballroom dancing and Latin dancing. Notably, he won several championships and awards prior to his appearance on Dancing with the Stars. Louis won the Dutch Latin Champions and 10 Dance Champions in 1990 alongside his partner, July Fryer.
Although he has more than proven himself professionally during all of these championships, his name and career as a pro-level dancer didn't really take off until his appearance on the first season of Dancing with the Stars in 2005. We'll talk more on this later!
Louis Van Amstel's relationship
Family-wise, Louis kept this pretty hush-hush. Not much is known about his parents or siblings. But he does have a spouse.
Louis Van Amstel married his long-time partner Joshua Lancaster in 2017. Louis is openly gay, and together, the Van Amstel family has adopted two sons named Daniel and Jonathan.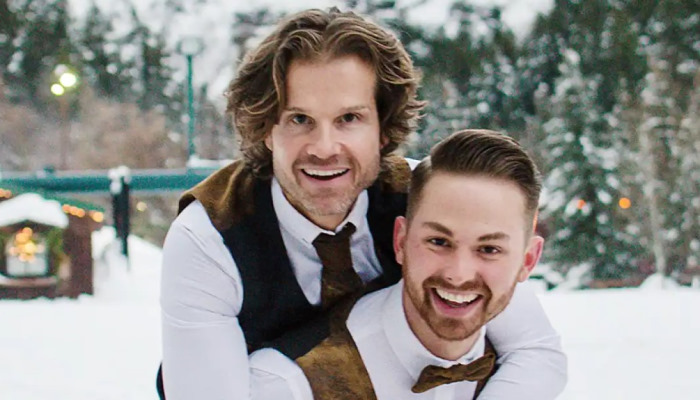 Louis and his family have struggled a lot with anti-LGBTQ+ sentiment in their daily lives. Most notably, the family made national headlines when a substitute teacher for one of his sons shamed him for having two openly-gay fathers and forced the whole class to undergo an anti-gay lecture. The teacher was fired, but it surely has caused a lot of stress for the family.
It just goes on to show the incredible courage and steadfastness of the family!
He's active on social media. Louis Van Amstel Instagram account has a decent following. As of today, it stands at 68,700 followers.
Louis Van Amstel's Net Worth
Not much is known about Louis Van Amstel's net worth.
According to most sources, he is worth around 3 to 5 million dollars through his primary profession as a pro-level dancer. All of the performance deals, dance championships, gigs as choreographers surely adds up!
Dancing Story Of Louis Van Amstel
He started to take formal dance classes at the age of 10. Five years later, when he turned 15, Louis started to enter dance competitions. It seemed like he knew exactly what he wanted to do even while he was young because, at the age of 16, he left school in order to pursue dancing full-time.
His choice seems to be the right one. After he committed to being a full-time dancer, Louis won many dance competitions that put his name out there.
In 1997, he took a brief break from competitive ballroom dancing and moved to New York City, the United States from the Netherlands.
In July 1999, Louis naturalized as an American citizen.
A year later in 2000, he returned to the professional dancing stage alongside Karina Smirnoff. The pair won that year's United States National Championship.
It's a pretty impressive return!
All of his accomplishments eventually culminated in him being cast as a competitor in the first season of Dancing with the Stars in 2005!
Louis Van Amstel's Dancing Achievements
Most of the dance competitions that he won were during the early days of his career in the 1990s. During this period, he competed mostly with Julie Fryer and was coached by Ruud Vermeij.
In 1990, the van Amstel-Fryer pair won the Dutch Latin Champions and the 10 Dance Champions. They also got to the final round in Blackpool as part of the '"Under 21" class.
Also in 1990, they won a bronze medal at the German Open at the World Latin as well as the European 10 Dance. In the World's 10 Dance Championship, they finished in fourth place.
In 1991, the pair won the national dancing championship in the Netherlands for the second time. They also got fourth place in all of the major dancing competitions they entered.
In 1992, Van Amstel decided to take a short break from dancing. This terminated his partnership with Fryer for a short time. The pair didn't reunite until three years later in 1994.
After reconnecting, Van Amstel and Fryer proceeded to win three consecutive gold medals in the World Latin Dance championship (1994, 1995, and 1996).
Theater Experience Of Louis Van Amstel
One of his greatest theater-related works was Ballroom with a Twist, which is a show that he was asked to create and choreograph after his participation in the sixth season of Dancing with the Stars. The show toured many theaters across the country and was extremely successful.
Ballroom with a Twist still tours around the country to this day. However, Van Amstel is no longer associated with the show.
TV Show Experience Of Louis Van Amstel
Most people will have heard of Louis through his participation in Dancing with the Stars. Without a doubt, it is the highlight of his career (thus far!)
However, outside of the show, he also had many projects. For example, he choreographed performances for TV shows like The Suite Life of Zack & Cody with Cheryl Burke, Hannah Montana, and All My Children. Louis also created a non-profit dance company called "Visionworx Dance Theatre".
In 2014, he became a judge on the popular Dutch TV show "Celebrity Pole Dancing". There, Dutch celebrities are taught how to pole dance and are let to perform on stage.
Louis Van Amstel & Dancing with the Stars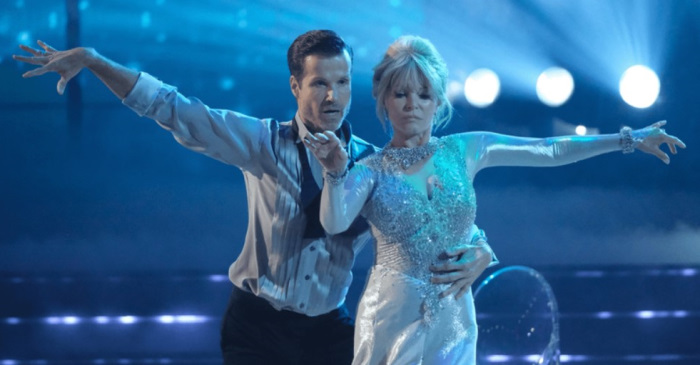 Louis Van Amstel has been with Dancing with the Stars since the very first season. In Season 1 of the show, he was partnered up with Trista Sutter. Unfortunately, they're among the first pairs of dancers to be eliminated from the competition.
He was invited to the second season of the show, where his performance was significantly better. This time around, he was paired with Lisa Rinna. They finished in fourth place.
Season 3 was where it got interesting. This time, his dance partner was Monique Coleman, the star from the famous High School Music movie from Disney. In the eighth week, their performance of the Cha-Cha-Cha received two perfect 10s. These are the only 10s that Louis received throughout the competition to this date. The pair made it to the semi-final, but was eliminated short of the championship and finished in fourth place.
In Seasons 4 and 5, Louis took a step back and served as a choreographer. Mostly because all of the female contestants were taller than him.
In Season 6, he returned as a contestant and was paired up with Priscilla Presley, the wife of the legendary Elvis Presley. They made it to the fifth week of the show before being eliminated and finishing in eighth place.
Louis made it to the finals in the ninth season of the show alongside Kelly Osbourne, but they only ranked third.
For Season 10, Louis partnered with Niecy Nash, the star from the TV show Reno 911! They finished in fifth place and had to stop their journey on the eighth week of the show.
On Seasons 11 and 12, he was respectively partnered with Margeret Cho (actress, comedian) and Kendra Wilkinson (a model for Playboy and reality star). In both shows, Louis and his partner didn't rank highly.
For Season 11, he and Margaret ranked at the mediocre tenth place, and for Season 12, he and Kendra ranked at sixth place.
Louis returned for Season 15 of Dancing with the Stars and was partnered with Sabrina Bryan. During the sixth week of the competition, they received a perfect 30 (10-10-10) score. It's the first perfect score of the season. Despite the pair ranking high on the leatherboard, they were eliminated in the sixth week and finished in eighth place.
He didn't return for Season 16 and took a long hiatus which lasted until the 21st season of the show. At this time, Louis was already considered as a pro-level dancer in the competition. He was asked to return and got paired up with celebrity chef Paula Deen. They were eliminated during the competition's sixth week and ended up in 9th place.
| | | |
| --- | --- | --- |
| Season | Partner | Place |
| 1 | Trista Sutter | 6th |
| 2 | Lisa Rinna | 4th |
| 3 | Monique Coleman | 4th |
| 6 | Priscilla Presley | 8th |
| 9 | Kelly Osbourne | 3rd |
| 10 | Niecy Nash | 5th |
| 11 | Margaret Cho | 10th |
| 12 | Kendra Wilkinson | 6th |
| 15 | Sabrina Bryan | 8th |
| 21 | Paula Deen | 9th |
| 31 | Cheryl Ladd | 14th |
Movies Experience of Louis Van Amstel
Louis isn't an actor, so he has never appeared on the silver screen in any serious movie. However, he has choreographed for many popular movies and TV shows like The Suite Life of Zack & Cody, Hannah Montana, and All My Children.
What's Louis Van Amstel Doing Now?
Other than pursuing other dance-related projects, he's prominently running a dance fitness program called LaBlast at the moment.
Check more: Emma Slater: Age, Height, Bio, Family, Net Worth
Final Words
Although he's never been a champion on Dancing with the Stars (yet), Louis has charmed many people with his talent, stage presence, and charisma.
We hope this short biography of Louis Van Amstel has given you a better idea of who he is as a person and understand more about his works!