The best cheerleading movies and shows never fail to give us positive energy and pure entertainment.
In the last two decades, more and more people have grown curious about these pieces, for cheerleading is now recognized as a sport of spirits and inspiration.
Let's engross ourselves in enticing routines and minimum plots!
10 Best Cheerleading Movies and Shows to Start Streaming Now
Bring It On (2000) – Best cheerleading movies of all time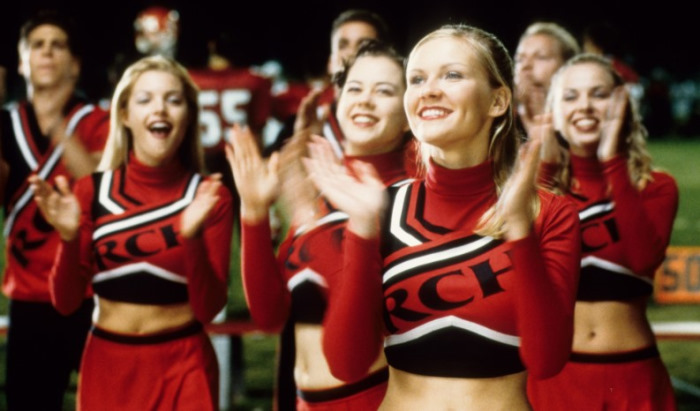 Even after more than two decades, Bring It On is still mentioned whenever we discuss the best cheerleading movies of all time. It tells us what high school cheerleading is all about and shows us the young Kristen Dunst!
Torrence Shipman seems to lead a perfect life. She is a cheerleader of Toros, the current holder of five national titles in a row. Not only that but she is also chosen to be the next captain.
Unfortunately, her first practice with the team as their captain didn't go quite well. A teammate got injured and had no choice but to stay out of the pitch for the rest of the tournament. They found replacements, and the drama began.
The new member Missy claims that the Toros have stolen the routines of other teams, despite Torrence denying it furiously. Turned out, Missy was right.
The previous captain of Toros had someone recording the routines and selling them back to her.
The movie is packed with rivalries within and outside of the team, further spiced by a love triangle. It is a great choice for a nostalgic throwback.
Bring It On: All Or Nothing (2006)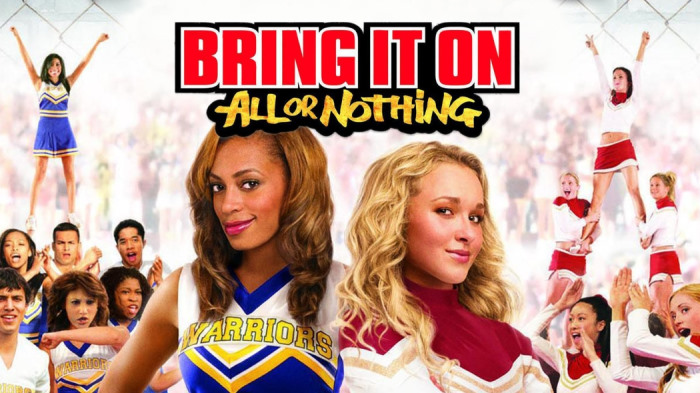 Almost six years after the big hit Bring It On, the second movie of the franchise returned with the title All Or Nothing.
Like Torrence, Britney Allen is having a dreamy life that every schoolgirl in dramas will fight for.
She is the captain of the cheerleading team, and her boyfriend is an excellent quarterback of the Pacific Vista HS team. Furthermore, she is a rich kid too. How to be her?!
Everything changes when Mr. Allen loses his well-paying job. The family couldn't afford their luxurious lifestyle anymore. Awaiting them was the neighborhood for the working class and the shock of cultural changes.
At the new school, most people see Britney as a typical blondie who would never understand what others have been through.
No one could have guessed she would join their cheerleading squad, and it kicks off many more relationships. Whether they are good or bad, you will have to watch to find out.
Bring It On: In It to Win It (2007)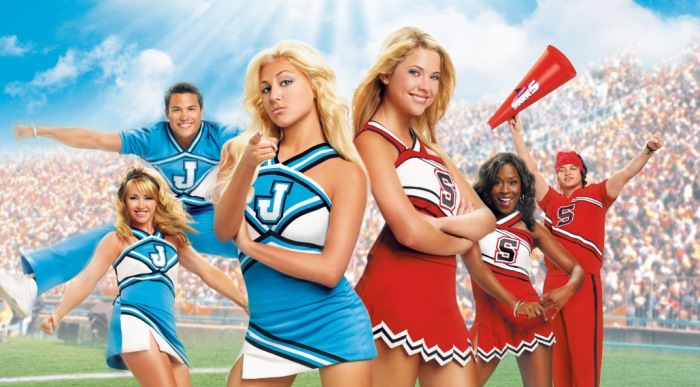 Is there any reason to put a stop to a potential series when it is still doing very well? Bring It On: In It to Win It.
It has a more in-depth look into competitive cheerleading. It is not related to the other standalone pieces, hence you don't need to watch everything in order.
The setting for the movie is a cheerleading camp, where two long-time rivals face each other: Sharks and Jets.
The Jets have been winning the championship for three years in a row, and the tension between them has been pushed to the peak.
Carson meets Penn on the first day of the camp. The two get along well and exchange contact before finding out they are from different sides.
Carson decides to not go further while Penns maintains a cool facade around his teammates.
Traditionally, each team has a Spirit Stick to guard fiercely. With so much free time in hand, Carson takes the first watch upon herself.
However, Penn still proves to be a distraction because she can't say no when he asks her to go on a date.
Upon realizing the Spirit Stick is gone, the Sharks shift all their doubts on the Jets. However, the upcoming events completely take them off guard, and they end up merging, all aiming for the championship.
Check more: How Much Do NBA Cheerleaders Make A Year?
Fired Up! (2009)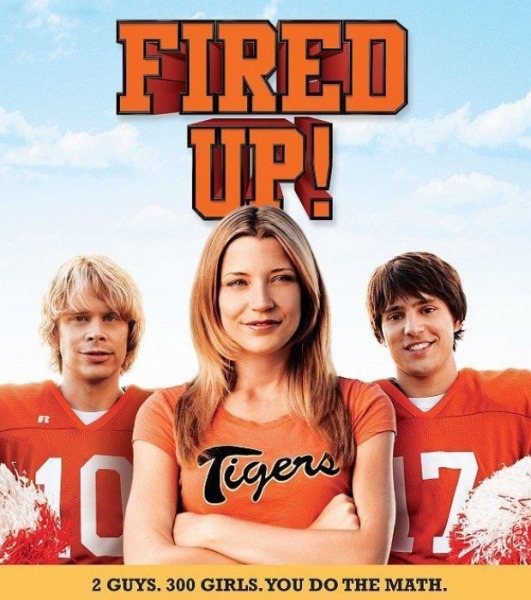 Despite not being one of the latest cheerleading movies, Fired Up! has been quite brave with its approach.
It is a combination of sex and comedy, an entertaining watch even though the critics weren't easy on it.
Football players Nick and Shawn sneak out of their camp and into the cheerleading zone because 300 cheerleaders seem too much of a temptation to ignore.
Against the silly objective initially, the two realize they truly enjoy being cheerleaders. Aside from their respective romantic interests, they start to care about the team and want to contribute something.
Their secret doesn't stay hidden. The boys expose their motives to the rest of the team and get them expelled from the camp.
It's about time Nick and Shawn face their passion and do something to prove that their heads are not full of ulterior schemes.
Fab Five: The Texas Cheerleader Scandal (2008)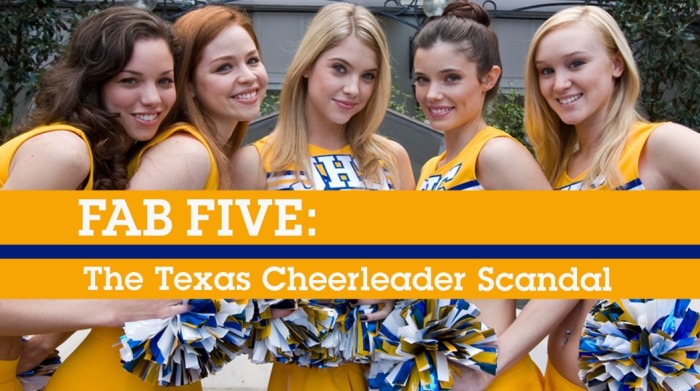 No Disney princesses and empty-headed blondies, the Fab Five squad is the team made of five mean girls doing cheerleading.
No authorities can punish them for their insolent behaviors, instead, they have successfully made numerous coaches run away.
We thought the new coach would be a refreshing change for the team but it wasn't so easy.
Although the girls gradually become cooperative, more unsolved dramas unfold within them. It was like a ticking bomb, and a minor change was enough to make it explode.
In the middle of trying to confront the principal for not giving the girls their well-deserved penalties, Coach Carr got herself into the mess as well. She decides to push them, yet the cunning rebellions strike back ten times harder.
What we love about this movie is it doesn't try to solve the conflicts right away.
On the other hand, it dares to go to the extreme of dismissing the squad and returning months later, showing us a new face of the meanies, how much they have improved, and how Carr has changed things for them.
Dallas Cowboys Cheerleaders: Making the Team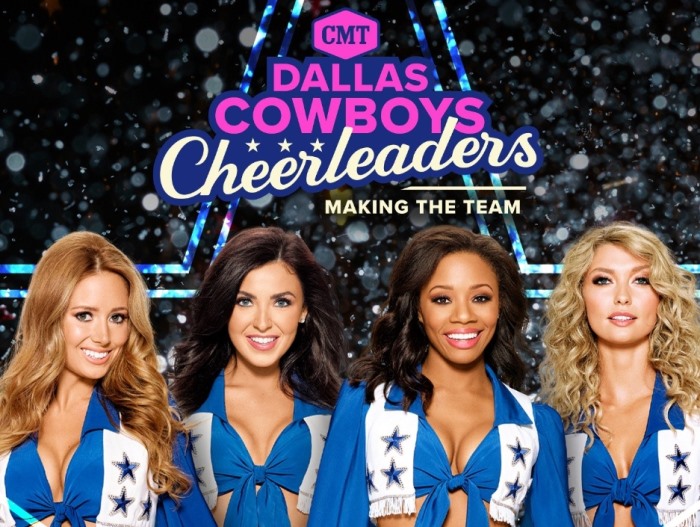 Starting since the 2000s, The Dallas Cowboys Cheerleaders have been America's Sweethearts consistently.
DCC was the first cheerleading team to perform with teensy uniforms, which compliments their gorgeous figures and eye-catching routines.
If the content about them is not enough to keep you rooting for them, the documentary series Making the Team will be a much better display of what they have to endure and conquer.
The series was released in 2006 with one season per year. It has reached 16 seasons in 2021, so you can see how successful it was. Otherwise, it won't be able to survive in a market with demanding audiences.
Each season covers an annual audition of the team, and each episode focuses on a stage of the process.
They have training sessions, boot camps, fitness tests, mock interviews, and written exams. This tough selection only allows 36 ladies to stay.
Check more: How Much Do Cowboys Cheerleaders Make A Year?
Cheer, NetFlix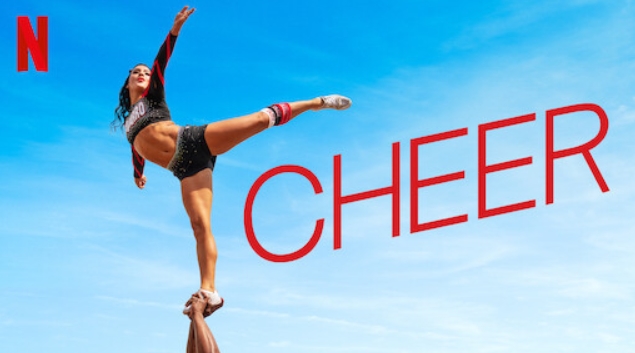 Netflix is a powerhouse when we talk about original docuseries. And Cheer is on its way to becoming one of the most realistic and iconic cheerleading movies.
If you have followed the Last Chance U series throughout its four seasons, you will recognize the format immediately. But instead of football players, Cheer revolves around cheerleaders from a college in Texas.
At the beginning of the series, Navarro College Bulldogs girls have been dominating the junior college division on the national level.
The first six episodes show us how the top teams practice and prepare for a national championship.
We will also get to know the cheerleaders on a personal level as they share their routines, stunts, and even accidents leading to injuries.
It opens a new view into the world of cheerleading and teaches us to appreciate them more than pretty girls dancing and hollering.
You can catch two seasons of Cheer now and hype the Navarro girls in their journey to defend their championship against their long-term rival, the Trinity Valley team.
Enjoy one of the best cheerleading movies on Netflix while you can!
Hit the Floor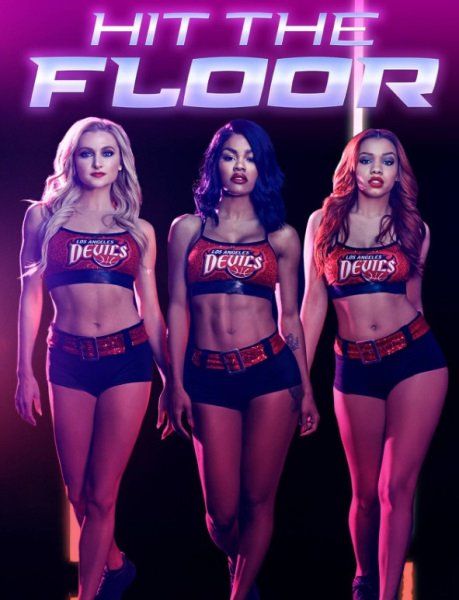 Goodbye, high school and college dramas, Hit The Floor takes cheerleading to another level, wherein it becomes part of the professional sports world.
You can say it consists of more adult and mature matters, things that seem more realistic to us than schoolgirls and their troubles.
The Los Angeles Devils is a respectable basketball team with an exclusive cheerleading squad.
Ahsha Hayes was excited to join the Devils, not expecting to push the wrong buttons and be on bad terms with the cheerleader's captain Jelena.
While we have known Ahsha's mother used to be on this team before, it was shocking to know she had an affair with the current coach, AKA Ahsha's father. Biologically, at least.
The plot thickens with Ahsha getting into a potential love triangle and trying to keep her secrets while more events unravel.
New players looking to replace one another, sexual involvements, and even a mysterious murder – you will get to see how jealousy and hatred play out in the real world.
The series was put to an end with 4 seasons. Nonetheless, fans don't have much to complain about as the creator posted the rest of the stories on his Instagram and left no cliffhangers behind.
Dare Me, USA Network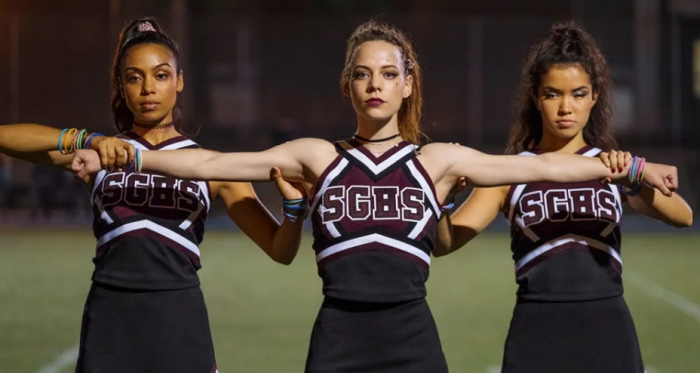 If someone thinks cheerleader movies are all about pretty girls getting over minor concerns in life and focusing on improving their skills, Dare Me is about to prove them wrong.
Straying away from humor and sitcom vibes, Dare Me follows a darker route, balanced by psychological and physical extremes.
Cheerleading can get competitive and intense. And this series shows us very clearly how it pairs well with thriller elements too.
The core of the series is two cheerleaders named Addy and Beth. They have always been the best of best friends, though the new coach and unforeseeable changes to the team pose as biggest threats to their friendship.
On top of it, their peaceful little town is turned upside down by a murder.
The first season was aired on USA Network and discontinued after the first season.
However, the author of the novel and the producer are planning to distribute it to another platform. If it gains enough views, we can surely hope for more!
Cheerleader Generation, Lifetime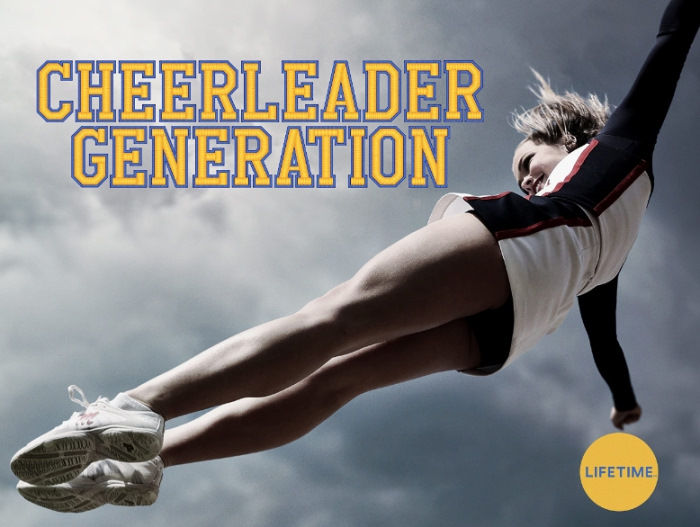 If you are always in love with the best cheerleading movies of all time, you wouldn't be a stranger to Cheerleader Nation, a reality show featuring Coach Donna Martin and her formidable squad, which includes her daughter Ryan.
13 years later, Cheerleader Generation came back with Ryan as the coach of the Ole Miss team. The difference between Donna and Ryan is very amusing for loyal audiences.
Donna is like a mother to her team, while Ryan maintains a little bit of distance while still taking care of the girls.
Before you start to wonder, yes, this mom & daughter pair is taking on respective teams. Both of their tactics seem very effective and they are aiming for nothing less than a championship.
Aside from their relationship, the coaches have to make sure their members are doing well physically and mentally, leading to occasional drama.
Final Words
That wrapped up our best selection of popular cheerleading movies and shows. If you are a loyal fan of the sport or soft dramas in general, you won't be surprised by the lack of logic in their plots.
But in the end, we are here for the routines and a peek into a cheerleader's life, perhaps something nice to watch with our dearest too!