How much do NBA cheerleaders make behind the spotlight they get on the court? Are they truly living a Cinderella life by simply dancing their way to glory?
We want to dig deeper into the benefits these cheery ladies receive as well as the expectations they have to live up to.
How Much Do NBA Cheerleaders Make?
As an NBA cheerleader, you are expected to practice daily and retain your prime condition.
Whenever the team manager asks for your presence, you need to show up and participate in rehearsals, charity events, public meetings, and more.
Logically, popular teams will have more tasks for their dance team, hence they pay more heftily compared to less famous teams.
The annual salary ranges from $15,000 to $35,000, almost doubled. The sum they make per game is $200 – $650, thrice the sum.
So, you can estimate how much they earn in a season with 41 games: $8,200 – $26,650. Or for their hourly wage, you can divide the salary per game for the duration of an NBA game and get $100 – $325.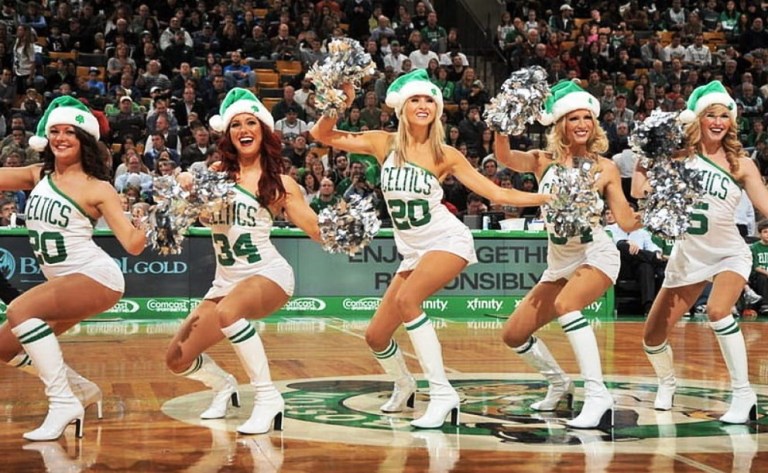 Scandals Involved NBA Dancer Salary
As people can easily search for the average salary of NBA players, they might have the impression that the cheerleaders somehow live dreamy life.
But the truth wasn't so pretty. The attractive young ladies they envy and desire were mistreated for a long time.
In 2014, many lawsuits were filed against NBA teams. The heat spreads like wildfire. Complaints about the dancers having to pay for extra expenses while receiving underpayment.
According to Lauren Herington, a former member of the Milwaukee Bucks, she only found out about the $10 hourly salary after finishing the camp training and getting a contract.
Back then, the average wage is $30 for a practice lasting 2 – 4 hours, $10 per hour for a game, and $50 for 2 – 4 hours of appearance in public events.
It was certainly not enough for one's living, even more so if you consider the fact that they are the representatives of the teams. They have to work as hard as professional dancers and athletes, and their safety is at risk more often than not.
The persistence of maltreated dancers and the support of the public convinced the NBA teams to acknowledge what they were lacking. And, finally, they come up with more reasonable offers for cheerleaders, including additional perks.
Added Benefits Of NBA Cheerleaders
Over the years, NBA cheerleaders get paid better now. Nevertheless, considering they still don't count as full-time employees, their contracts don't include life and health insurance.
But they receive juicy benefits:
When the team travels, the cheerleading group will get to tag along and have their expenses covered. According to a few well-paid cheerleaders, they didn't have to pay for beauty treatments like hairstyling and tanning either.
Since they arrive at the court to perform for the team, they can park their vehicles without a fee as well!
They always have a couple of tickets to watch the games.
If the team makes it to the playoffs, the cheerleaders will receive a bonus.
We have hopes that the system might change and give the ladies more benefits, yet everyone can agree that they are getting better treatments nowadays.
Highest NBA Dancers' Salary
As we have mentioned above, the salary varies between big and small teams.
While the payment they get per game is not all too impressive, they surely can earn more if their team goes far in the tournament and competes in more games.
Following that logic, a strong team like the NY Knicks or the Atlanta Hawks are the most generous employers with a $35,000 annual salary.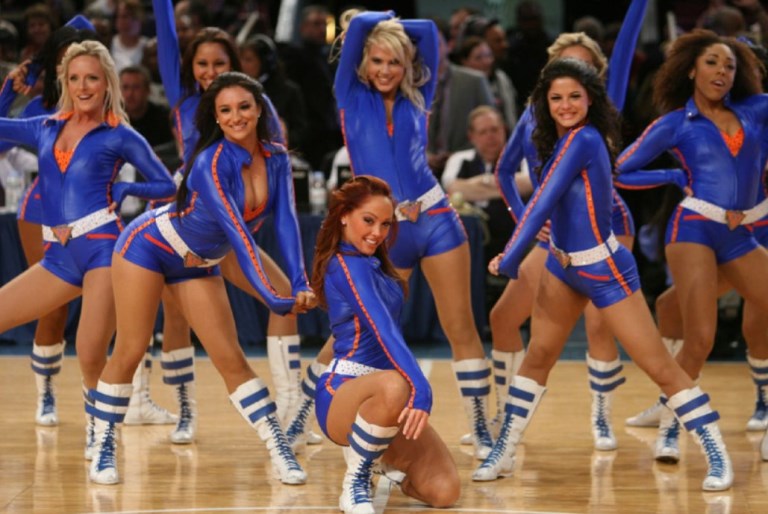 Coming close to them, Golden State Warriors, Boston Celtics, and LA Lakers also willingly pay generously. $30,000 is how much a Laker girl makes per year, and those numbers haven't included bonuses.
Average NBA Cheerleader Salary Of Different Teams
| | | | |
| --- | --- | --- | --- |
| Cheerleader Team | Annual salary | Salary per game | Bonus |
| New York Knicks | $35,000 | $650 | $2,000 |
| LA Lakers Read | $30,000 | $600 | $1,500 |
| Boston Celtics | $30,000 | $600 | $1,500 |
| Atlanta Hawks | $35,000 | $650 | $2,000 |
| Miami Heat | $28,000 | $500 | $1,500 |
| Cleveland Cavaliers | $28,000 | $400 | $1,000 |
| Toronto Raptors | $28,000 | $500 | $1,000 |
| Washington Wizards | $28,000 | $400 | $1,500 |
| Milwaukee Bucks | $22,000 | $350 | $1,000 |
| Indiana Pacers | $28,000 | $400 | $1,000 |
| LA Clippers | $22,000 | $350 | $950 |
| Minnesota Timberwolves | $15,000 | $200 | $700 |
| Chicago Bulls | $15,000 | $200 | $700 |
| Golden State Warriors | $30,000 | $550 | $1,000 |
| Memphis Grizzlies | $22,000 | $350 | $800 |
| Oklahoma City Thunder | $18,000 | $250 | $800 |
| Orlando Magic | $15,000 | $200 | $700 |
| Philadelphia 76ers | $15,000 | $200 | $700 |
| Phoenix Suns | $15,000 | $200 | $700 |
NBA Dancers' Salary Compared To Other NBA Jobs
We have clarified that cheerleaders are not as well paid as many people thought, but let's take a look at how much they earn compared to other positions in the NBA system.
NBA Dancers' Salary Vs NBA Waterboys' Salary
Not cheerleading, being a waterboy might be the most desirable occupation in the NBA for fans.
They have the chance to watch the game in person and work closely with the NBA superstars. Their main duty is surely bringing water over and keeping the players hydrated throughout the game. Sometimes, they are also required to provide assistance during workouts.
They usually receive an annual wage of $53,000 – $58,000 if they work hard. In some bigger teams, this number can reach $100,000, nearly twice the salary of a cheerleader.
NBA Dancers Vs NBA Mascot's Salary
You can say a team's mascot is very close with the cheerleaders, for they both will work together to hype the crowd and light up the atmosphere. The requirements for a mascot are:
Experienced enough because there is usually one slot only for the mascot position.
Physically strong enough for dancing, acting, and tricky moves while wearing heavy mascot costumes.
Always updated about the NBA and the SNS trends in general so you can entertain the audience.
Dedicated to the team because there are 41 home games that they have to show up and perform with the highest level of enthusiasm.
For all this effort, a mascot has an average wage of $60,000 per year. The mascot of the Denver Nuggets revealed an even more shocking number: $625,000.
$600,000 is the number the Atlanta Hawks' mascot received. Currently, the cheerleaders can only dream of these numbers.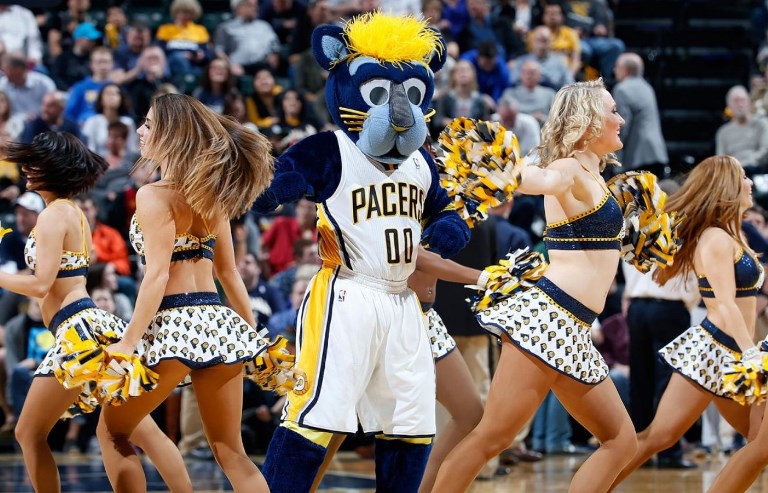 NBA Dancers vs NBA Refs' Salary
Compared to other officials of the NBA and other sports in general, NBA referees are certainly well-paid, with $150,000 – $550,000 annually.
The big gap comes from how experienced they are as well as how many games they officiate per season.
For example, a new referee who gets sufficient tasks will earn $250,000 in one year. After 3 – 5 years continuously working on the court, the gained experience might double their paycheck.
Therefore, you can say they earn a lot more than cheerleaders do.
NBA Cheerleaders' Salary Compared To Other Professional Sports
We know you are eager to put the NFL and the NBA in comparison when it comes to the cheerleaders' salaries.
The NFL cheerleaders typically earn $150 for each game day, which is less satisfying compared to NBA cheerleaders.
NFL teams also have fewer games, hence the final paycheck is even more humble because the number of events and appearances heavily depend on how much the teams play.
Sad but true, the NBA cheerleaders still earn much more than cheerleaders for other sports. When they work hard and perform excellently, they also get bonuses and incentives.
Check more: How Much Do Cowboys Cheerleaders Make A Year?
Requirements To Become An NBA Cheerleader
Cheerleading isn't a subject or dance category being taught at school.
But there are still some NBA cheerleaders requirements that you have to fulfill if you want to pursue this career, aside from being over 18 years old.
Passionate About Cheerleading
If cheerleading is your dream, you must show passion with all your heart. You are about to go on a stage, join a team, and give your hometown's team a boost.
In return, being a cheerleader also benefits you in many ways.
You will be equipped with a talent and a spirit other people look up to. Furthermore, it also feels like a purpose to push you forward.
Having A Dance Background
The performance of a cheerleader is deeply influenced by dance styles like hip-hop and jazz.
However, it doesn't mean you have to be like professional dancers who have been training all their life. A lot of NBA and NFL cheerleaders never started dancing until puberty.
If you have a belated start, be ready to work twice as hard so you can catch up with the trained dancers and achieve your goal.
Diet And Training
NBA cheerleading is intense, so the teams will always prioritize dancers whose body is toned and has some stamina. Your exercise should include both muscle and strength training.
As a result, there should be a diet as well. Refined sugar in desserts, white bread, or soda is the enemy of your workout.
Therefore, you need to suppress the craving for refined sugar and satisfy it with healthy sources such as fresh fruits or non-sugar smoothies.
Pass Auditions
Every professional NBA cheerleaders team has a set of standards they look for in their dancers, hence their audition criteria might vary.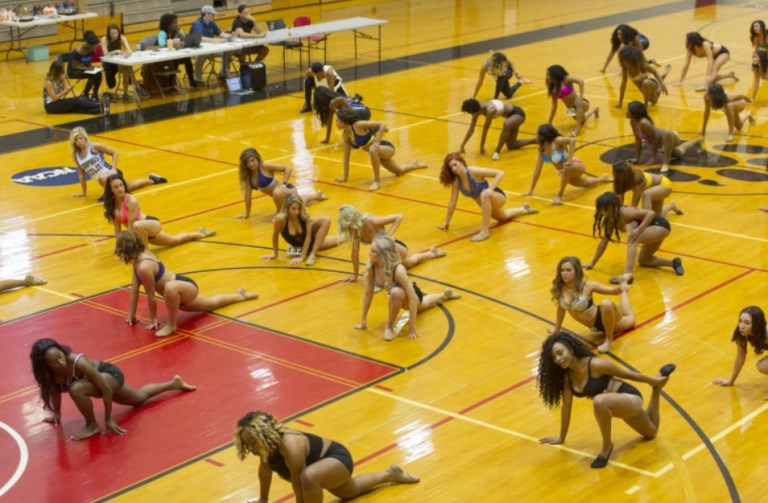 However, they all are difficult and intense – mentally and physically – and you would want to prepare carefully.
Search for more information, including the requirements of styles as well as the location, so you can arrive punctually and pass the criteria.
Get ready to perform under pressure.
Make sure your physique, routine, style, and outfit are all on point.
There might be an interview if they pay attention to you, and you should respond confidently.
Many dance teams open classes to help the dancers hone their skills before the competition starts.
Besides training privately, attending these classes allows you a chance to know better about the staff, and other contestants, and grasp a sense of the requirement.
The NBA cheerleading audition is organized in summer during 1 – 2 weeks. Even the veterans are not guaranteed to have a slot, thus all participants have equal opportunities.
After you pass the elimination stage, you will be qualified for the training camp.
The Training Camp
They have seen your potential, and you have to prove yourself now. There will be a series of events, which resemble the activities you need to join and complete when the season begins.
From Monday to Friday, you will take part in dance rehearsals, individual interviews, photoshoots, and uniform tryouts before the final showcase on Saturday and the decision of official members.
FAQs
1. Is An NBA Cheerleader A Full-Time Job?
It is NOT a full-time job. The cheerleaders will sign with one team, but the contract doesn't forbid them from cheerleading for NFL or doing other sports.
As contract employees, they have traveling opportunities, sponsored products, and game tickets, but benefits like insurance are unavailable.
For a sufficient income, student or mom cheerleaders usually have another job that they excel at. The majority of them became NBA cheerleaders out of passion, yet cheerleading enhances their confidence, leadership, and teamwork ability.
2. Can An NBA Cheerleader Date A Player?
The cheerleaders have to maintain good shape and practice hard, but above all obligations, they are not allowed to date the players.
The biggest reason is to preserve a scandal-free image for the team. In most cases, NBA players already have their partner, and dating a cheerleader will put them all in a negative light.
Besides, disagreements are inevitable. Who can guarantee the players won't tell their partners and unknowingly stir up more conflicts? The last thing the NBA teams want is locker-room troubles affecting the matches.
Final Words
After knowing how much NBA cheerleaders make, does your opinion on this profession change?
Dancing on the court and cheering on the team seems like a simple job at first sight. But there is so much more going on behind the spotlight.
The cheerleaders also represent the team and contribute to the image. Thus, they should receive the treatment and benefits they deserve!