Mambo is a familiar name among the Latin dance community not only in Latin America but also in the United States. For a time back in the day, the Mambo dance was the most popular Latin dance in the country!
These days, the modern variant of Mambo is still being performed in many clubs, events, and competitions across the country. Unfortunately, it was no longer as popular as before.
But if you're interested in it, nothing is stopping you from learning about the history, culture, and even how to dance the mambo.
This guide can be your one-stop shop for everything, from the history to the steps, costumes, music, and more!
What Is Mambo?
Mambo is a type of Latin ballroom dance of Cuban origin.
This dance form is characterized by its lively energy, intense and provocative hip movements, fluid body moves, rapid footwork, and beautiful hand and arm movements.
Mambo Dance Origin
Most sources believe the name "Mambo" is the name of a voodoo priest in the Congo, Africa.
Back in the day, people thought that this priest was able to send people into a trance-like state, allowing them to "converse with the Gods."
Mambo, both as a name and as a dance, is an admixture between Afro-Caribbean and Latin American cultures.
But the history of Mambo (the dance) goes back to 1938 when Orestes Lopez composed a charanga (a Cuban dance music ensemble) song called "Mambo".
The song was a massive hit in Cuba and kickstarted a new style of the danzón, a traditional Cuban dance. This new style was later called Danzón Mambo.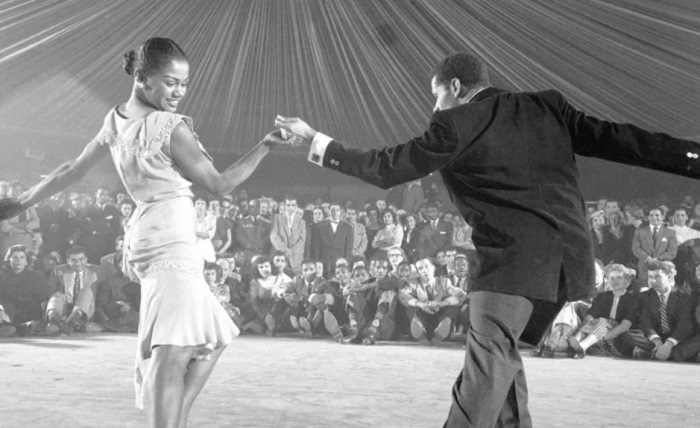 Around the mid-1940s, musicians in Cuba improved upon the Danzón Mambo. The result is what's now known as the Mambo dance.
In the 1950s, Mambo spread from Latin America to the United States. We know this because, during this time, many papers in New York City published what they called a "mambo revolution."
Record companies began to put the name "Mambo" on their records.
This dance form can be seen everywhere around the city in dance clubs and on Broadway. Its infectious energy reached a fever pitch in the country around the mid-1950s through the 80s.
Mambo Dance Characteristics
Compared to the original Danzón style, Mambo is far less formal and rigid, which gives the dancers more room to express themselves and their dance skills.
The highlight of the dance is the last section, known as the Mambo section. It's where dancers can put pedals to the metal and give the audience everything they have!
While dancing the Mambo, a lot of focus is placed on the forward and backward movements.
Essential moves that every Mambo dancer has to learn include the rock steps and the side steps. Occasionally, the feet' points, kicks, and flicks are mixed in.
And, of course, it's not Mambo without the distinctive hip movements. It's why Mambo is sometimes unofficially translated as "shake it".
If you were to dance the Mambo, you must dance as flirtatiously as you're comfortable. That's the spirit of the dance.
People know of Mambo for its raunchy and sensual moves. Just watch any Mambo performance, and you'll know what we mean.
The hypnotic movements of the dancers' hips, flowing bodies, and quick footwork make for a spectacular, low-key sultry show.
And if you have ever seen or learned salsa, you'll quickly realize that Mambo looks and feels very similar. That's because Salsa partly took inspiration from Mambo!
However, there are many differences between them.
For example, Mambo's rhythm breaks on the second count of the beat, while Salsa already breaks on the first count.
Mambo Dance Costume
Like any Latin dance, if you're merely going to a dance class is performing in a casual setting, there's no need to dress up. You can dance in anything, so long that you're comfortable and the clothes don't impede your movements.
However, it's an entirely different story for competitions.
If you participate in a Mambo dance competition, the organizers will have rules on what to wear on stage. Read the rules carefully and prepare accordingly.
However, if you want some tips, we have a few ideas that you can use to prepare your competition outfit.
Dress
A backless dress with a low-cut front is a good choice. Remember, the Mambo is a sensual dance by nature. Showing off the skin can enhance the magic.
However, suppose you are uncomfortable with the idea of showing off too much skin. In that case, you can wear a form-hugging dress that shows off your curves but otherwise hides your skin.
Pick a dress that has extra detailing that can exaggerate your movements.
For example, a skirt made from flippy or raggedy materials. They can highlight the movement of your hips and make it look like you're moving even when you're standing still.
The sleeves can be made from floppy materials to draw attention to your hand and arm movements.
Make sure that all of the frilly or extra bits don't impede your movements as you dance.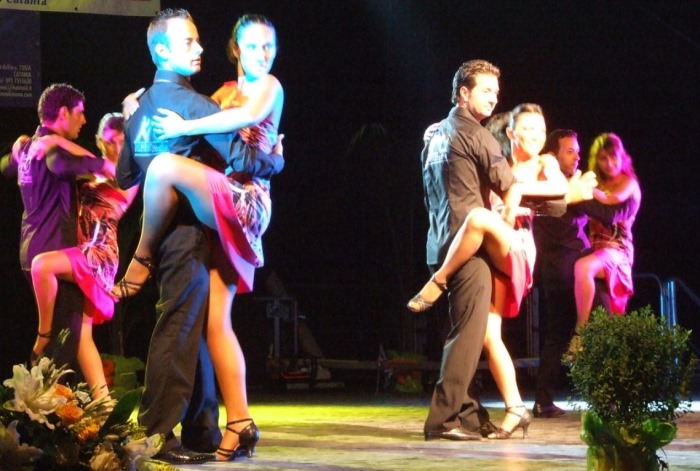 Bottom
We recommend wearing nude-color pantyhose underneath your dress. You're going to be twirling and jumping around a lot. So, if you don't cover up well, it's easy to flash the audience.
A pair of pantyhose can help you with that.
Shoes
And of course, you need a good pair of Latin dance shoes. You can easily find many pairs of dance shoes for dancing the Mambo online. Make sure that they fit your feet well.
Plus, dance with them in class before the competition to break them in. Since Mambo dance shoes are typically made from leather, they can take a few days and several dance sessions to fully break in.
Mambo Dance Music
The music is an integral part of the Mambo dance, it came before the dance.
Mambo music is typically set in a 4/4 time signature. The rhythm is usually set by a percussive instrument in the music, like a cowbell or maracas. So, it's pretty easy to dance along.
Beginners usually practice on songs with slower beats, around 47 beats per minute (BPM). Advanced dancers challenge themselves with the trickier and faster pieces at 51 BPM.
Dancers of the traditional Mambo-style dance will perform classic Mambo songs.
However, those who practice more modern forms of Mambo will usually select old-school Salsa songs as their backing tracks.
Notable Mambo Dancers
Tongolele
Tongolele is the stage name of Yolanda Montes (full name Yolanda Yvonne Montes Farrington).
Born on January 3rd, 1932, in Spokane, Washington, she's often considered one of the best Mambo dancers in history.
She began to dance and express her talent very early. As a child, she performed with the International Ballet of San Francisco.
In 1947, Yolanda moved to Mexico and was taken up by Américo Mancini, the impresario of a theatre. During this period, she adopted the stage name Tongolele, a mixture of African and Tahitian words.
Tongolele became very active in cabarets and theater productions in Mexico City. Her performances became so popular that one journalist even anointed her as "The Queen of Tahitian Dances."
According to many historical sources, male viewers across the city were so enamored with her fluid dance moves and feline-like figure that her shows were always packed night after night.
Besides being a dancer and vedette (the principal female dancer of a cabaret show), Tongolele was also an actress. She starred in many movies, debuting in 1948 with the film Nocturne of Love.
At the age of 90, Tongolele is still professionally active today. She made a brief appearance in the movie El fantástico mundo de Juan Orol in 2012.
Lilia Prado
As Marilyn Monroe was to Hollywood, Lilia Prado was to the Mexican cinema industry. She was a venerable sex symbol back in the day and was known for her beauty and raw sensuality on-screen and on-stage.
She was born on March 30th, 1928, in Sahuayo, Michoacán, Mexico. Growing up, she wished to become a dancer, but her father never permitted her to do so.
After graduating from high school in Mexico City, she worked as a telephone operator for a living.
In 1946, a friend took her to the filming of Bel Ami. Drawn by the glamor of the filming industry, she took on an extra role.
In that period, Lilia also won a beauty contest and started to attend acting classes. She first learned how to act in plays but later committed to cinemas.
Her debut was in the 1949 movie Confidencias de un ruletero. Later, she starred in many popular romantic, dance-style movies. You can see her dancing the Mambo in the film Pobre Corazón (1950)!
Rosa Carmina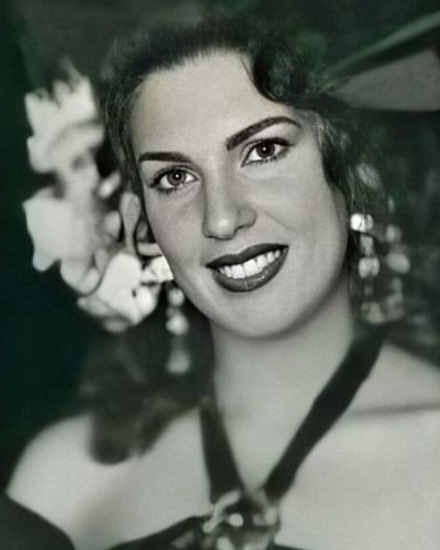 Rosa Carmina (full name Rosa Carmina Riverón Jiménez) was born on November 19th, 1929, in Havana, Cuba.
Like the other dancers on this list, Rosa was interested in dancing and showed great talent at a young age. When she was a child, she attended the School of Dance in Cuba for a time.
Her career took off after she was discovered by the Spanish filmmaker Juan Orol. He had traveled to Cuba in search of new talents for his new films and set up a talent competition where 500 girls applied.
The contest ended without any winner, but Orol's agent in Cuba told him that he had accidentally heard Rosa singing at her sister's graduation ceremony.
When Orol met Rosa the next day, he knew she was the talent he was looking for.
He offered her acting contracts in Mexico, and the rest was history.
Rosa starred in many movies, the first of which was A Woman from the East (1946). The more movies she released, the more in love the Mexican cinema-goers at the time were with her.
It wasn't just her brilliant acting, singing, and dancing skills and her demeanors that attracted people. People were also drawn to her unusually tall stature at the time (she's 1.77 meters tall, or 5.8 feet).
Mambo Dancing Movies
The Mambo Kings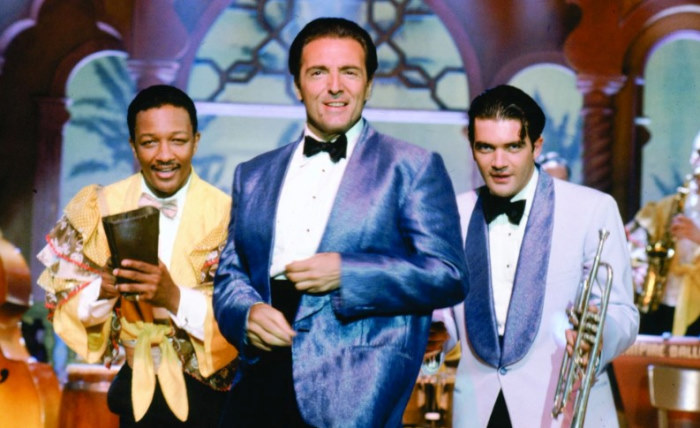 The Mambo Kings (1992) is a musical drama that's a movie adaptation of a Pulitzer-prize-winning novel The Mambo Kings Play Songs of Love by Oscar Hijuelos.
The movie follows the story of two Cuban brothers, Cesar and Nestor, who fled Cuba due to gang violence. They ended up in New York City, attempting to revive their old musical careers.
The two brothers were swept up in a beautiful story filled with love, longing, tragedy, and acceptance as they attempted to reconcile their new life in New York City with the old lives (and loves) they held back home.
There were many great singing and dancing scenes throughout the movie. And of course, as its name suggests, Mambo makes multiple appearances throughout the film.
This movie was famous for the ballet "Beautiful Maria of My Soul," which eventually won multiple Grammy nominations, an Oscar, and a Golden Globe award.
Pobre Corazón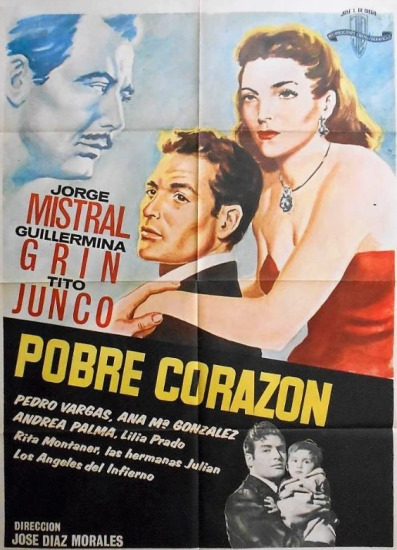 Pobre Corazón (1950) is filled with many spicy mambo dance scenes from Lilia Prado that can make you wish for more.
The movie, directed by José Diaz Morales, has a basic plot surrounding the love affair between a poverty-stricken pianist and a high-society woman.
West Side Story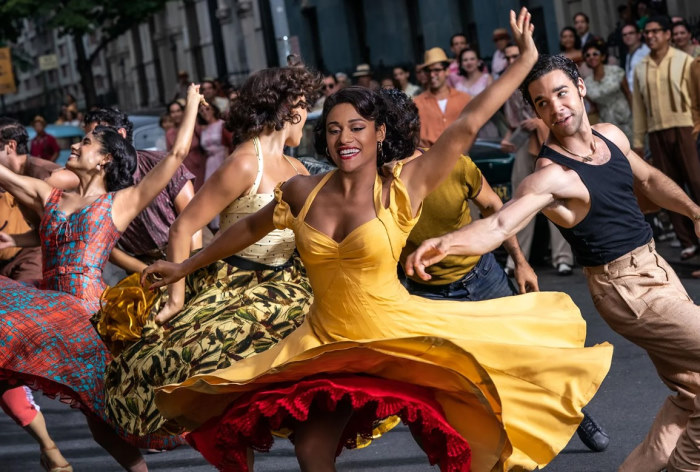 West Side Story (2021) was a remake of the cult-classic 1961 movie of the same name. Both films are also adaptations of the stage musical play that's also named West Side Story.
Without giving away too much of the story, it's a modern Romeo and Juliet story in the middle of modern New York City, in the background of gang violence.
Two gangs, the Jets and the Puerto Rican Shark, were wrestling to control the city's territories. That's the premise … up until one of the gang members falls in love with a rival's sister.
In two movie adaptations (1961 and 2021) and the stage musical version, one of the most memorable musical sequences was named "Mambo."
The cast also danced the Mambo to the tune (composed and orchestrated by the legendary Leonard Bernstein).
Final Words
Now that you've learned everything you need to know about Mambo dance, it's not so surprising that it was once the most popular Latin dance in the US.
This incredible dance has the energy and sensuality to keep you hooked and seeking more with just a single performance.
What's your favorite recording of a Mambo dance? Or what's your favorite part about this dance form? Tell us in the comment section below!