If you are a dancer or a dance parent, knowing how to put hair in a bun will be extremely convenient.
There are various styles of a bun. Some are simple enough for daily practices, and some are more on the sophisticated side for important occasions. Read on to prepare the necessary tools and get to work!
How To Put Hair In A Regular Bun?
What to prepare
A comb and a brush
An elastic
Bobby pins
Hairnet and hairspray (optional)
Step to create a regular bun
1. Prepare your hair
Be sure to dry your hair if you have previously washed it and detangle all knots for a completely smooth texture.
If you will be moving and dancing, adding gel to your hair will be very efficient at securing the bun. Apply the gel evenly and brush it once more if need be.
2. Tie a ponytail
Use a hair elastic to fixate a ponytail where you would like the bun to be. If your hair is too thick, a bungee is more effective than a scrunchie.
Twist the ponytail from the base to the end. You would want it to be tight, so the bun won't accidentally come off when you take part in an energetic activity.
3. Wrap it into a bun
Put the twisted ponytail in a spiral and press it firmly to the scalp. When there is only a short part left, you can tuck it beneath the bun.
4. Secure the bun
If you are short of time, stick some bobby pins into the bun. However, there is a better way to secure it. You will insert the pin and aim it toward your head before twisting it around and directing it at the core of your bun.
5. Some variations you can try
Accessories: Your bun will look far more captivating with something pretty like a clip or a hairnet.
Turn it into a messy bun: The easiest step is to leave some strands naturally falling. Furthermore, making the bun a little off-position can be fun too! Nonetheless, you need medium hair to long hair for this style.
Have a top knot: First of all, you need to make your ponytail as high as possible. Then you will twist it into a little rope and wrap it into a spiral.
A ballerina bun: You need to make sure the hair is as smooth as it can get by using a comb and hairspray.
A braided bun: After getting the ponytail done, you will braid your hair normally before wrapping it into a bun. It looks very exquisite, though you can do it without anything extravagant.
Loosen the bun: It sounds crazy to untie the bun after putting so much effort into creating it. But the effortless and natural waves are worth it! If you aim for this look, we highly recommend using a styling product, so the waves will last longer.
You'll love: 7 Best Toddler Ballet Shoes For Girls & Boys
How To Put Hair In A Bun With A Donut?
Although a donut bun is not a requirement for dancers, ballet performers typically go for it. It is neat and amazing at showing off the elegance in their facial expression or their body features.
With our comprehensive instruction, creating a perfect bun wouldn't be difficult at all.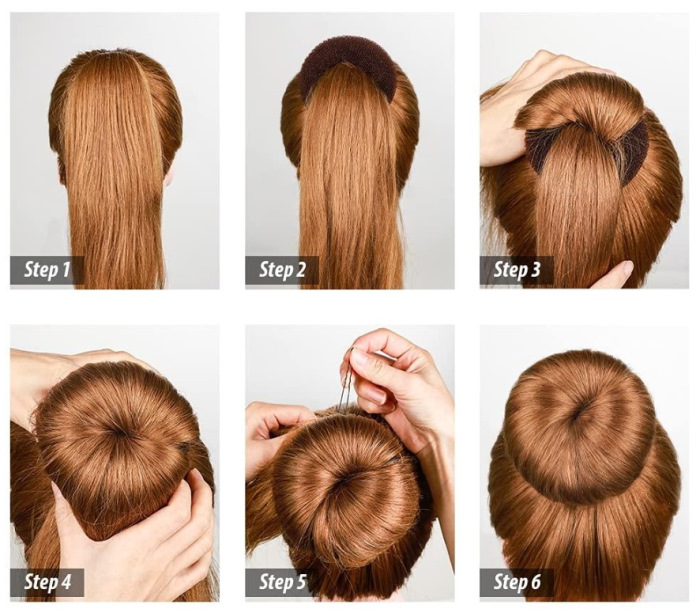 What to prepare
Before we get to the exciting part and play with the nice hair, there are some things you need to prepare:
A donut bun ready for use / An elastic
Comb / Brush
Rubber bands / Pins
Hair Spray
Steps to put hair in a donut bun (ballerina bun)
1. Apply gel to hair
We highly recommend using gel for curly hair. Pay more attention to the front, the side, and the underneath of your nap so you won't get messy stray locks.
2. Brush hair into a ponytail
The position of your ponytail will determine the position and the style of your bun. Most dancers prefer a high bun, hence they keep the ponytail high too. Alternatively, you can modify the hairstyle with a front braid or several loose strands for a messy bun.
It's where your rubber band or elastic steps in. The clear ones are much more preferred.
3. Slip the donut bun on
Pull the ponytail through the donut and form a loop, but you keep doing it like you are trying to tie your hair.
Ask the dancer to lower their head while you straighten the ponytail. Let the strands fall over that donut. Therefore, the closer the donut is to the hair color, the better it looks.
4. Cover the hair and the donut
Slip an elastic on the bun and check on the misplaced strands. You can twist or pin them with bobby pins, as long as you make sure the pins and the elastics are not visible!
Usually, hairspray or gel would be enough for dance classes, but dance competitions call for more preparation:
Use a hair net to cover the bun. If there is some remaining, you can wrap it around the bun and fixate it with the pins.
Add hairpins to secure the bun. It's remarkably better to insert the pins into the base of the bun rather than sticking into the bun randomly.
Spray to maintain the best shape of the donut bun, and your dancer is all ready for the performance.
Some notices for donut buns
The shape of your face: The donut bun makes your facial features stand out, especially the cheekbones. Therefore, the oval face looks best with it.
Hair texture: While it doesn't affect the overall result of your bun, it might require some gel to put curly hair in a bun.
Hair length: The most effective way to ace a donut bun is to keep it small if you have short hair and increase the size if you have long hair.
Detangle your hair: Tying smooth hair into a bun is the best way to make sure it won't suffer any serious damage.
Don't keep the bun for too long: Your hair might start breaking if it remains in a tight bun for too long. As soon as you can, give the tresses a rest.
The Elastic: You would want to use the most sturdy bun maker you can find. When it is worn out and sticking out everywhere, your bun wouldn't look good at all.
How To Put Hair In A Bun With A Pencil?
Sometimes, you need a neat bun so badly. But you are all on your own, without bobby pins, hair ties, and everything you normally use.
Gather all your hair on the back as you would do for a ponytail.
Hold the base of the ponytail in one hand and use the other hand to twist it into a rope. Afterward, wrap it into a ball and secure it.
Slide a pen or similar objects through the bun and turn it in a full circle to fixate it.
Tuck the upper end of the pen under your hair for more stability.
If it wiggles when you shake your head, try again and put more pressure while you twist and wrap your hair into a bun. If it's steady, you're good to go!
Be aware that it's not the best way to put hair in a bun with short hair and medium hair, for it requires a good length of hair.
Closing Words
There are many ways how to put hair in a bun as well as variations of it. All the styles look good on ballet dancers, yet it doesn't mean you can't use them for gymnastics, sports, or any sort of activities you want to participate.