Mexican dance costumes inspired by the Spanish colonial period enhance the dancer's performance and style. There are various Mexican dance styles, each of which requires a unique costume design.
Let's look at some interesting facts about Mexican dance dresses to understand more about these folkloric dances and the meanings behind these dance outfits.
1. Mexican Dance Dresses Differ According To Region
In Eastern Mexico (Veracruz)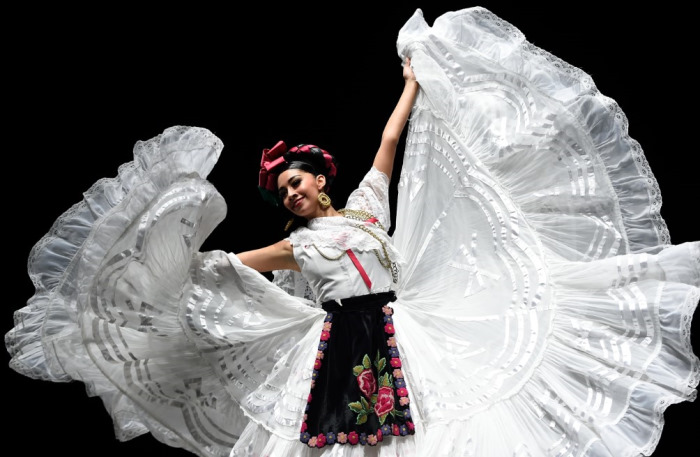 The Veracruz lies in the Eastern area of Mexico. The dance style in this region is inspired by flamenco dance, with a lot of bambas and huapangos.
The music is mainly tropical and acoustical, with violin and harp. It is influenced by the Spanish colonial period, as well as some cultural elements of the African, Arab, German, Dutch, and other European countries.
In Veracruz, female dancers wear starks with a white lace dress and a small black plain/embroidered apron on the front. They finish their costume with a rebozo (a garment-like shawl), and a fan. Their hairstyle is a bun with a decorative comb.
On the other hand, male dancers wear white shirts with white guayabera pants. They decorate their outfit with red belts and straw hats.
In Southern Mexico (Guerrero, Michoacan)
The Folklorico dress history of Southern Mexico is divided into 2 regions – Guerro and Michoacan.
Michoacan is mainly locals. So, the local dance style here also reflects the traditional Mexican dance, with the most famous dance 'El Baile de Los Viejitos' (or Dance of the Old Men).
Female dancers here wear black skirts with white embroidered shirts and colorful aprons. They use a big black veil and a straw hat as head decoration. The male's Folklorico dance costume consists of embroidered shirts, muslin white pants, a poncho, a sash, and huarache shoes.  Sometimes, these dancers wear masks like an old European man with white hair and a pink face.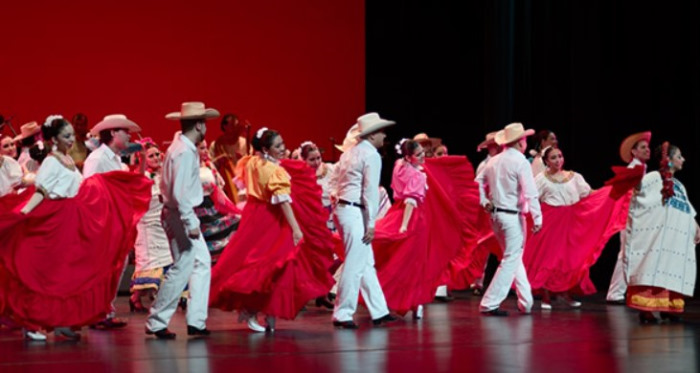 Guerrero is a tropical region on the Pacific coast and also a haven of Asian influences and black slaves. Traditional dancers in Guerro are from different parts of the world, like Europe, Asia, India, black people, mestizo, etc. Therefore, the dance style in this region includes a lot of salsas and cumbias.
The Southern Mexican dance dresses in Guererro consist of white shirts and pants, palm weave hats, and huaraches (for men), and shirt dresses with embroidered flowers and hair buns (for women).
In Northern Mexico
Nuevo Leon is a state in the North of Texas and it is well-known for breweries. This region is influenced by Texas-western music and Tejano music. The popular music in this region is the waltz, polka, and "chotis" (or "schottische"), with instruments like tuba, guitar, and accordion.
Nuevo Leon is also famous for Mexican dance with colorful dresses.
More specifically, women here wear outfits like in the "Sound of Music" music video. They choose white shirts embellished with embroidery and ruffles as their tops. For the bottom, they wear colorful mid-calf, horizontal-stripped skirts. These dancers finish their look with braided hair tied by ribbons.
Male dancers wear white shirts and leather-fringed vests/coats, with some accessories like boots, bandanas, and cowboy hats.
In Western Mexico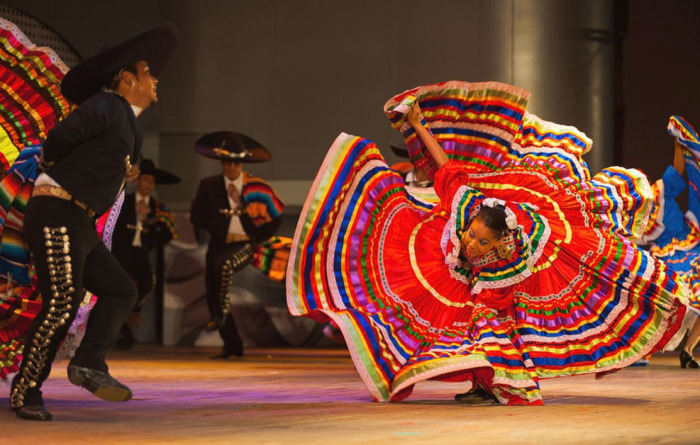 Jalisco is located in the west of Mexico and is strongly influenced by the Spaniards. Therefore, its dance costume also stands for the traditional Spanish one – the Mexican dance with big dresses. This is also the homeland of Los mariachis – or the orchestra with trumpets, acoustics, and violins.
The folkloric dance costume of women here is a combination of ranchero design dresses attached with many colorful ribbons, along with the Indian-inspired wide skirts.
For men, their outfit consists of Spanish charro suits with decorative patterns, big sombrero hats (also used in hat dance), and silver studs on the pants.
In Central Mexico (Puebla, San Luis)
Puebla is the beginning point of the Cineo de Mayo celebration, where the Mexicans won over the French (Battle of Puebla, 1862).
In this region, the traditional Mexican dance costume for women is "La China Poblanca" – a satin/silk skirt with embroidered/sequinned eagle as a remembrance of the Euro-Indian princess.
Born in Mongolia, this princess was attacked by the Pacific pirates, then sold to a Mexican marquis as a slave, and then, as his daughter. This princess wore traditional Hindu clothes – covering her face with a head scarf in respect to loyalty, beauty, and modesty.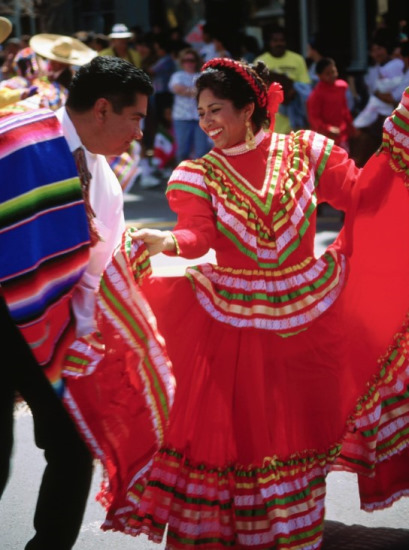 San Luis (or San Luis Potosi) is the homeland of many Huastec Indians – one of the most famous Mexican Indian tribes in Mexico nowadays. This region is famous for textiles and silver mines.
Female dancers in San Luis often wear colorful ponchos with a yarn-woven hat. One can detect the marital status of a female dancer by looking at the ribbons dangled behind her hat. If the ribbon is long, she is available. And vice versa, a married woman wears a hat with short ribbons.
In Southeast (Yucatan)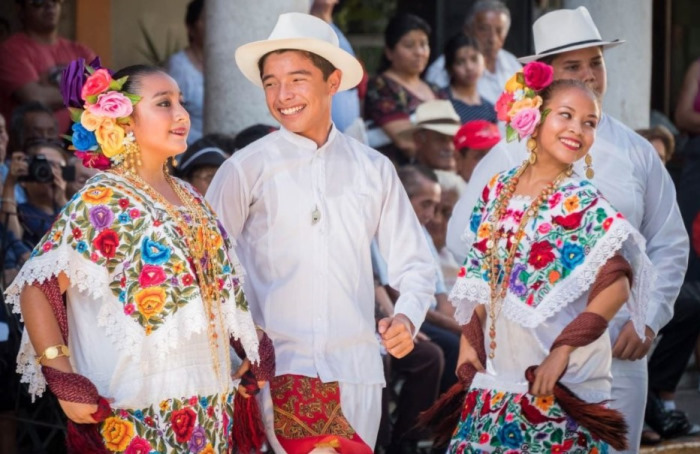 Yucatan, or South Penisula, is a trade port of Spain and also a historical land of the Mayan kingdom's conquest of the Gulf of Mexico. Therefore, this region is strongly influenced by the culture of the Mayans and the Spanish.
The folkloric dance outfit for men here is a guayabera shirt and pants, along with a red bandana.
Women often wear a Mayan design dress with white floral embroidered lace and shawls and hair buns. The music style in Yucatan is acoustical with drums and tuba.
In Southwest (Nayarit)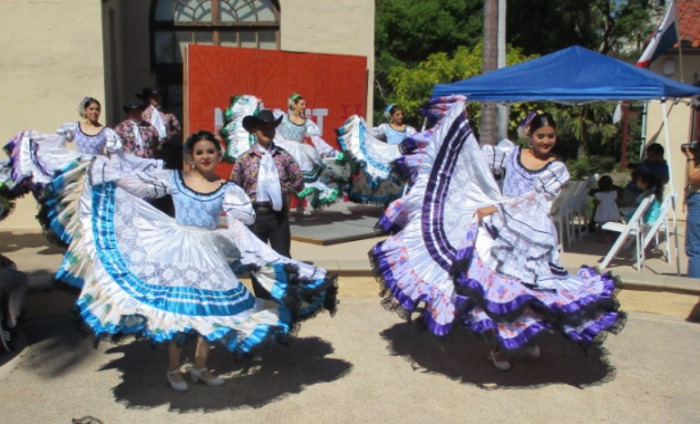 Nayarit is a small state in Southwestern Mexico and previously belonged to Jalisco. This region is known for the dance of the machetes, in which the male dancers toss and clang machetes to create sparks while the female ones dance through the machetes.
This dance is similar to the flamenco and is inspired by the Moorish when the Moors conquered Spain. Besides, there is another Mexican folk dance in remembrance of St.James that is also related to a battle with the Moors.
Male dancers here wear a traditional white shirt with a front-tied colored shirt, white pants, and bandanas. Unlike the Jalisco women, female Nayarit dancers wear a floral-printed dress and a Huichol fan.
Check more: Top 10 most famous Mexican dancers
2. Traditional Mexican Dance Dresses Vary From Dance To Dance But Are Heavily Influenced By Spanish Conquistador
Folkloric dance dresses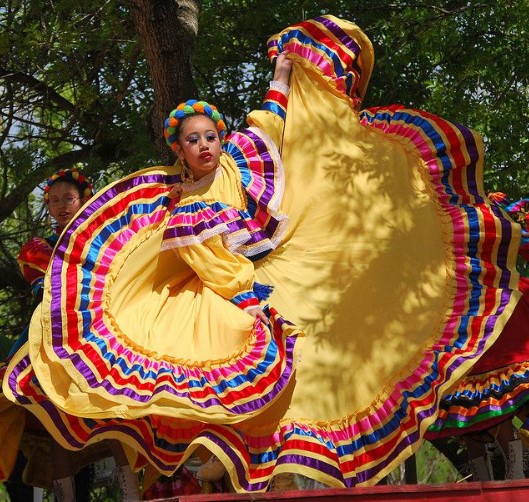 In folkloric dance, the dance costumes are a part of the performance. It allows the dancers to have a full range of motion.
In this dance outfit, women wear long, full, ruffled shirts in either white or bright colors. This dress is trimmed with colorful ribbons and lace, with the ribbons in red and green as two colors in the Mexican flag.
For the top, they wear a peasant blouse that is also ruffled and off-shoulder. This blouse is also trimmed with ribbons in the same colors as the skits.
Men dancing in the folkloric dance wear mariachi costume with a jacket as a top and slim black trousers with decorative details on two sides of the trousers. They finish their look with an oversized hat and a string tie.
Hat dance dresses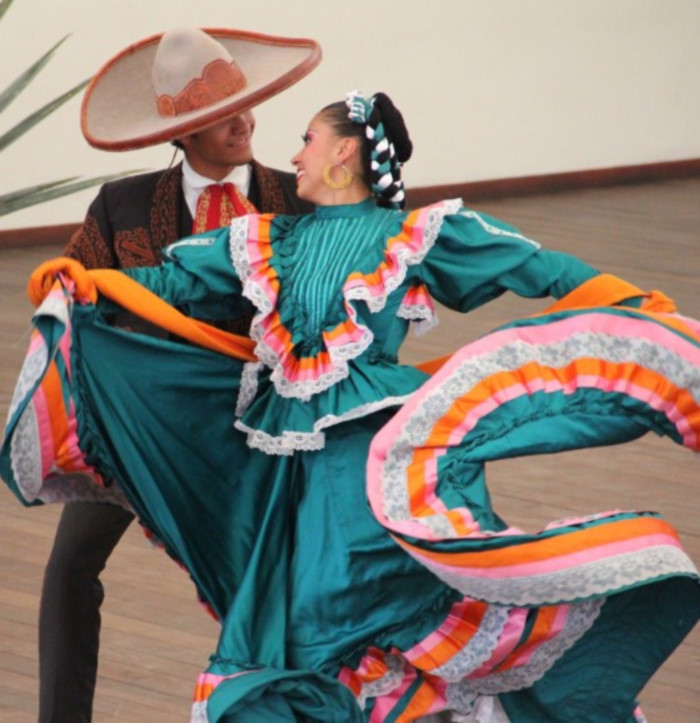 Hat dance, also called "National Folk Dance, is among the traditional dance of Mexico that first appeared over 100 years ago.
In this dance performance, women wear China Poblana – an outfit for servants in the 19th century. This dress is quite short (off-ankle) and often mix with a short-sleeved white blouse. The blouse sometimes has embroidered decors or light floral prints. They finish their look with white petticoats and Chinese sequinned skirts.
There are two reasons behind the China Poblana.
First, this outfit is in respect to a Chinese princess who was sold for slavery in Mexico.
Second, this dress is short, allowing servants to deliver goods from the Philippines to the Spanish more conveniently.
Nowadays, this dress also has silk on top apart from sequin.
About male dancers, they wear a charro suit with silver buttons and a big red bowtie. The charro suit is the signature dress of musicians on the streets in the 1930s. Plus, the bow tie is so big that it can reach the dancer's chest.
Jalisco dress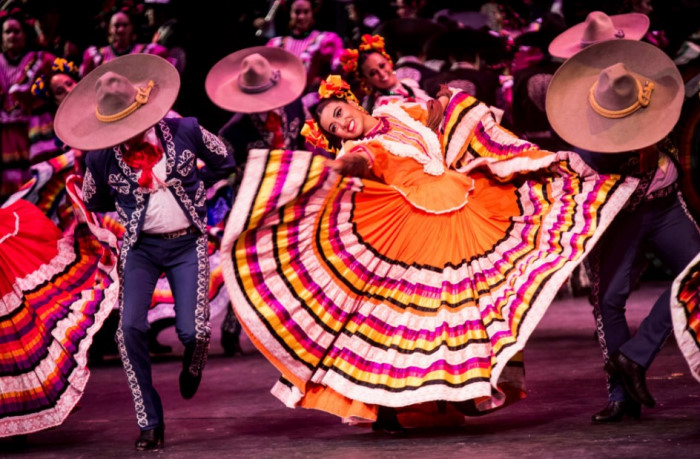 The Jalisco dress is the most well-known, signature Mexican dance outfit for women. This dress consists of big skirts in bright, lively colors (for example, bright pink) with colorful ribbons as decorations.
The dress's neck is covered, and its sleeves are at full length or elbow-length. Plus, its bodice is well-fitted and decorated with ribbons and lace. The ribbons in the same colors also appear on their hair.
3. Traditional Mexican Clothes Are Colorful Like Their Dance Dresses
Not only Mexican dance dresses, but traditional Mexican clothes are also colorful. These clothes are often used for festivals, ceremonies, celebrations, and holidays, and are influenced by the Native Americans and the European, mainly Spanish newcomers.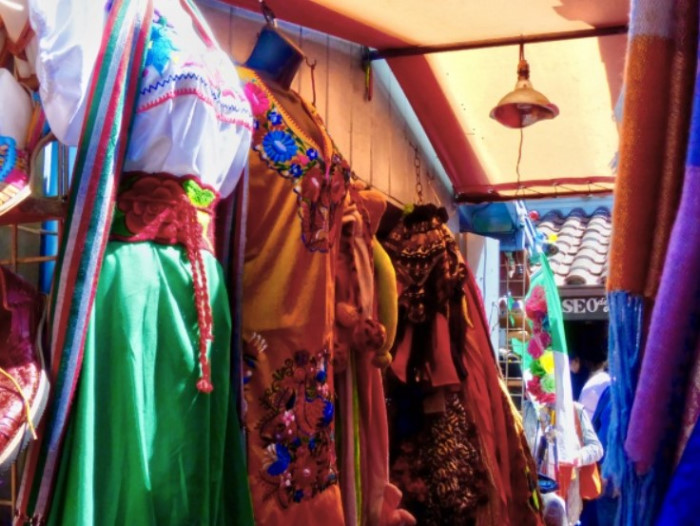 These traditional dance costumes have 3 exclusive characteristics:
protecting the dancer's face and body from the sun (for example, sombreros)
adding brightness to the dancers (colorful clothes, embroidery, colorful ribbons)
adding moderate modesty (long skirts, delicate blouses, floral prints, hairdos, head accessories, etc.)
For the fabrics and the colors, these clothes are often made of wool, cotton, silk, and bark in bright colors (red, green, brown, and yellow).
Some most popular dance outfits of Mexican men are sarape, sombrero, charro suit, guayabera, poncho, and baja jacket.
Sarape is a shawl-like coat or a blanket, and is often in vibrant colors with a fringe
Sombrero is a straw/heavy-felt Mexican hat with a wide brim. This hat acts as a protection layer for the dancer.
Charro suit has embroideries and is often used on the Day of the Dead.
Guayabera is a lightweight suit or shirt worn as a casual or formal outfit. This costume is made of cotton with a lot of embroideries.
Ponchos add warmth to the dancer. There are various types of poncho (classic poncho, rainproof poncho).
Baja jackets are Mexican hooded shirts that are popular among Mexican people, young Americans, and hippies. They have various colors with strips and belly pockets and a hood for added warmth.
Female dancers in Mexico often wear the following outfits in their dance performances: quechquémitl, rebozo, huipil, and Mexican skirts.
Quechquémitl is the festive version of a poncho for women. This handmade, colorful costume is often used on special occasions, like holidays, parties, and festivals. It is made from handwoven cloth with heavy embroidery.
Huipil is among the most popular dresses for women in Mexico. This tunic has no sleeves and is often made of wool or cotton. The design of a huipil depends on a specific region, marital status, beliefs, etc.
A rebozo is a scarf or shawl made from silk, wool, or cotton. Its color and pattern represent the community and the region. Apart from its traditional dance costume function, it is also used to carry goods and products, and even babies.
Mexican skirts (or enredo, posahuanco, chincuete, enagua, refajo) are knee or ankle-length and made of silk, cotton, wool, and lace. These wide dresses are in bright colors with embroidery.
For the tops, Mexican female dancers often wear blouses decorated with beads, lace, embroidery, or colorful patterns.
4. Where To Buy Mexican Dance Dresses?
You can buy Mexican dance dresses at a local dance costume store near you. If you don't have time for offline shopping, you can buy them from online stores and get them delivered to your home.
Final Words
Mexican dance dresses are in vivid colors with decorations like embroideries. Apart from their performance functions, these costumes also deliver various values in culture, history, and geography.
Nowadays, these dance dresses are not merely for performance purposes, but also popular in the fashion industry. It means that you can get them online or offline easily.