Finding the best dance floor lighting for weddings, gatherings, and any celebration is one of the key elements for the joyful and festive atmosphere that everyone wants to immerse themselves in.
And here is a shortcut through the crowded market out there!
7 Best Dance Floor Lighting to Add Excitement to Your Party
1. Luditek Sound Activated Party Lights – Best overall
At the price of a very quick meal, you can already bring home nice wedding dance floor lighting.
It has the basic solid colors as well as the combinations of them, hence you can create many themes out of it.
If not installed on the ceiling and the wall as a source of lighting for dance floors, it can be a desk decoration as well. If you need to add more colors to your work corner!
The package includes a disco ball light, a remote control, and a guide because there is no complicated installation needed.
It sounds a bit too simple, yet the great customer service from Luditek puts everyone at ease.
Besides decorating your house or event, you can consider using it as a gift for children. Luditek offers a special discount for those who buy more than one product from them.
Pros:
Very inexpensive.
Multiple solid and combined colors.
Easy setup or no installation needed.
Cons:
Lights don't move to music.
Motor noises.
2. Sumger 1900 Patterns DJ Disco Party Lights
Compared to the humble size, the 1900 Patterns DJ Disco Party Lights are quite expensive. But it comes with a lot of features to live up to the price.
The control mode is among the most innovative technologies, which allows you to run the show automatically as well as adjust the music as you wish.
Its RGB lighting features 7 colors!
Despite the mini size, it offers a library of 1900 patterns divided into 15 groups, a scanning system, and different interfaces opened for various connections.
With so many functions, you can move and adjust the lighting however you want.
It won't be a problem for you if want to travel from one place to another when the bracket of this product is absolutely lightweight and convenient.
Pros:
Very innovative.
Various patterns and functions.
Portable and convenient.
Cons:
Very expensive for its type.
Check more: 7 Best Ballet Foot Stretchers for Dancers' Flexibility
3. YouOKLight DJ Disco Lights
Among DJ dance floor lights, YouOKLight certainly has a steady position with three modes activated by music.
When you go for the strobe effect, you can have up to 7 colors with several rotating speeds to boost the energy and the atmosphere for the party.
With a silicon keyboard remote, the disco ball lights feel soft to the touch.
Nonetheless, this remote is anything but weak. Its signal extends to 10 meters and the sensitivity level is much higher than the products sold on the market.
Another reason we love the Disco Lights from YouOKLight is how it also fits being a decoration for your desk, aside from being on the wall or the ceiling.
If you feel insecure because of the low price, you will feel more guaranteed knowing the brand is always ready to receive feedback emails through the system of Amazon.
Pros:
One of the most affordable products.
Multiple colors and modes.
Versatile applications.
Cons:
4. POCOCO DJ Disco Stage Party Lights
The best thing about laser light is it can create a wonderland with nothing more than high definition and multiple effects coming into play.
In POCOCO, you can get 6 background colors combined red, green, and blue. The beams of green and red add even more variety to the overall effect.
We consider it an excellent option for dance studios as well as outdoor dance floor lighting because of several reasons!
First of all, you can swiftly switch between the modes: AUTO for random changes of lights, Sound Control for the lights to follow your music, and STROBE for flash effects.
Secondly, you can do it with a remote control for convenience and set a timer at the same time.
Either the ground or the ceiling would work for the installation. Due to the clear explanation and the mounting tools provided, you will need less than 5 minutes for a nice setup.
Pros:
Very affordable for an electronic dance floor.
USB and battery versions are available with a nice remote control.
Easy installation.
Cons:
It doesn't have a power supply in the package.
5. Caivimvn Dance Floor Lighting
With only a smartphone, you can already enter the world of ethereal lighting effects if you are willing to exchange a meal for a disco ball.
It consists of 3 colors: red, green, and red mixed with green, thus it looks extremely energetic.
In this product, you have three modes of lighting for different needs. The remote control allows you to operate the stage lights and the disco ball from a fair distance.
It's much more convenient than lighting devices that require you to touch them.
Control of the lighting usually feels daunting for beginners. But with something as friendly as this disco ball, even a DJ can improve their performance by syncing the effects to their music, as long as they have a wireless speaker and a computer.
It is usually placated on the ceiling and the package already contains everything you need for installations.
The most compatible places with it should be ones associated with entertainment such as skating rinks, bars, public squares, and many more.
Pros:
The effects are combined with energetic colors.
Smart remote control.
Different lighting modes.
Affordable prices.
Cons:
Some customers think the lights are too bright for their comfort.
6. CHAUVET DJ LED Lighting
When you want a quick and complete solution for lighting, you can totally rely on CHAUVET and their LED heads.
There are 6 of them, enough to cover the whole stage or room. And these heads are also adjustable individually.
The majority of speaker stands and tripods are available to mount for this lighting solution without involving additional tools like clamps.
You can easily attach it to any desired spot using the accurately sized holes. The package offers L-shaped brackets for tricky areas.
With CHAUVET DJ Lighting, you can ensure a synchronized show where your lights flash to the beats of your music, all thanks to its wireless and remote control that is very user-friendly!
The downside of this lighting is the price. Most people will feel hesitant to invest in it if they don't have a long-term plan, no matter how festive and radiant it is.
Pros:
Wide coverage.
Easy to mount and versatile in angles.
Synchronization with music beats.
Cons:
Quite expensive compared to most products.
7. CHAUVET DJ GigBAR MOVE 5-in-1 Lighting System
CHAUVET once again proved that they are a reputable name when it comes to lighting with the 5-in-1 system.
The scale of it surpasses the lighting you usually see at a common party, with moving heads, washes, derbies, and strobe effect on a lone, steady bar.
The package includes Gobo wheels and colors separately to ensure you can be creative with programming.
However, even when the heads are moving, you can use the Totem mode to keep it focused on the floor.
Sometimes, a device with multiple functions makes people hesitate to learn and utilize it. However, it won't be the case with the comprehensive LCD displaying all access and navigation in full colors.
It seems like a lot of problems to deal with at first glance, though you will soon realize it is the exact opposite. The bags are for easy transport and the wireless footswitch is meant for a simple setup.
It would be a nice investment only when you are going for an extravagant event or a business plan.
Otherwise, the price tag can make you grimace, although it is truly one of the best party lights.
Pros:
A 5-in-1 system with everything you are looking for.
Gobo wheels for creativity.
LCD for easy navigation.
Cons:
Expensive for personal and home use.
FAQs
1. Why Do You Need Dance Floor Lighting?
So much research has been done to prove that the lighting on dance floors has some sort of impact on the dancers.
For example, it contributes to the layout and the theme of the party. Hence, it can influence the interaction and become a conversation starter.
The intensity of the lighting also affects the mood. If it is too bright, shy people might feel hesitant to get on the dance floor. But if it is too dull, the party might lose its intended cheery vibes.
Furthermore, you don't need to throw a party to make good use of dance floor lighting. These lighting sources are excellent in setting up the vibes and the aesthetics of your house or room for a gathering.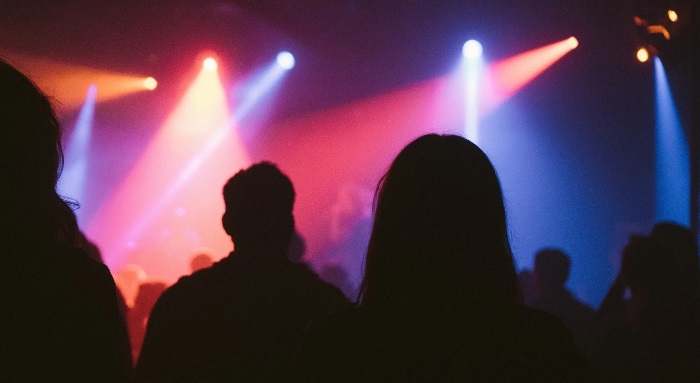 2. What Makes A Good Dance Floor?
If you are hosting an event and planning to get people to join various activities, a good dance floor will be vital.
There are several factors you can pay more attention to!
Make sure the dance floor is neither hard nor soft. Hard floors have higher risks of injury and soft floors might exhaust your muscles quicker.
The floor needs sufficient traction so the guests can nail gliding movements without slipping uncontrollably.
Choose the materials wisely: Hardwood is the standard material but it can break, splinter, develop mold, or rot if the conditions are unfavorable.
On the other hand, glass and granite look more exquisite, though the traction might not be enough.
Area elastic floors are better than point elastic floors because they distribute the energy evenly and absorb shock better.
An outdoor floor should have resistance against outdoor elements. If you want to keep it indoors, you will need to be cautious with the measurements and the space.
Make sure the dance floor matches the theme and the concept you want for your party!
3. What Is The Difference Between Dance Floor Lighting And Uplighting?
Dance floor lighting is not static. It can change colors according to the music that is playing. Meanwhile, uplighting is arranged around the perimeter and retains the same colors.
You can refer to nightclub lighting for an example of dance floor lighting. It decorates the place and enhances the overall energy.
4. What Color Light Is Best For A Party?
It depends on the theme you are trying to give your party. Each color of lighting carries a different meaning:
White: Classy and refined, it is a great choice if you need something that blends in and matches everything else.
Yellow: Like white lighting, yellow lights work well with many themes. It also creates a warm and friendly atmosphere.
Red: Seductive by nature, there are few colors that can surpass red in a masquerade.
Orange: With more vitality than orange and less suggestiveness than red, orange is good for dynamic and electrifying events.
Pink: The color symbolizes energy and youth, in a very positive sense. Bachelorette parties or gatherings for young ladies suit this shade!
Green: Promoting optimism and nature, green is a go-to choice for events related to beauty and the environment.
Blue: Loyalty is the virtue usually associated with blue. Therefore, it is more suitable for team-building or activities to establish a connection.
Purple: In most cases, purple comes with a magical and dreamy feel. If you want to have a fantasy theme, you shouldn't miss out on purple!
Our Top Pick
With the best dance floor lighting, you are one step closer to an unforgettable party!
In most cases, we recommend getting the Luditek Sound-Activated Party Lights, for it is such an affordable and quick solution when you are planning a gathering with many things to consider!
Despite the lack of a modern touch, it does the job as a source of colorful lights to excite everyone!