When you are engrossed in dancing enough to build a corner for practice to invest in something bigger, searching for the best dance studio mirror might be one of the first things that come to your mind.
Let's take a look at the choices you have on the market and see what they can offer!
8 Best Dance Studio Mirrors
1. Trico-op Wall-Mounted Activity Mirror for Dancing
Aside from dance studio mirror recommendations, you might see this product recommended to home and professional gyms as well.
The giant panel is made to fit in large rooms and make them seem more spacious than they are. When you practice dance routines in front of this mirror, you can observe your posture thoroughly.
Although Trico-op mirrors are available in only one size, they make up for the limit with versatility and give customers the choice of hanging the mirror vertically or horizontally.
In terms of structure, the core of this product is a standard silver plate with a 5mm thickness. Above it is 3 layers of coating and protective edges for better resistance against unwanted situations and a sleek finish.
Due to the size, the transportation might be a little bit concerning, but you can put your faith in Trico-op. Your purchase will contain J-bars, glues, caps, and screws for simpler assembly.
Pros:
Flexible with directions.
Able to provide a full view.
Easy installation.
Cons:
Not suitable for small spaces.
2. Fab Glass and Mirror Wall Mount Mirror for Dance Studio
It's best not to let the price tag scare you away because Fab Glass and Mirror has so much value to offer.
What we like the most about them is the variety of sizes, from 36 x 60 to 48 x 80 inches.
If none of the sizes on sale is suitable for your need, you can always request a customized mirror. This versatility allows them to satisfy a wide range of customers.
In this brand, the glass is low-iron and tempered with absolutely no lead and copper, which means you won't see any unpleasant tint and colored spots.
The coating gives it extra resistance to damage and scratches. So, you can say it is much safer than normal mirrors.
Furthermore, these mirrors come without frames, hence it's much easier for you to set up a full-size mirror wall without the seam in between.
In contrast with the delicate appearance, the panels all have a backing for safety to avoid severe accidents if any crash occurs.
Fab Glass and Mirror also prioritizes an easy installation. You can put them together with standard clips and bars, no complicated tools or extra assistance is needed.
Pros:
Various sizes and customization are available.
High-quality glass.
Double backing for safety.
Cons:
The price might be a bit costly.
Clips and bars don't ensure amazing adhesion.
You'll love: 12 Best Online Dance Classes For Kids & Adults
3. Honyee Large Activity Mirror for Dancing Room
If you want to find the best mirrors for a dance studio with versatile placements, Honyee is a strong candidate.
They have various sizes and shapes for you to choose from, so you can comfortably build them as you wish and install more if you need to.
What Honyee is most proud of is its durability. They annealed their glass to the utmost perfection and backed it with silver. So, the endurance is significantly improved.
You won't get any warping and distortion here, and the reflection remains HD for a long time.
Not only that but the mirror is also enhanced with a special membrane with resistance against explosion, thus no serious accident would happen.
The safety also shows in the polished edges, which you can hold and touch without worries.
Pros:
Very affordable.
Multiple sizes and shapes.
Cons:
You might need help installing multiple panels.
4. Hans Wall-Mounted Activity Mirror
When we think about convenience, Hans Wall-Mounted Activity Mirror is the first name that came to our minds.
You can buy single panels and arrange them as you wish. If you want to change the pattern, you can add more panels whenever.
The panel is 48 x 32 inches, so it will work excellently in a narrow space or for personal uses.
In a large studio, they usually put three of these panels together. The final size is sufficient to practice for a professional stage, even if your routine includes jumping and spinning.
With 5mm silver plates and 3 coating layers for protection, Hans promises their mirrors are perfectly flat and durable. They also polish the edges of their mirrors for the user's safety and a sophisticated look.
To make the offer more inviting, they have ensured the installation is simple enough for a DIY project and included tools in the purchase.
However, we recommend having at least one more person to help you out. Mounting this kind of panel will involve permanent glue and drilling, so it's best to ask for permission from your landlord if you don't own the place.
Pros:
Coating layers with protection.
Polished edges are nice to look at and safe to touch.
Included a kit for DIY installation.
Optional expansion with multiple panels.
Cons:
The mounting is difficult for an individual.
Once you installed it, it's permanent.
5. Elenens HD Glass Mirror Wall for Dance Studio
If you have a medium space to decorate, Elenens Glass Mirror is a good place to start from.
It comes in a 48 x 32 inches size, enough for you to catch your full body in the reflection because you will have to keep a distance from the mirror while practicing.
The core of this product is a 1/5-inch glass plate with strong resistance against impact. Most of the common forces applied to it won't cause it to shatter.
Another thing we enjoy about this mirror is how they remove all copper and iron. Without these impurities, your mirror will be safe from discoloration or dark spots.
As you have known, frameless mirrors like this are open to expansion. And it's even better because you will get all the needed tools to mount the panel or adhere a few of them together.
Pros:
Safety backing and polished edges.
All necessary hardware is included.
No copper or iron in the glass.
Cons:
The size is kind of in-between, not entirely big or small.
6. Witcoor Large Dance Studio Mirror
If you want a lightweight set of mirrors, look no more and give this 48 x 32 panel a go.
As a standalone, it is amazing for personal use. But when you piece a few of them together, you will have a wall-length mirror large enough for commercial purposes.
Manufactured with innovative technologies, these mirrors are sure to meet the standard thickness, flatness, and clearness. They also commit to distributing the light evenly and creating a nice optic effect for your studio.
Polished and ready for usage, the installation of Witcoor mirrors is not something complicated either. Rather than the wall, you will mount it on the floor.
Pros:
High-quality mirror.
Frameless panels are ready to be put together.
Easy to install.
Cons:
It won't be good for carpeted floors.
7. H-A Wall Mounted Activity Mirror
Even from the size alone, we can already see H-A Wall Mounted Mirror is ideal for a studio. It is big enough to contain the entirety of your reflection and let you see from various angles.
No mistake can stay hidden, and your practice will have remarkable improvements.
You might fall in love with these mirrors at first sight because they look so sleek and elegant. The wooden backing is great for stability as well as durability.
Distortion and warping are something you won't ever find in H-A products.
Despite the large size, the package is not as big and heavy as you might have thought. You won't encounter much trouble hanging it on the wall by yourself with the hardware included in the purchase.
Pros:
Large sizes for a full view.
No frame for more versatility.
Simple installation.
Cons:
Not suitable for narrow places.
Difficult shipment.
8. AISUNDY Swivel Adjustable Full-Length Mirror on Wheels – Best Portable Dance Mirrors
A portable dance mirror sounds very interesting, yet finding a fine product of this type might be challenging.
It comes in handy when your studio has multiple purposes and the dancing space is not fixed. Plus, you don't need to mount or assemble it.
It can act as a rolling dance studio mirror and give you more angles thanks to the beautiful and sturdy frame made of premium pine wood. Living up to this well-made panel, the mirror is also produced with standards.
With shatterproof and explosion-proof properties, the safety is absolute.
Compared to previously mentioned products, the 64 x 16 size results in a less heavy and clunky package.
If anything, you only need to be careful with your routine and avoid bumping into the mirror, since it is not mounted on the wall or floor.
Pros:
Easy to use, no assembly is needed.
Great value.
Clear and transparent mirror panels.
Cons:
You need to be careful to not bump into it and knock it over.
More compatible with home use than professional use.
FAQs
1. Why Do Dance Studios Have Mirror Walls?
First of all, dance is a form of art that we enjoy with our eyes. Before performing for a crowd, the dancer needs to watch themselves.
A skilled dancer isn't made overnight, instead, they need months and years to perfect a few movements, and they must know how they look first.
Therefore, having a mirror allows them to spot their mistake and correct it immediately.
Secondly, aside from looking good, executing a move correctly also protects you from injuries. Practicing with a mirror wall gives you a full view of your posture so you can get the details right.
In this case, you will minimize the risk of injuries and avoid unfortunate circumstances.
Last but not least is the range of vision.
For a dance instructor, a wall-sized mirror granting them the view of the entire class is extremely important, because how else are they going to observe all the students?
Furthermore, the mirror also gives the students awareness of space and distance from each other.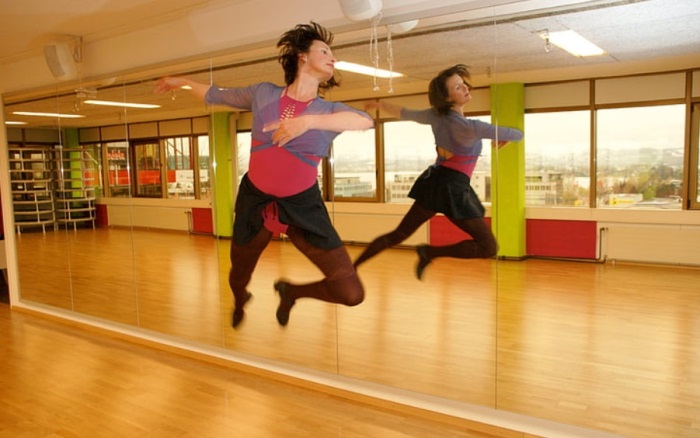 Check more: Why Do Ballerinas Wear Leg Warmers?
2. How Tall Should Mirrors Be For A Dance Studio?
It depends on your preference. If you want a full-sized mirror, you only need to measure the height and the width of your wall, and the outcome will be undoubtedly aesthetic.
On another hand, if you are okay with patching up several small mirrors together rather than ordering a custom wall-length mirror, you might have an easy time shopping and a chance to save your budget as well.
However, you might want to consider the dimension aspect when you want to build a professional studio. There is always some distance between the dancer and the mirror, so you don't need a full-length mirror to capture the entire reflection.
You can keep your mirror 40 – 50 centimeters above the floor and cut down the fees a little.
If your studio has other offers like yoga and pilates classes, you might want to go full-size for when students are sitting or lying down on the floor.
3. Do Dance Studio Mirrors Make You Look Bigger?
Technically, dance studios don't have distorted mirrors that change how you look.
It won't do any good in the end, because the ultimate goal for dancers is performing on a grand stage and in front of live audiences, and a flattering mirror is not helpful.
If a studio mirror makes your reflection seem bigger than it should be, it is certainly because the arrangement was meant to enlarge the space and amplify the lighting.
4. How Much Does It Cost To Install A Dance Mirror?
There are several factors that affect the budget of wall mirrors in a dance studio:
The size of the mirror (or the wall, if you are going for a full-size mirror).
How thick the mirror is.
What type of mirror do you want to install?
Do you want it to have beveling and cutting?
Some mirrors have a colored coating.
Possible shipping and laboring fees.
Generally, you need to pay $7 – 16 to install one square-foot of ¼-inch mirror. If you want to decorate it, you will have to include that fee too.
5. How Do I Choose A High-Quality Mirror?
Mirrors are not merely pieces of glass that give you a reflection of yourself. The materials and the dimensions are determining factors that you need to keep an eye on:
If the production is not good, there will be impurities getting into the glass and causing inconsistency, and you can spot it very easily.
However, it is harder to notice when the problem is the manufacturing techniques. In the worst case of not getting the necessary information, you will need to rely on other aspects.
Framed mirrors are a bit challenging if you want to get the thickness correctly, though the manufacturer would usually provide this specification.
A high-quality mirror is usually ¼ inch thick, and it is the standard for you. Anything thinner will lose shape and distort after a short while.
The reflection comes from a silver coating on one side of the mirror, and we also need several additives such as protectors and sealants.
In low-quality mirrors, you usually don't have enough sealant. Hence, the chemicals beneath will be oxidated, resulting in dark and rusty spots.
If your mirror doesn't have a consistent surface. A tiny curvature can already distort the reflection. You can test by tilting your head or walking past the mirror and observing the reflection.
Our Top Pick
Having the best mirrors for a dance studio might be such a game-changer.
Aside from providing extra vision and helping you make your posture better, they also contribute to the overall decoration and give your studio a professional touch.
For professional and commercial purposes, we recommend Trico-op Wall-Mounted Activity Mirror, for the panels are of high quality and also ready for expansion.