Carmen Amaya (1913 – 1963) was a Romani danseur acclaimed and recognized for impacting the Flamenco dance.
Also hailed as the Queen of Gypsies and the most incredible dancers, she had a life full of glory, excitement, and challenge that a commoner might never imagine.
Who Is Carmen Amaya
Most people acknowledge Carmen Amaya as the greatest Flamenco dancer of all time due to her skills and movements being one of a kind.
Back in Carmen's time, strong and steady footwork is something reserved for the male dancers. However, she refused to be a secondary performer, a backdrop for the men.
Waywardly and unruly, the prodigy mastered masculine details and incorporated them into her dancing while maintaining the alluring movements of her upper body.
Carmen Amaya's Family
Carmen was born to a humble Gypsy family in Somorrostro, a little town between the sea and the land. Unfortunately, we don't have an exact birthday for Carmen, though it is accepted as November 2nd, 1913 (some said it is 1915).
Her father is a guitarist while her mother is a housewife taking care of eleven children.
Being the second child of the family turned Carmen into a responsible person since she was only a little girl, hence her participation in Mr. Amaya's performances.
Carmen Amaya's Husband & Children
Interestingly enough, Carmen's husband is also a guitarist named Juan Antonio Aguero. He worked for her company and they became a pair under the support of family and friends.
There is so much curiosity around the quiet and even speedy wedding ceremony. As the pair went straight back to work and seemed to have no time for a honeymoon.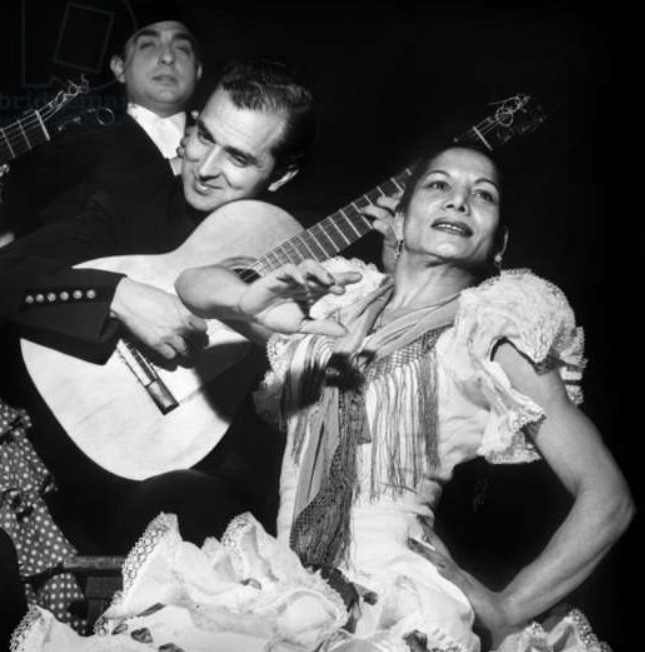 Carmen Amaya's Body Measurement
It is surprising to know that Carmen Amaya's height didn't surpass 4 feet 10 inches, yet her body is versatile and powerful.
Matching the humble height, Carmen is also lightweight with the foot size of a child. However, those childlike feet did break the floorboards of the stage with an exceptionally heavy stomping.
Carmen Amaya's Early Life and Education
Carmen Amaya was born in Barcelona, and she always saw herself as a child of Catalan despite her family being Romani gypsies.
Inspired by her mom and aunt, Carmen learned her first dance move when she was only an infant.
With her father being a performer at clubs and pubs, Carmen had the chance to join him on stage very early. When a performance was over, the audience would throw coins onto the stage and the little Carmen would collect them.
Many years after, she shared that she performed to earn some money and helped her family out of their hardship.
At the very young age of six, through rumors and words spread, Carmen's talent in dancing marked the premature end of her childhood as a businessman and presented her to more respectable venues.
Soon enough, they began to call her La Capitana.
The World's Fair 1929 held in Barcelona with pavilions of international merchants officially made Carmen known.
She was the main attraction for guitarist Borrull and his tablao, their performances were all over the newspapers, and the whole tipped their hats to the prodigy.
Carmen Amaya's Dancing Career
Renowned In Spain
When reputation and fame came flooding, Carmen became the center of attention and inquiry.
Professional dancers wanted her to join them, critics wanted to see whether she was truly talented or not. And enthusiasts wanted to watch her more.
Vicente Escudero planned to give Carmen a debut in America but had to postpone it because she was underage.
Someone born to shine would always have the spotlight on them.
Guitarist Sabicas, a rare artist who knew Flamenco, persuaded Mr. Amaya that Barcelona wouldn't be enough for Carmen's potential. Instead, Madrid would be a better choice.
Carmen performed at nightclubs before scoring a formal theater show. It didn't take much time until the aficionados filled the seats and proved the value of the young Carmen.
Never before did people gather to watch a girl solo dance to Flamenco and talk about this dance style so much.
When a dancer of this era reached the peak of their career, the next inevitable step is the cinema. With several films in a row, by the end of 1935, most people in Spain were no strangers to the name Carmen Amaya.
Years In South America
The Amaya family was extremely excited about a whole season of performance in Portugal, though the explosion of the Civil War changed everything.
With heavy hearts and no money to support themselves, they only had one choice: Argentina, South America. Perhaps it was a good decision because Carmen stayed in Buenos Aires for a long time.
The dancer inside her lived on even during such a difficult time. And it took so little time until Carmen formed a whole troupe of Flamenco dancers with her family.
They hosted their own tour and traveled across the nation. People everywhere couldn't escape Carmen's charisma and beauty.
Rumors had it and soon enough, her career kicked off again in the foreign land and took the Gypsy Queen to Brazil, Uruguay, Columbia, Cuba, and more.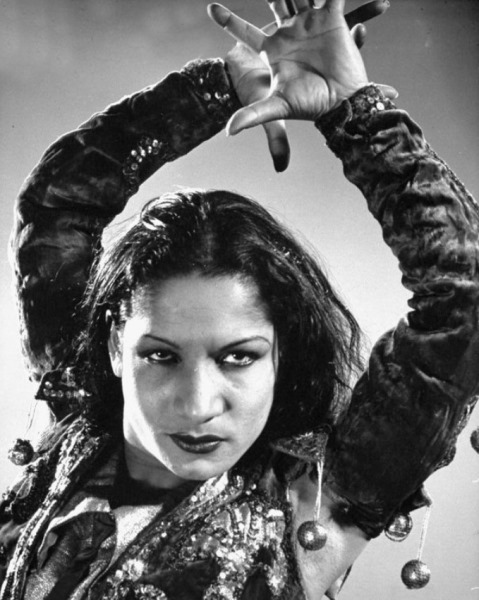 In Latin American countries, the Queen of Gypsies seemed to be in the right place to shine. From her unique personality to her majestic beauty, people love being in her presence and watching her dance.
Thousands of fans imitated her unorthodox style and adorn menswear, further emphasizing her influence back in the day.
It's safe to say Carmen made a lot of money, though she was just as quick in spending them. Not taking materialistic matters seriously, she gifted and indulged in her beloved people generously.
Nonetheless, it eventually led to unsolvable conflicts between her and her family.
At last, Carmen didn't have any other choice other than dismissing the troupe and moving on to the next chapter of her life.
Success In The US
Mexico was Carmen's next destination, where she met Sabiacas, a guitarist that she collaborated with for years.
They had a romantic time together, though Carmen eventually put him back on the friendship basis and chose to conquer America next.
Once again, it wasn't a challenge for Carmen and her fierce dance moves to gain hearts and attract eyes in the United States. Even President Roosevelt was a big fan of hers. And the peak was his invitation to have her perform in the White House.
While in America, Carmen was deeply involved with Hollywood. Their films were a remarkable contribution to her popularity on an international level.
Return To Spain
It was not until 1947 did Carmen decide to return to Spain. By that time, she was already an internationally acclaimed star with a lot of stories that might be beyond the imagination of many people.
Even though she was on top of the world with countless contracts and offers, her heart stayed loyal to the country she was born in.
The years she spent abroad sharpened not only her dancing skills but also her personality.
The wits and the generosity she exuded are something you would always remember once you had the opportunity to talk to her. This attractive personality is a key element to her success.
Carmen didn't stay in Spain for too long.
In the next three years, she performed in London, America, and Argentina before focusing on multiple performances across Europe. She even had Queen Elizabeth II congratulating her, the picture of which was titled "two queens".
In 1952, the dreamy Carmen got married and thrived in a love story she so deserved.
Happiness follows happiness, in 1959, the city of Barcelona recognized Carmen Amaya with the Carmen Fountain built right in Somorrostro, where she was born.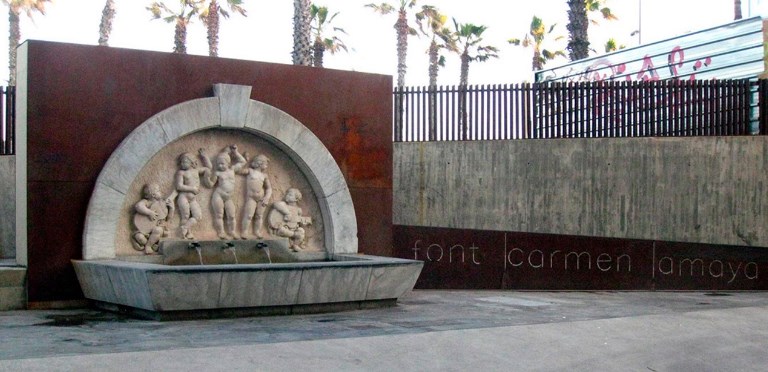 After Los Tarantos, her last recorded piece, she has tried her best to continue working, though her severe kidney disease prevented her from following such packed schedules.
In Carmen Amaya's last performance in Madrid, her illness was already at its terminal phase.
Carmen Amaya's Awards
In honor of Carmen's dedication and influence, the authority awarded her with the Medal of the Barcelona Tourist Merit and called her The Beloved Daughter of Bagur after she passed away.
Also in Barcelona, they built a monument for her in the Montuic Park and named a fountain in Somorrostro after her.
For someone who had tasted the glory and got the world going crazy for her dances, such acknowledgments meant more than anything.
Meanwhile, as the first country she found shelter in during the Civil War, Argentina solemnly gave her name to a street in Buenos Aires. We can guarantee that not many foreigners received such recognition.
Her Dancing Skill Is Inimitable
Many dancers can start learning at the age of four. Yet only a few of them can say they have been on stage since that age and managed to grab hearts.
That is evidence of Carmen's charisma. It proves that she was born to shine.
In the first article about her, a critic named Sabastian Gash described her:
"Imagine a 14 years old gypsy sitting in a chair on the tablao, Carmencita remained impassive, statuary, noble with a racial elegance, inscrutable, absent, not paying attention of what is happening around her, alone with her inspiration, with a very hieratic attitude to allow her soul to raise until inaccessible areas.
And suddenly, a jump. And the gypsy dances. Indescribable. Soul. Pure sole. The feeling made real. Movements of twist in right angle, pure geometry."
There is a term in Spanish and Flamenco: "Duende". It doesn't have a specific equivalent in English but it's the emotion, heart, and soul conveyed through the Flamenco dance.
And for Carmen, her "duende" is something people have never seen.
During Carmen's prime time, the conductor Arturo Toscanini also used such sweet words to talk about Carmen:
"Rhythm, sensuality, and drama were part of her arsenal of magic. Serious, sultry, and unpredictable, she commanded instant attention.
Alternately appearing in flamboyant gowns and the preferred tight matador pants, she exuded the pansexual, virtually demonic charisma of a rock star. Her lightning footwork, faster than the eye could comprehend, made audiences dizzy."
Most dancing enthusiasts considered Carmen a pioneer in the art of Flamenco.
Before her, powerful footwork is exclusively for men. But she created an unpreceded combination of masculinity and femininity, making her movement so powerful and graceful at the same time.
Another special thing about Carmen's style is that she preferred menswear over traditional dresses. It suited her feisty and vigorous dancing, which remains unmatched to this day.
When asked, many Flamenco dancers would mention notable names without Carmen Amaya. Question them again, and they would let you know "Carmen Amaya was something else".
Carmen Amaya's Death
Carmen Amaya's cause of death was a congenital kidney condition.
After being diagnosed, Carmen Amaya decided to spend more time on her health, although she still tried to finish her last film. Her last two years were in the Costa Brava resorts before she bid us goodbye in 1963.
As soon as the doctor announced that Carmen's illness could only be soothed to an extent with no cure, the press quickly caught on and sent journalists to the small Begur town in the hope of saving the last moments of a legend on photos or papers.
From all regions of Spain, people headed to Mas Pinc to say their final goodbye and witness the Romany visitors clear Carmen's abode from her belongings.
It's a Romany tradition to keep something in memorial of someone dear and intimate. The way they left nothing behind proved how loved Carmen was.
The shortage of items is why Mas Pinc hasn't been turned into a museum despite being owned municipally. If you visit this place, you will mostly find a couple of photos and an iron cross that Carmen adored to no end.
Fortunately enough, we still have a significant legacy of Carmen to this day.
No one can ever forget a petite woman who changed the world of Flamenco by refusing to be an addition to a male's performance.
Her energy and passion burned the dance floors and gave birth to the Flamenco we know.
Final Words
There's no denying that Carmen Amaya is an icon in dancing and specifically Flamenco. She had the intention of empowering women and fighting against prejudice so ahead of her time and succeeded in changing the traditions.
We will always remember a petite woman who dared to overwrite the rules and left her impact on this fiery dance, who never failed to show her feminine appeal even when dressed in masculine outfits.