When someone says something about "dancing", the image that pops up in most people's minds will be the image of a graceful ballerina executing an Arabesque. It takes a lot of hard work and perseverance to learn how to look so graceful. So, for inspiration, use these inspiring ballet quotes!
Ballet dancers know hardship probably more than anyone else, so hearing their words and heeding their teachings can help you become more disciplined!
60+ Best Motivational Ballet Quotes & Sayings
Inspirational quotes about ballet
"A real ballerina must fill her space with her own personality" – Natalia Makarova.
"I may not be there yet. But I'm closer than I was yesterday." – Unknown.
"Practice is a means of inviting the perfection desired." – Martha Graham.
"Great dancers are not great because of their technique, they are great because of their passion." – Martha Graham.
"The supreme accomplishment is to blur the line between work and play." – Arnold J. Toynbee.
"Great artists are people who find the way to be themselves in their art." – Margot Fonteyn.
"The pain of discipline" is far less than the pain of regret." – Devon Teuscher.
"The purpose of art is higher than art. What we are really interested in are masterpieces of humanity." – Alonzo King.
"The ones who say "you can't" & "you won't" are probably the ones scared that "you will"." – Unknown.
"Some people want it to happen. Some wish it would happen. Others make it happen." – Michael Jordan.
"Don't underestimate yourself. You are more capable than you think." – Misty Copeland.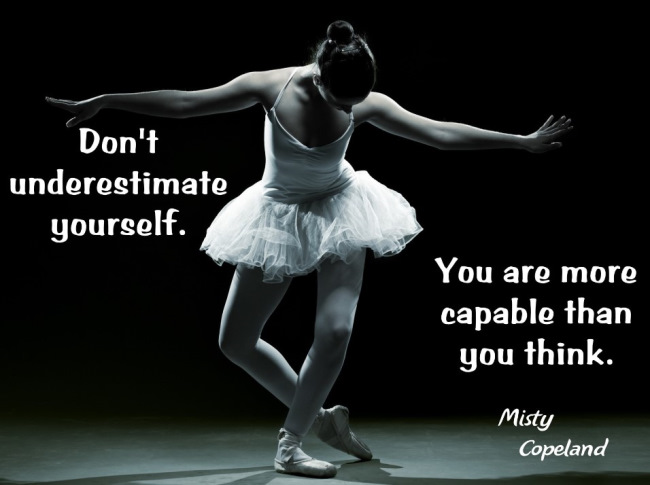 "Everyone wants to be successful. Until they see what it actually takes." – Unknown.
"Ballet is a universe of the imagination, a place of magic and enchantment, beauty and romance." – Trudy Garfunkel.
"I dance because there's no greater feeling in the world than moving to a piece of music and letting the rest of the world disappear." – Unknown.
"Dance is a little insanity that does us all good." – Edward Demby.
"Dance is an art, paint your dream and follow it." – Steven Thompson.
"Do it big, do it right, and do it with your style." – Fred Astaire.
"Nobody cares if you can't dance well. Just get up and dance. Great dancers are great because of their passion." – Martha Graham.
You'll love: 40+ Famous Belly Dance Quotes And Sayings
Cute & Funny ballet quotes
"In my ballets, woman is first. Men are consorts. God made men to sing the praises of women. They are not equal to men: they are better." – George Balanchine.
"If ballet was easy, it would be called football." – Unknown.
"I'm not invisible when I dance." – Unknown.
"People who say, "you must be practically a professional", I realize they've never seen a ballet in their life." – Unknown.
"People come to see beauty, and I dance to give it to them." – Judith Jamison.
"A ballerina may look fragile but she's stronger than you think." – Unknown.
"It takes an athlete to dance, but an artist to be a dancer." – Unknown.
"Dancers don't need wings to fly." – Unknown.
"Why walk when you can dance?" – Ellen van Dam.
"The job of feet is walking, but their hobby is dancing." – Amit Kalantri.
Short ballet quotes
"Be happy. Be bright. Be you." – Kate Spade.
"Don't let anyone dull your sparkle." – Unknown.
"Dance first. Think later. It's the natural order." – Samuel Beckett
"Dancers are the athletes of God." – Albert Einstein.
"The dance is a poem of which each movement is a word." – Mata Hahi.
"When in doubt, dance it out." – unknown.
"It doesn't get easier. You get stronger." – Unknown.
"I believe it is in my nature to dance." – Unknown.
"There are no words, only the movement and the pointe is made." – Unknown.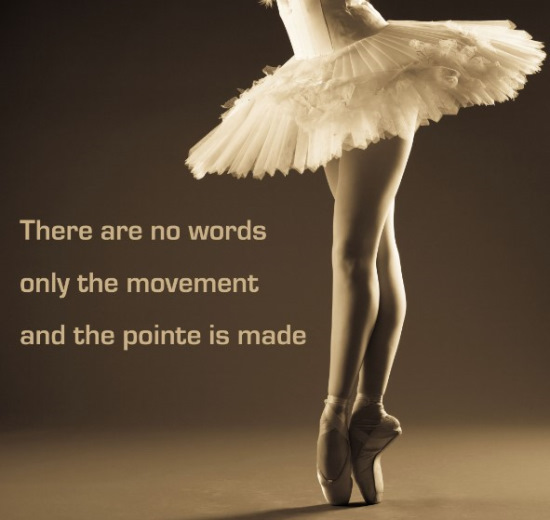 "Dance is art in motion." – Unknown.
"Dancing is the closet thing to magic." – Unknown.
"Ballet is like dreaming on your feet." – Unknown.
"Life without ballet would be pointless." – Unknown.
Check more: Degage Ballet Definition – How To Do A Degage In Ballet?
Ballet quotes for Instagram
"It (ballet) is a perfect medium for the expression of spiritual love." – Ayn Rand.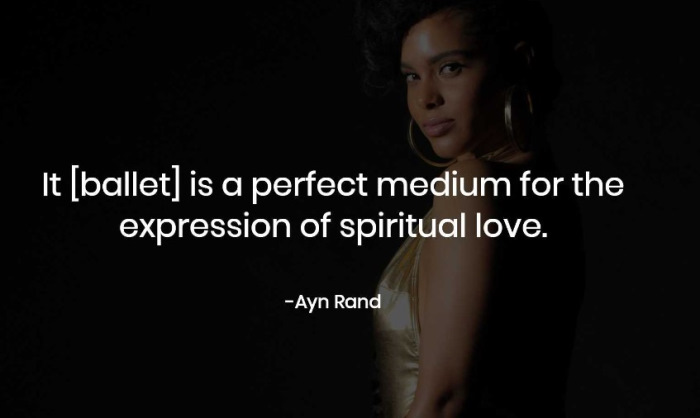 "When you dance, your purpose is not to get a certain place on the floor. It's to enjoy every step along the way!" – Unknown.
"I do not try to dance better than anyone else. I only try to dance better than myself." – Unknown.
"Ballet is like a rose. It is beautiful and you admire it, but you don't ask what it means." – George Balanchine.
"To watch us dance is to hear our hearts speak." – Unknown.
"Dancing with the feet is one thing. But dancing with the heart is another." – Unknown.
"You always find beauty in things that you love." – Unknown.
"Behind every dancer who believes in herself is a teacher who believed in her first." – Unknown.
"A dancer must defy many things, gravity is only one of them." – Unknown.
Ballet quotes for little girls
"All dreams can come true if we have the courage to pursue them." – Unknown.
"Little girls with dreams, grow up to be women of vision." – Unknown.
"There was something in her movements that made you think she never walked but always danced…" – L.M. Montgomery.
"You may only be taking tiny, tippy toe steps, but all those little moves are forming your very own dance!" – Unknown.
"Some girls are just born with glitter in their veins." – Unknown.
"You will only get out of a dance class what you bring in to it." – Unknown.
"If you ever feel like giving up, just remember there's a little girl watching who wants to be just like you." – Unknown.
"Let your little girl blossom into a ballerina." – Unknown.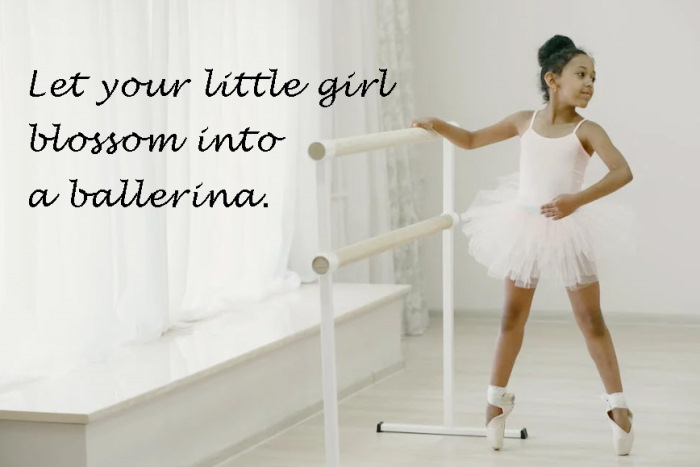 "Just because you don't look like the other "crayons" in the box … DOES NOT mean you still can't make the most beautiful pictures! DON'T you EVER give up on YOU! YOU are simply AMAZING!" – Unknown.
"I may never be a ballerina. I may never get the chance. But that won't stop me, from learning how to dance." – Unknown.
"Little girls have big dreams too. Help her dream come true, give her the gift of dance." – Unknown.
"You dance love, and you dance joy, and you dance dreams." – Gene Kelly.
"Let your person define your dance, not your dance define your person." – Unknown.
"Do it for that little begginer that used to watch the big girls in the sparkling dresses and say "I want to be like her someday"." – Unknown.
Conclusion
Coming from people who spend dozens of hours every day practicing and honing their crafts, their beautiful quotes about ballet will pick you up and give you a boost of inspiration to do whatever it is that you've been putting off for a while.
Which ballet quotes are your favorite? Tell us in the comment section below!
If you have any other questions about ballet dances in general and the quotes, you can leave me a comment in the comment box. We'll try to get back to you as soon as we can.