The best leggings for dancers should be able to give them reliable coverage regardless of how much they bend and stretch, without causing any difficulty in their movements.
Furthermore, customers might be more demanding and request more features such as tummy control and hidden pockets. Here are a few names that can live up to those requirements.
10 Best Leggings For Dancers To Use In Class & Competitions
1. 90 Degree By Reflex Womens Power Flex Yoga Pants
When it comes to dancewear and especially leggings, 90 Degree By Reflex is quite the leader with their innovative design. Customers rely on them for the reputation they have built over the years and come back for the amazing service.
At a very affordable price, you will have a balanced, calculated combination of polyester and spandex. It is both comfy and durable enough for your practice as well as your relaxation, yet the stylish look assures a presentable appearance for a casual hangout.
It lives up to the name Power Flex not only due to the materials, but also the high waist. No more muffin top, only a flat abdomen remains. The form accentuates your figure and boosts your confidence significantly.
The purpose to serve daily life becomes even more transparent with the variety of colors to choose from. If you like it, you'd better secure your purchase right away before it is out of stock!
Pros:
Stretchy and comfortable fit
One of the most flattering design
Multiple colors for choice
Cons:
Not very compatible with extremely cold or hot weather
Be careful with the dye if you wash the leggings with white clothes
Check more: 10 Best Bloch Dance Shoes That Dancers All Love
---
2. 90 Degree By Reflex High Waist Power Flex Tummy Control Leggings
Arguably the next best dance leggings, this product is certainly for you if you are looking for more tummy control. It gives a tiny bit of extra compression on your midbody and simultaneously commends your silhouette. The muffin top belongs to the past now.
The waistband flattens on your tummy without sliding off and bunching up on you. And as the name indicates, the waist is very high, sufficient for them to incorporate a discreet pocket. You can fit a smartphone or keep some charges in it for your convenience.
The ratio of nylon – spandex differentiates a little here, 87% versus 13%. It might not be the most breathable fabric, yet it is surely durable and last for years. This ratio results in a rather smooth material, so you won't feel much friction when your legs brush against each other.
Pros:
Tummy control for a nice figure
Smooth fabrics
A convenient waist pocket
Cons:
The material is not that breathable
Some people find the fabrics see-through
You should read: Physical Therapy For Dancers
---
3. Capezio Women's Tb204w
Capezio wants you to practice like a boss with their nylon & spandex leggings (90% – 10%). It's very resilient, thus enabling the dancers to try and perform the most difficult moves they can think of.
TB204W promoted a modern look with a high waist and straight legs. It emphasizes the length of your legs and streamlines your entire figure in a very flattering way.
Aside from the slightly costly price, the 33" inseam is another drawback for general customers, since it is only suitable for people with tall stature. Rather than insisting on TB204W and cutting off some parts, buyers could simply find another model.
The recommended care technique can be a bit of a hassle as well. You need to wash these leggings by machine, use cold water, keep the cycle slow, and then air-dry them.
Pros:
Elastic and flexible enough for movement freedom
Very flattering for tall figures
Cons:
A little expensive compared to the average
Not suitable for medium and short people
---
4. ODODOS Women's High-Waisted Tummy Control Capri Leggings
ODODOS uses 72% polyamide & 28% elastane for the body and 76% polyester & 24% spandex for the lining, hence the fabrics seem like something heavy-duty at first sight. However, it provides only comfort and protection, with little tolerance for moisture.
Other than plain colors, this product line also includes printed leggings for dancers who prefer a bold, chic look inside and outside of the practice room. Furthermore, the Capri length is also versatile for errands, hiking, travel, and many other applications in real life.
While the waistband is not as high as the true high-waisted leggings, it is still wide enough for coverage. The crotch, however, is something to root for. It's padded for more comfort and versatility with movements.
Pros:
Great coverage from the wide waistband
Multiple colors and prints to choose
Flexible with applications
Cons:
The materials might not be lightweight enough
---
5. THE GYM PEOPLE Thick High Waist Leggings for Women
Made of 88% polyamide and 12% spandex, this pair of leggings from THE GYM PEOPLE is among the top choices for squat proof, which means it can provide ample support and coverage when bent and stretched. There is no see-through accident here, and you can dance your heart out with no concern.
The comfort is further enhanced with a wide elastic band covering up to your navel. You have full tummy control here, and it won't fall off whether you are practicing fitness or dancing.
The manufacturer keeps up with the trend by giving their creation a gusseted crotch and a side pocket for convenience. They also offer a broad range of colors and patterns to approach more customers.
Pros:
Elastic closure
Multiple prints and colors
High-waisted with a pocket
Cons:
Not the most breathable material
Handwash only
---
6. Romansong Women's Mesh Leggings Yoga Pants with Pocket
Romansong is here to introduce something slightly different to us: a sexy mesh pattern. Rest assured, it looks way more fashionable and sophisticated than regular dance tights. And you can use these leggings for pole dancing without any hassle.
Made of less polyester (77%), the fabrics feel more breathable and tender on your skin while still giving your bottom enough support and coverage. It will give you that dreamy streamlined figure and encourage you to perform with everything you have.
Compared to other products available on the market, it won't lose in terms of tummy control with the stretchy waistband. This band also includes a hidden pocket to stash your belongings.
Pros:
Soft and stretchy fabrics
Tummy control and slimming effect from the waistband
Fashionable mesh panel
Cons:
The size chart is not very accurate
Handwash only
---
7. IUGA High-Waisted Leggings with Inner Pocket
If you are looking for ⅞ leggings, IUGA might be a reliable name. They focus on giving the bottom a lift and offering some tummy control as well. They contour the edges and the curves of your body and accommodate all the postures you make.
Thanks to polyester and spandex in an 8:2 ratio, these leggings can stretch to any direction you want and thus give your movements no restriction. The coverage with no see-through spot also contributes to this aspect.
When IUGA says their leggings apply to all situations, they are confident with the materials and the features, but the appearance is important too. They have various colors and lengths that you can choose from.
Pros:
Cutting-edge design with the newest features
Stretchy and not see-through materials
Various lengths and colors
Cons:
The waistband is a bit thin
---
8. Colorfulkoala Women's Buttery Soft Full-Length Leggings
Living up to their name, these leggings have over 20 options for color but unfortunately no print. All of them are opaque but very lightweight so it wouldn't be exaggerating to say you will feel like you are not wearing something tights.
For more comfort, Colorfulkoala uses flatlock construction and a seamless waistband. The band might not feel wide and thick like most leggings focused on tummy control, yet it won't leave any imprint of stitches on your abdomen.
More impressively, the inside is slightly brushed for a more pleasant feeling as well as to wick the moisture. You can machine wash with cold water or handwash for safety.
Pros:
Soft and opaque fabrics
Flatlock construction for reinforcement
Seamless waistband won't press against your skin
Cons:
The fabrics might be thin for some users
Seamless means less durable
---
9. Under Armour Men's HeatGear Leggings
Dedicated to gentlemen, these products from Under Armour are among the best leggings for a dance class that male dancers can try. It specializes in an elastic closure while still sparing room for breathability with the mesh panels.
Men need protection around their crotch area, and the HeatGear leggings have the most support due to the distributed gusset. It provides superior coverage without adding pressure on you.
A high waistband is not the priority for menswear, so Under Armour goes with a generous width for both fashion and comfort factors. There is a pocket on the side to keep small belongings safe too.
Pros:
Very tight and fitting like a second skin
Easy to wash and dry
Ergonomic design for abrasion reduction
Cons:
The materials are not very durable
---
10. Lululemon Align Full-Length Yoga Pants
Always one of the best Lululemon leggings for dancers, the Align product is proud of how weightless it is. You might even forget you have put them on. The great coverage from the opaque materials is another reason you can completely focus on your movements.
On the aesthetics side, Lululemon aims for something sleek and hence keeps the seams as few as possible. Even the pocket in the waistband was intended to be nearly invisible and never in your way.
A downside of this pair of leggings is certainly the maintenance. You need to avoid washing it with clothes of different colors, using bleach, and ironing. The safest way is machine-wash with cold water.
Pros:
Durable nylon–elastane materials
Smooth and sleek with the fewest seams possible
Cons:
High-maintenance
High price tag
---
How To Choose The Best Dance Leggings?
Fit
The best word to describe how your legging should fit is 'snug'.
When using leggings for a casual outfit, you would want them to feel smooth and comfortable. But it isn't the same with dance leggings.
Standard: It hugs your body and fits true to size, yet you won't feel any sort of compression.
Tight: Highly compressive leggings might feel uncomfortable at first, hence you can slowly decrease the size to get yourself familiar with it.
Length
Dance leggings are available in various lengths. And each of them has a specific purpose.
They reach the middle of your calves. Hence, the lower part of your legs, as well as your feet, will remain exposed.
Contemporary or jazz dancers tend to go for this type because it keeps their feet free and still gives their legs some coverage.
As the name indicates, it goes a bit further than the Capri ones and covers your entire legs, leaving only the feet bare.
The seam around your ankles would be almost invisible and thus does not draw attention. Most contemporary and lyrical dancers enjoy footless tights.
Mostly used in Australia, stirrups also give your leg full coverage but add a fabric sling around the foot arch.
Therefore, they are more compatible with modern dances or aerobics, which demand quick footwork.
They are the most commonly used as the foot holes allow us to switch between standard tights and footless tights. This means you can be ready for different dance styles.
It covers your legs and feet completely. This excellent protection is very appreciated by most dancers, especially younger ones.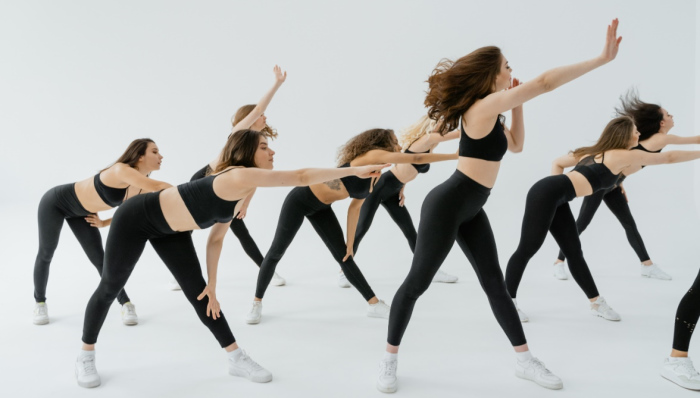 Material
Compared to the regular tights that you wear for the sake of dressing up, dance leggings are typically made of thicker materials, so they can withstand the impact of rigorous dance moves.
Nylon: Most dance leggings contain a high percentage of nylon, for this type of fabric is inexpensive and stretchy.
Spandex: If nylon is the main component, spandex would be the addition. It enhances the overall quality of the leggings with an amount of about 15%.
Microfiber: They might not be the most economical, though the stretch and the breathability are amazing.
Silk: Leggings made of silk and similar fabrics tend to have a very glossy finish and are thus more suitable for theatrical performances. However, these materials are not as stretchy as synthetic components.
Color
Not every color is appropriate for dancing. And we are going to tell you why right away.
White: Traditionally, white leggings are strictly for performances. They let the audience see the dancer's figure and performance clearly, giving no room for slacking and flaws.
Salmon pink: Most ballet instructors would recommend it to their students.
Beige: Currently the best-seller for jazz dancers and people who like to adorn gloss tights.
Tan: Dancers with darker skin tones would go for various shades of tan. It gives a stronger appearance as well!
Black: If not for practice, black leggings are only suitable for performances or concerts with a very specific concept.
Tips To Check For Your Right Fit
After you have done your research for the best dance leggings, it would be no use if you don't know how to test and check whether they fit you or not.
Fortunately, the steps are fairly simple.
Test The Size
Although the leggings need to fit snugly, they shouldn't be pressing against your skin too hard and leaving any imprints.
You can test this by putting the leggings on and sticking a finger past the waist or the ankle.
If there is room for more than one digit, consider going down a size. On the other hand, you would want to choose something larger if you can't insert a finger between the fabrics and your body.
Squat
Since you will dance in these leggings, wearing them isn't enough yet. The next test is simply a full squat and see if they remain opaque while staying at your waist level.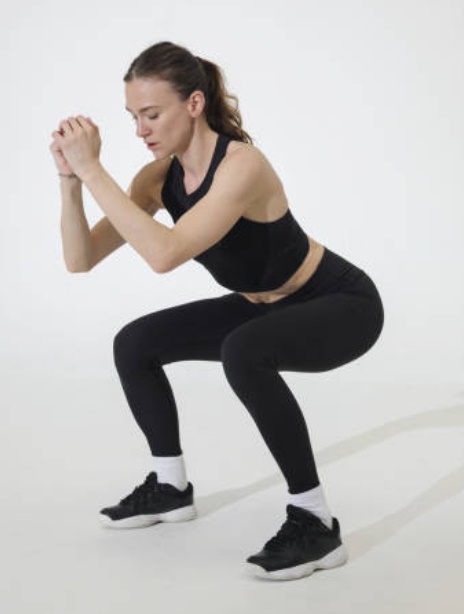 Therefore, if the materials look too thin they expose your underwear, you will know your leggings are too small for you.
Otherwise, oversized leggings would slip off your waist and even show some wrinkles.
FAQs
1. Why do dancers wear leggings?
Obviously, they contribute so much to the stage, but inside and outside of the dance class, leggings and tights are still beneficial in various ways:
They absorb perspiration from the feet and the legs. Although it might not sound like a big deal, it plays an important role in the comfort of the dancers, especially when they have a partner.
The dancers need that slight compression for their legs to be sensitive to motions.
They provide coverage and free the dancers' minds from unwanted exposure, hence the movements will be more generous.
Leggings are various and fashionable styles nowadays. It promotes a professional and neat appearance.
Leggings are often made of fabrics that feel so smooth and tender to your skin. You will feel little to no friction when your legs rub against each other either.
2. What length leggings are most flattering?
Before you think about the lengths, you should make sure you have measured your waist, hips, and inseam correctly. Combined with your height and weight, you can use a size chart to figure out the most appropriate size for your leggings.
Leggings often come in three lengths, regardless of the athletic or non-athletic purpose: full length, ⅞ length, and Capri length.
Full length: It falls past your ankles and creates a streamlined figure. However, it only benefits tall people. If you are on the short side, the full-length leggings of your size might be too long.
⅞ length: It stops a bit above your ankle, a good choice if you are not confident in your height. For a tall person though, it will look like they are wearing capri or cropped lengths.
Capri length: If this length cuts any higher, you might as well wear shorts. It exposes the ankles and commends a short figure better.
3. Is it better for leggings to be tight or loose?
Everyone will tell you the leggings should fit like a second layer of skin. These three spots should feel tight: bottom, thighs, and calves, but they shouldn't feel tight to the point they cause you pain.
While loose leggings keep sliding off, they don't really cause any harm to you. Nonetheless, overly tight leggings can give you the dreadful muffin top and leave imprints on your flesh.
4. How do you wear dance leggings?
For dancers, putting leggings on means wearing them with dance leotards. It's easy enough, but we have several tips to ensure a flawless and professional look:
Hide the seams: Both leotards and leggings fit your body like a second skin and make the seams of your underwear visible. It gives your skin irritation and takes away your confidence. Thongs and seamless undergarments are the easiest solutions, though professional gymnasts and dancers prefer no underwear.
Choose a style: If you put the leggings over the leotards, you will have a more carefree appearance. The other way around is more suitable for sports and dances.
In Summary
By far, 90 Degree By Reflex Womens Power Flex Yoga Pants earned our highest score as the best leggings for dancing with everything it is capable of for such an affordable price: full coverage, stretchy materials, tummy control, and secret pocket.
The only warning is to never wash a colored pair with white clothes, for the dye might be very troublesome.