Dancers of all types, especially ballet, always look forward to improving their flexibility or safely practicing more difficult postures.
Therefore, ballet stretch bands are such a sweet delight with the assistance and safety they provide during practice.
We will take a look at some effective exercises as well as reliable products you can invest in!
What Is A Stretch Band?
In dancing, it is crucial to constantly improve the flexibility of muscles and increase the range of motion. Stretching is the traditional and effective method to help you achieve lengthened muscles and decrease the risk of injuries.
Stretch bands come into play with two main functions.
First of all, they create extra tension in your muscles, and you have to exert more to resist that tension. If you have only returned to dancing after a long break, stretch bands act as both assistance and therapy to rebuild the strength in targeted groups of muscles.
Secondly, when you engage stretch bands in your exercises, they also lower the negative impact, so your joints and bones won't be under excessive pressure. You are also less likely to have your limbs slipping off position and ending up injured.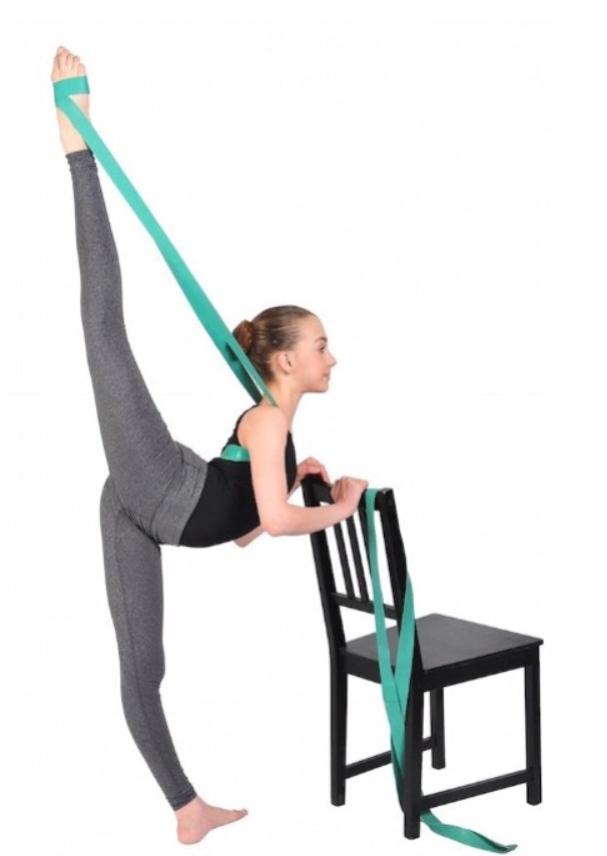 Ballet Stretch Band Exercises
Arabesque
Instructions:
Firstly, make sure you have something similar to a barre to hold onto for more balance.
Start by raising one leg behind your back and slipping that foot through the loop on your stretch band.
Put the strap on your opposite shoulder.
Extend your supporting legs and arms into a standard arabesque pose.
Tips:
If your stretch band has a foam pad, make sure it is placed around the center of your active foot and not your ankle or heel.
The other loop goes to your shoulder and never your neck.
Engage your muscles and don't rely on the band to pull your leg up.
Penché
Instructions:
From the arabesque, keep your torso steady and lower it while holding onto your barre or something equally steady.
Let the pull from your lower torso tug your extended leg further upwards until you have a full split.
Tips:
When you feel comfortable in the penché posture, you can bend and straighten your supporting leg to push your muscles some more.
Try letting go of the barre only if you are fully confident.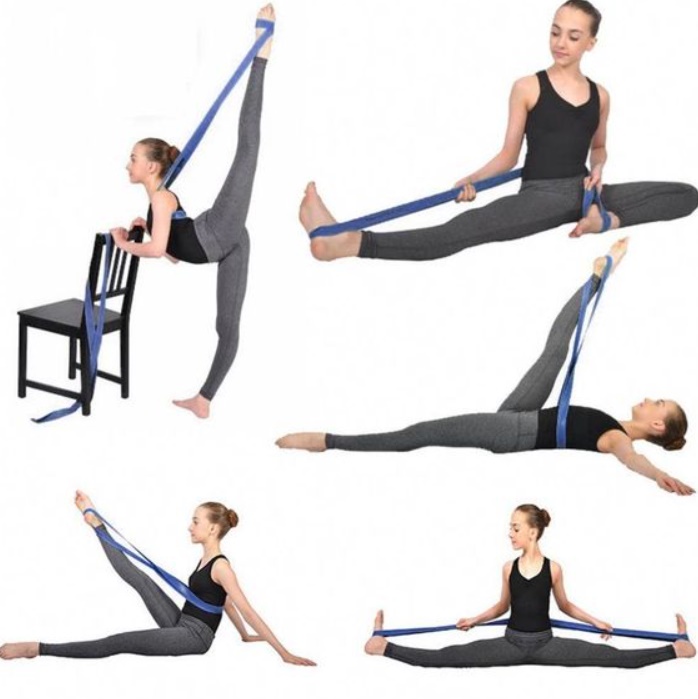 Check more: Why Do Dancers Wear Tights Over Leotards?
Side Leg Extension
Instructions:
Keep the arrangement of one leg and its opposite shoulder as you did for the arabesque.
Instead of extending your leg to the back, raise it straight upwards to the side.
Hold both of your arms up in the air.
Tips:
Try to lower and raise your active leg repeatedly to get your body familiarized and strengthened, so you will be able to do it without the band.
Lean forward and let your extended leg follow your body, so you can do a Tilt.
Raise your leg in front of you and straighten it for a Front Leg Extension.
Middle Over-Split
Instructions:
Put your feet through two loops.
Place the band behind your head.
Straddle your legs to the side.
When you are in the correct posture, push your legs to the back to stretch your hips nicely.
Tips:
The distance between the loops depends on how far you can go in a split. The closer the loops are, the higher and harder the split will be.
You can work on one leg at a time to achieve this challenging posture!
Scorpion (Needle)
Instructions:
Put your foot through a loop near the center of the band and raise it to the back.
Use the band to pull your legs up into the scorpion pose.
Pull the band down so your legs can straighten and stretch as far as possible.
Tips:
If you don't want to put a hand on the barre, you can stand closer to a wall and gently lean your elbows on the surface.
Look at a fixed point ahead so you can maintain balance.
Needle Over-Split
Instructions:
Put your supporting foot through a loop and stand steadily on the floor.
Raise your active leg high and let it follow your torso as you go lower and place your hands on the floor for support.
Slip the band on your active foot too.
Straighten the top leg as much as you can.
Tips:
It is not a full split with your legs forming a 180-degree angle, so you should calculate the distance between the loops you use.
Bow Pose
Instructions:
Loop the band around both of your feet and lie down on your stomach with your elbows propped up.
Take the two ends of the band and straighten your legs with your feet pointing upwards. So, you can stretch your back so much more!
Tips:
For a more advanced version, pull your legs over your head and roll onto your chest until your legs are stretched over your body.
Check more: 7 Best Ballet Foot Stretchers for Dancers' Flexibility
Where to Buy Ballet Stretch Bands?
Stretch bands are available in almost all stores for dancewear, whether you are online or direct shopping. Rubber ballet stretch bands are generally suitable for other styles of dance as well.
Another type of place you can look at is the stores for sports equipment, especially if they have a section for gym-goers and gymnasts, because they benefit from stretch bands as much as dancers do.
Be sure to check if the sellers have good customer service if you are purchasing online, in case you are not satisfied with what you get and want an exchange. For offline stores, of course, we will have an easier time picking and even trying them out.
3 Best Ballet Stretch Bands to Buy
SuperiorBand – Ballet Stretch Band
This full-loop band seems to be living up to its brand name – SUPERIOR. The latex material is one of the most durable fabrics we have come across in a while, so you will find few to no signs of them being torn or worn out.
The length and the width of the Superior band are perfectly compatible with both upper-body and lower-body exercises because they can help you target almost all spots on your body.
More importantly, the resistance from the band is available for adjustment. It is not too harsh for young dancers, and adult dancers can easily fix the pressure points for more pressure on their muscles.
Despite the heap of benefits it brings, this band might not grip that well when you are all sweaty during your practice. Some customers also wish the band would come with a booklet of exercises rather than mere access to video tutorials.
Pros:
Durable latex
Reasonable length and width
Versatile resistance levels
Cons:
No booklet is included
Cannot grip well on sweaty skin
The PlumBand Stretch Band for Dance and Ballet
PlumBand is a well-loved brand of young dancers, and we have fewer reasons to hate them than to love them. For starters, the travel bag and the instruction booklet are extremely helpful when you need to go on a trip.
The package offers two sizes. The smaller band is more suitable for children under 5 feet, while the larger size is more for older dancers. However, adults can also use the children's band if they want to focus on narrower spots.
With a continuous loop of natural latex rubber, this stretch band leaves no room for complaints regarding resistance and durability. It opens up the opportunity for the dancers to stretch their arms and stabilize their torso while at it.
A rather serious problem we have with the PlumBand is that it develops melted spots if exposed to the sun directly, hence you need to be very careful with the maintenance!
Pros:
Convenient for traveling
Two different sizes for more applications
Durable and stretchy rubber
Various choices for colors
Cons:
Not holding up well under high temperatures
Pretty Simple Ballet Stretch Band for Dance
When designing this foot stretch band, Pretty Simple was fixated on creating something that could unlock the potential of all dancers, even when they are practicing alone. It reduces the risk and motivates your muscles at the same time.
The length of this stretch band is suitable for both children and adults, ranging from 4 feet 8 inches to 5 feet 11 inches in height. This will come in handy when you try all the exercises we have included in this article.
Due to the layering process in the production, the comfort and the endurance of the band is not something we need to doubt! The texture of the band will never press and leave marks on your skin, and it will never break or snap unexpectedly.
We don't recommend sending this band as a gift though, as the smell is pretty bad when you unbox it. Tall dancers may also find the band a little short for them.
Pros:
Durable and stretchy.
The layered structure makes it last long and comfortable.
No allergic reaction.
Nice color options.
Cons:
Unpleasant smell.
A little short for tall dancers.
Final Words
Are you ready to try one of the intense flexibility exercises with these ballet stretch bands?
They might be the postures you feel like you are not ready to try without assistance, yet the band might make them much more possible.
Listen to your body and give yourself enough time, you will be surprised by the improvement you achieve.