Leg warmers for dancers are known to help prevent injuries and improve the quality of practices. Their irreplaceable place is only further affirmed by celebrities constantly using them in mainstream fashion.
If you want to not feel overwhelmed by the amount of merchandise on the market, don't miss this article.
What Are Leg Warmers?
The name has pretty much summarized the definition and the duty of leg warmers. They are pieces of a garment covering the lower half of your legs and keeping them warm.
For convenience, they are usually footless, allowing the user to put on and take off shoes and socks easily.
The materials for leg warmers vary greatly. Some dancers prefer breathable fabrics, the others love the stretch of synthesized fibers. To an extent, materials affect the length of leg warmers too.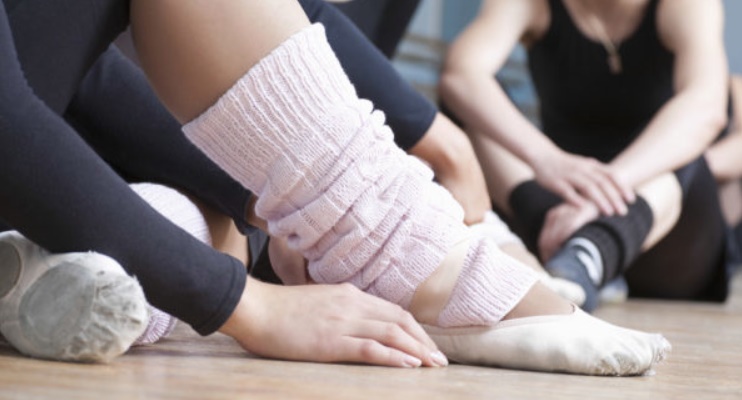 Types Of Leg Warmers
On the market, you will find an overwhelming variety of leg warmers divided into different types.
Thigh highs are typically 50 – 85cm in length. Aside from the immense warmth they bring to you during the coldest days, they also look very elegant and sophisticated.
Knee highs are widely favored due to the average length of 40cm. They combine well with leggings and tights but still stay fresh. Dancers can use them to mix and match various outfits when not on the dance floor.
Ankle highs are generally for stylish purposes rather than athletic means. At 15cm, they are only in the middle of the calf, hence it's easy to put them with different items.
Stirrup might sound foreign. It's the special type of leg warmers that leaves your heels exposed and puts a band of fabric across your feet's arch.
What Do Leg Warmers Do For Dancers?
When you are dancing and your muscles are "cold" with no warm-up, the risk of injuries is immensely high because the flow of oxygen and blood won't be as good as necessary.
This flow also minimizes the effect of lactic acid and makes you feel less sore.
Therefore, leg warmers do what their name indicates: keep your leg muscles warmer and improve blood circulation.
On winter days, the warming-up process will be remarkably less effective. So, leg warmers will be even more beneficial when it comes to preventing injuries, especially the specialized designs with some compression.
Dancers typically wear leotards and tights, though these products don't usually have the required feature to insulate and retain the heat in your muscles.
Track pants are one of the desperate methods in dire situations, though they don't showcase the dancer's figure and posture as clearly. And thus are not suitable for dance practice.
How To Wear Leg Warmers?
There are so many ways to style your leg warmers! However, in a studio for practice or a rehearsal, professional dancers wear knee highs in two primary ways.
Leg warmers over the ankles
You will pull the leg warmers up to the middle of your calves and let the ends of them wrap your heels neatly. It will provide the heels with more warmth and a pleasant layer of fabric.
Leg warmers over the knees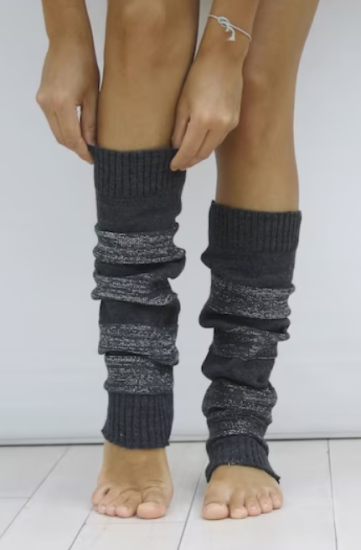 If your practice or performance involves more knee bends and extends, you might need to get your knees warmed up first.
Hence. pulling the leg warmers past to the knees and leaving your entire feet bare will be a wise solution.
For ankle highs, they are mostly bunched up around the ankles. If the size is compatible, they can act as an alternative for wrist warmers.
Thigh highs will offer us enough length to cover both our heels and our knees, so we don't need to choose between the two ways mentioned above!
3 Best Leg Warmers for Dancers
With the importance of leg warmers for ballet dancers, or other dance styles, you might feel very urged and eager to grab a nice pair for your next practice.
Here are some reliable products that dancers often try or restock for their dancewear collection!
v28 Neon Knitted Leg Warmer
v28 is extremely proud and confident to be the one and only supplier that knits leg warmers using elastic yarn and German equipment.
It gives the knitted texture a unique shine as well as the durability to last for years. The neutral colors make such nice leg warmers for male dancers too.
The free size of 24 inches in length and 15 inches in top circumference easily fits most sizes and body types.
Its versatility pairs with vibrant colors and becomes such a pleasant present for dancers who want to look stylish inside and outside of the practice room.
However, the material is quite demanding regarding maintenance because viscose is sensitive to the material. You need to wash them with cold water and avoid using your iron or dryer on them. Bleach is absolutely a no as well.
Pros:
One size fits most sizes
Impressive knitted viscose and nylon
Vibrant neon colors
Cons:
You need to be careful to maintain its prime
Body Wrappers Thigh High Leg Warmers For Dancers
Body Wrappers provides a wide range of sizes in their leg warmers. However, this product became so popular because it combines the most convenient and favored types of leg warmers: thigh highs and stirrups.
While they keep you warm from your knees to your feet's arches, they are extremely stretchy and flexible with no hindrance to your movement.
From casual dance classes to something as serious and demanding as ballet, you will get nothing less than an amazing experience.
The manufacturer goes for a one-size-fits-most policy due to the stretchy and soft materials that are sure to fit the majority of body types.
Nonetheless, we find the fit a little too tight because of the acrylic fabric. So, it might not be the best choice for sensitive skin.
Furthermore, when you dance, these leg warmers won't slip down your legs. It is not only because of the band across your feet. We reckon it's where the tightness comes in handy.
Pros:
A nice design for functionality and versatility
Stretchy acrylic fibers
Not slipping off when you move
Cons:
Might irritate your skin if you buy an overly small size
MySocks Stylish Fancy Leg Warmers
The fancy design from MySocks is the kind of leg warmers you can put over your ankles or knees, depending on your preferences and needs.
Either way, this ribbed cuff will stay where you want it to be and hug your calves in a snug fit without leaving imprints on your skin.
Like Body Wrappers, the stretchiness and durability of MySocks also come from the 100% acrylic material. This fabric is certainly good enough to give you the temperature you want and still look so posh, though it has the same problem: durability.
We also adore MySocks for the impressive variety of colors they have mixed and matched into these leg warmers. They are highly appealing in the fashion aspect, which makes them a great option for gifts on special occasions.
Pros:
A snug but comfortable fit
Many colors and patterns are available
Cons:
Not the most durable product
How To Choose Dance Leg Warmers?
Material
Leg warmers are available in numerous materials, so we should be careful of what we go for.
Fluffy and fuzzy fabrics feel so good on your skin, though they would be unproductive if you are living somewhere with more warm and hot days.
In a warm climate, you need a material that gives enough ventilation and dries quickly, like cotton and acrylic instead of knitted fibers.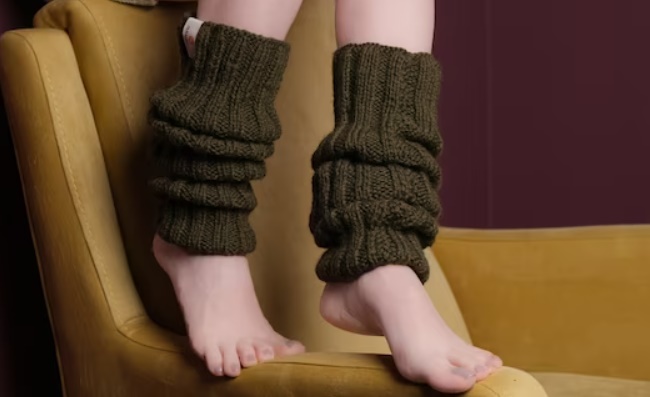 Length
Leg warmers can run up to your knees or your thighs, so it is a matter of preference here. Whatever length you choose, you only need to ensure the garments won't squeeze or rub against your skin.
Dancewear brands typically offer either one size that fits most customers or various sizes for options. So, you will always find something suitable for you!
Fit
For the best experience, you need to balance between tightness and comfort. If the leg warmers are too loose, they won't stay in the right position when you dance.
On the other hand, an overly tight fit will block your blood flow, which is against the purpose of leg warmers!
Construction
Some leg warmers come with seams for optional adjustment, yet these seams can affect your natural movements as well. The zip design is also very commendable when the dancer needs to change quickly.
In premium leg warmers, the panels are distributed rather distinctively. For example, the knee part will consist of spandex and lycra, and the thigh has windbreaker panels. This distribution affects the performance of the product too.
Safety
In some cases, the leg warmers will receive special enhancements so they can endure external factors such as UV rays and extreme coldness.
If the dancer practices in darkness, warmers with reflective streaks will provide more vision and ensure no accident happens during the performance.
How To Care For Leg Warmers?
Leg warmers are not the type of clothing that demands extreme maintenance to stay in its prime condition. However, they still call for some attention if you want to make the most out of them.
For soft knit, washing machines might lead to wrinkles and shrinkage in the worst case. You will need to follow the manufacturer's instructions on how to clean your leg warmers in this case.
For legging materials, it is extremely crucial to wash them with cold water and let them air dry naturally. The tossing of washing machines and the heat of dryers will ruin the shape and the texture.
The general process to wash your leg warmers is as below:
If you have some fuzzy materials, you should check if there are any debris fragments stuck in them and comb them out with a small comb.
Let cold water rinse through it and make sure the dirty patches are soaked thoroughly.
Change to lukewarm water and add a mild detergent. Instead of scrubbing like with normal clothes, use a piece of rag or cloth to get all the dirt off.
Rinse your leg warmers with cold water for 2 – 3 times.
Hang them somewhere airy and windy enough for them to dry.
Furthermore, when you practice, it is advisable to tuck the ends of your leg warmers into the back of your shoes. Don't drag them on the floor as this will ruin the texture.
If you don't want to have fabrics stuffed in your heels, you can go for a shorter pair.
What Can I Use Instead Of Leg Warmers?
While leg warmers are the best at what they do, there will be situations when we have to look for an alternative either for convenience or budget.
Dancers tend to do quite well with thin tights when the weather is cold and wearing shorts when it is too hot. As long as they feel comfortable and the materials are not stuck somewhere, they have a good replacement for the leg warmers.
Another option for DIY lovers is making leg warmers from socks, sweater sleeves, or unused leggings. It only involves some cutting and stitching, so it won't be too much of a hassle.
If you have more time to invest in a DIY project, knit a pair of leg warmers with a loom and fabric threads. It is not an easy task, yet it gives you full freedom over what your product looks like.
Final Words
Legs warmers for dancers come with benefits in both aspects: style and function. However, the market is undoubtedly too huge if you go in without having a rough idea of what you need.
Hence, we hope this article will be helpful in your journey to find and enjoy the most comfortable leg warmers in your practice.