Belly dance is a beautiful art that requires the integration of the performers' souls and their entire bodies.
Their dazzling costumes, graceful movements, and charming facial expressions draw every single look of the audience and make them deeply engaged in the performance.
But not every belly dancer can make that.
The 10 famous belly dancers in this article will show you what real masters of this oriental dance are like.
Top 10 Famous Belly Dancers In The World (Male & Female)
10. Mohamed El Hosseny – Famous Arabic male belly dancer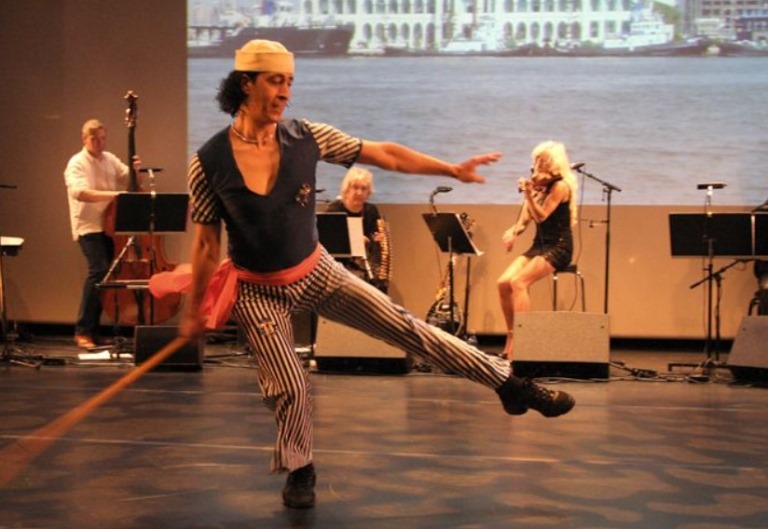 The only man on this list is a famous Arabic male belly dancer, Mohamed El Hosseny.
His artistic career began as a musician when he was nine years old but his love for dancing developed after his role as the accordion player for a young folk dance group at the age of 11.
He believes that dance is a much more effective way to convey his messages and energy to the audience through his whole body rather than only with his fingers.
Having appeared in many TV shows, he is known to the audience in Egypt as the first male dancer in his country.
Thanks to years of ballet training, he masterfully controls his power, dancing techniques, and body to be able to deliver his most charismatic stage performance.
Hosseny masters various dancing styles such as Egyptian folkloric styles including Saidi, Nubia, Alexandrian, and Fellahi, and the modern Oriental dance.
9. Mata Hari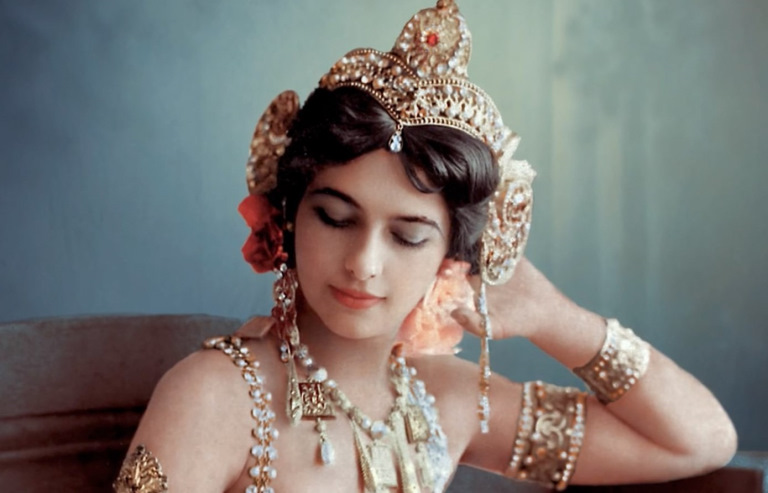 That would be a huge mistake if Mata Hari was excluded from this list of the best belly dancers of all time.
Mata Hari, whose real name is Margaretha Geertruida Zelle, is a Dutch exotic dancer. Her commonly known name has its roots in Indonesian which means "Sun".
As her name tells, Mata Hari is a gorgeous and bewitching dancer on stage.
She trapped the attention of her audiences with her flirtatious, promiscuous, and flaunting body movements trembling in a thousand rhythms.
It was not until her performance at the Musee Guimet in March 1905 that she rose to fame and achieved overnight success.
She was the person who revolutionized originally underestimated erotic dance and successfully exalted it to a more decent status.
Demonstrating the flexible grace of a wild animal, at that time, her dancing style was so unique that no one could imitate it.
8. Syrena Nikole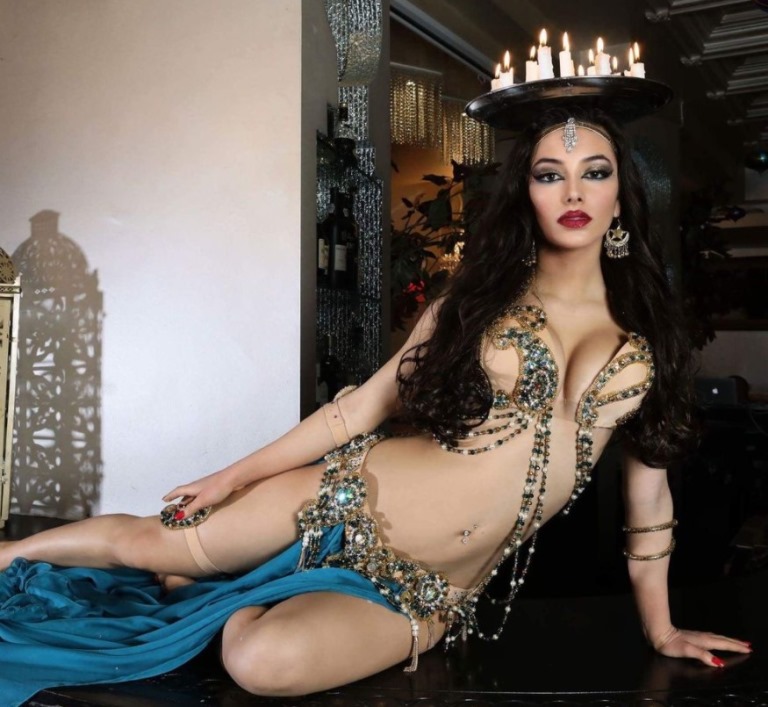 Belly dancing has been an indispensable part of Syrena Nikole's life. She began to dance at the age of three.
On stage, she blows her audience away with her captivating performance, charming beauty, and outstanding talent.
Her style is a harmonious combination of vintage and contemporary techniques, which are often described with several complimentary words such as passionate, liquid, charismatic, off the chain, and more.
Her performance props are also diverse including Scimitar swords, feather fans, palm candles, wings, and finger cymbals.
Aside from being known as a belly dancer, she is also a big name in the community of professional singers. She can sing a variety of music genres ranging from musical theater to rock and everything in between.
Significantly, one of her albums features belly dance-pop music.
You can find her at any 5-star local and international hotels such as the Guyana Marriott Hotel and The Sanctuary Hotel or the hottest clubs in New York City like Arabesque Lounge, Le Souk, and Hayaty.
7. Dina – Famous Egyptian belly dancer
Dina is a well-known belly dancer and actress in Egypt. She was born into a rich family and has a degree in philosophy.
Her dancing career started when she joined a folkloric troupe at the age of nine. In the 1980s, she continued her career as a soloist and soon became famous.
Initially, her passion for belly dancing met with opposition from her parents. In an interview, she said that it took her parents three years to speak to her over again.
Compared to other conventional Egyptian belly dancers such as Nagwa Fouad, Tahia Carioca, or Soheir Zaki, Dina is different but distinctive regarding her dance style, her expression, and her costumes which are not like the traditional Egyptian Bellydance costume.
In her autobiography titled My Freedom to Dance, she defends her right to perform Raqs sharqi (belly dance) in her own way notwithstanding any reticence or contempt.
Her passion, persistence, and courage are what make her considered an innovator of Raqs Sharqi. She is widely admired for her dance ability.
Her movements are described as beautiful and relaxed, while her body seems like jelly without bones.
6. Didem – Famous Turkish belly dancer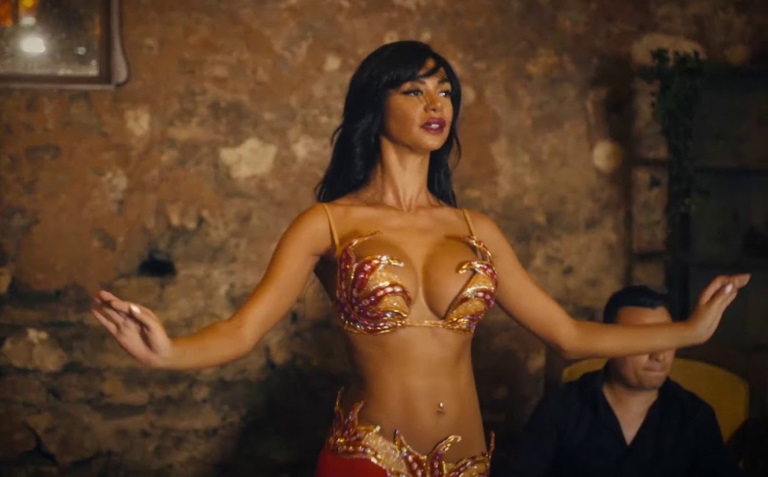 Born in 1986 in a Turkish gypsy family whose livelihood is performing live music and dancing, Didem Kinali developed her love for belly dancing at a very early age.
Didem's first dancing venue was in the suburban district of Avcilar.
Later, along with her tutor Sema Yildiz, she moved to the high-ranking venues located in Takism which is known as the heart of Istanbul's nightlife.
She rose to prominence after participating in a talk show and performance program called Ibo Show in which she mesmerized the audiences with her beauty and talent.
Eye contact and a radiant smile are the means by whereby she conveys her energy and appeals to her audience.
Although Didem has appeared on some TV shows in Turkey such as Sabahların Sultanı, Beyaz Show, and Ibo Show, her private life seems to be a mystery as she scarcely reveals herself on television.
5. Lia Verra – Famous Greek belly dancer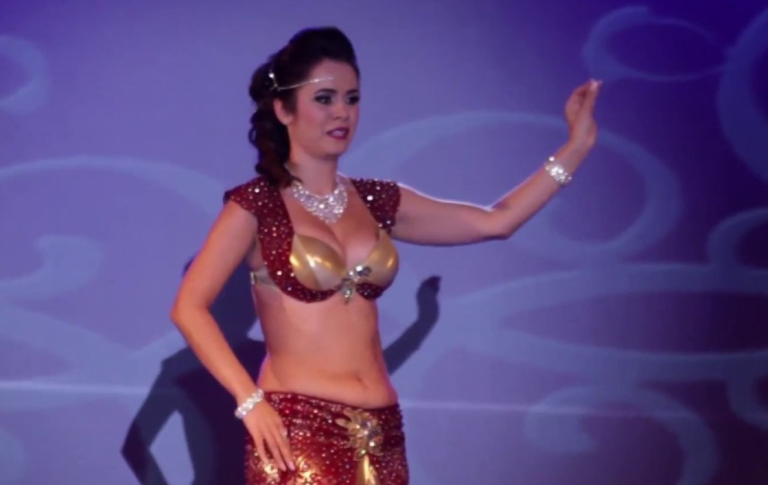 Lia Verra is known as an international oriental artist, instructor, choreographer, and owner of the International LdB Greece Festival.
Being one of the most successful and talented Oriental dancers in Europe, Lia Verra is a real killer to her audience with her natural, elegant, and breathtaking performance as a weapon.
On top of that, her enchanting dancing presence also inspires her audience to learn Oriental dance.
When she was very young, she started learning classical Belly Dance under the coach of world-class master teachers.
Besides belly dance, Lia's repertoire includes many other dance types such as Latin dance, Zumba, and classical ballet, and also has a master's degree in Ballroom and Latin Dance.
Despite her accomplishments, learning new things seems never-ending to Lia.
She regularly travels across Egypt, Europe, and Turkey to study a series of spectacular Oriental dancing moves and techniques so as to create original and eye-catching works.
4. Amani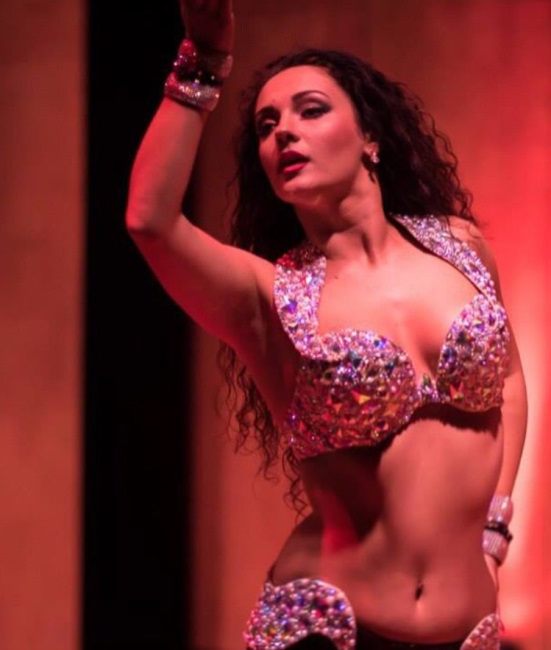 Inheriting her mother's love for dancing and acting, Amani is a renowned actress, dancer, and choreographer in Lebanon. Her talent was spotted by a Lebanese entertainment VIP at a party and that's how a star was born.
What makes her stand out from the stream of regular dancers is her distinctive style.
In 1993, Amani showcased two historical stories in a corporeal form with an attempt to propagandize culture and education, which was reckoned as a hallmark in the history of oriental dancing.
Additionally, she was the pioneer who elevated Belly dance from entertainment at nightclubs to art performed at formal theaters.
Regarded as a Lebanese dance ambassador, one of the prestigious titles she has been granted is the Carnival of Dancing.
Moreover, she also excels in a variety of styles of dance namely Indian, Jazz, and theatrical dance.
Her fame is not restricted to the Lebanese boundary but even reaches America. That's why she becomes one of the most popular dancers in the world.
3. Rachel Brice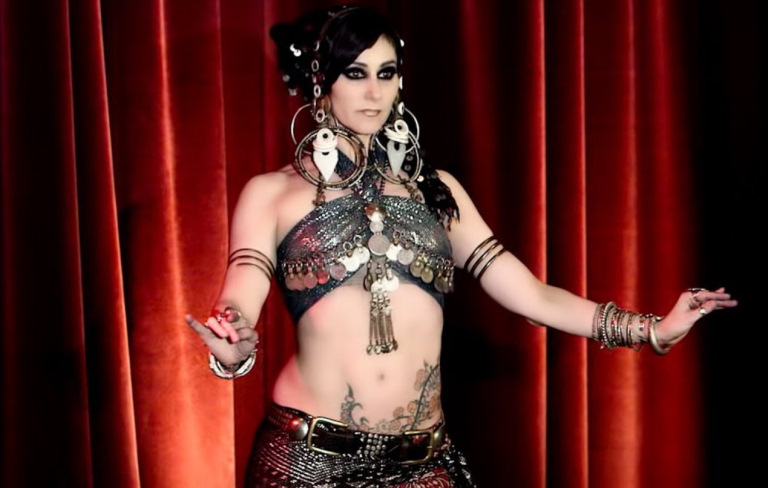 Rachel Brice is an American belly dancer. In addition to being a regular performer of the Bellydance Superstars, she also works as the choreographer and artistic director of the Indigo Belly Dance Company.
She has appeared in multiple media such as television, radio, online or social media like on Tiktok in the role of a performer, a movement arts pedagogue, and a teacher of belly dance.
Her love for this beautiful dance began to spring up after watching Hahbi Ru in the early nineties.
The charismatic performers adorned with stunning antique tribal jewelry, rich textiles, and facial tattoos vehemently struck her and changed her perspective of beauty for good.
She soon after registered for dance classes in American Cabaret.
She masters various dance styles such as American Tribal Style Belly Dance, Modern Dance, African Haitian, Kathak, Flamenco, and Odissi Classical.
2. Amelia Zidane – Sexiest Belly Dancer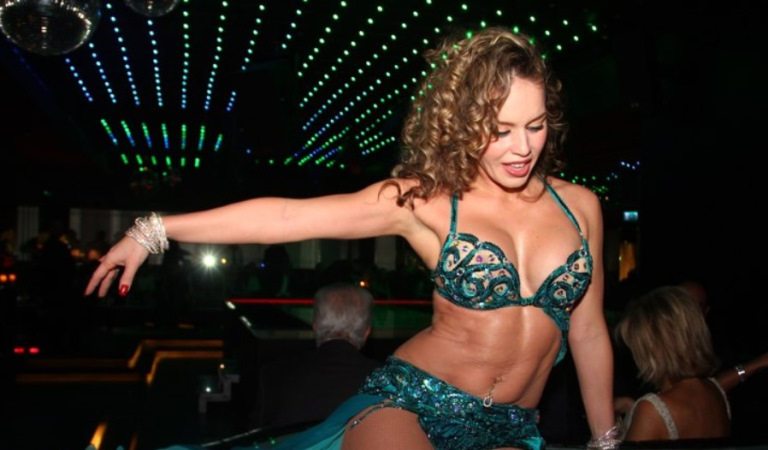 Amelia's passion for music, dance, and theater motivated her to abandon her intention of becoming a children's psychologist and move to Paris to chase her dream in 1994.
Whenever music starts, she lights up the stage like a queen with her graceful movements. Thus, you will feel regretful if you take your eyes off her for just a moment.
Amelia is such a famous belly dancer that she is the first to appear on the covers of Elle, French Magazines, TéléMag, and more.
Her current achievements consist of more than fifteen shows, one world tour, two European tours, and many stages in top-ranking theaters around the globe such as Bercy, Olympia, Zenith, Central Park in NYC, and Manu Chao in Toulouse.
Furthermore, she also collaborates with world-class artists like Adam Youssef and D.J. Said Mrad.
1. Alla Kushnir – Greatest belly dancer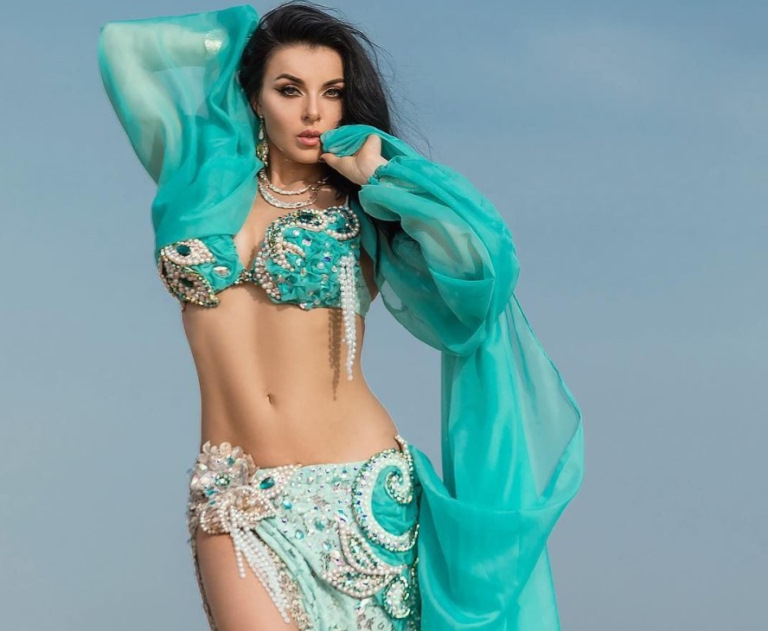 The list cannot be complete without the big name in belly dance – Alla Kushnir.
Thanks to years of hard work and training, Alla has had an excellent command of oriental dance. Her performance is fueled with power, passion, agility, vitality, and temperament.
She has performed in several countries and created great echoes in the belly dancer community.
She has a firm belief in the power of dance which will change the attitude of a woman toward her own identity and surroundings.
She has won many awards and titles such as
being the finalist of the International Dance Olympiad in Moscow, silver medalist of the World Championship in Moscow in 2007;
silver medalist of the competition Made in Russia;
winner of the Oriental Bazar competition in Germany;
silver medalist of the European Belly Dance Championship in Belarus in 2008;
the champion of the Ukrainian Festival of Oriental Dance in 2007, 2008, and 2009.
Final Words
The ten amazing people above are without a doubt the best belly dancers in the world. They have shown us the real talent and passion for belly dance which is a controversial genre of dance in some countries.
Nowadays, belly dance becomes popular among women of all ages in an effort to enhance their confidence and self-esteem.
Some believe that it is a useful tool to enable a woman to express her innermost soul despite others' prejudice.