If you think looking for the best ballroom dance shoes seems like a critical task when you decide to give this formal style of dancing a try, you are not wrong. The right shoes will have to protect your feet from impact and provide enough support for you to perform challenging dance moves accurately. Without further ado, let's see what we have got!
7 Best Ballroom Dance Shoes for Beginners & Professional Dancers
1. Stelle 1.5″/2″ Women Character Dance Shoes Ankle Strap Heels
There are many reasons Stelle shoes become international dance shoes, favored by professionals as well as amateurs. It's such a role model for ballroom footwear with leather upper and rubber soles, and low heels.
The insole is a true gem. They use memory foam to cushion it and keep the lining very skin-friendly. So, you will have ample support while the soles remain flexible and soft. It means you can put them on and dance your heart out, or dress up in a compatible outfit.
The toebox deserves appreciation too because the roundness will hug your toes with no pinching and easily embrace any width of your feet. Coupled with sizes that match street sizes, these shoes are ready for use anytime.
Pros:
Standard design with premium materials
Comfortable and steady
True to size
Cons:
Leather requires more maintenance
2. TTdancewear Women Rhinestone Ballroom Dance Shoes
Breaking the norms and shining like nothing else, TTdancewear proudly promotes their ballroom shoes for women with no expense for rhinestones. If you want something that catches and reflects the lights very well when you are on the dance floor, you have found it!
Don't jump to conclusions too quickly and think it is only good for fashion. The suede sole is as solid as what you can expect from dancing shoes. They don't put your feet in an awkward arch, and they synergize well with sturdy heels.
The area beneath your toes is made with the same thickness as the midsoles to give your posture the necessary comfort for any spinning and skidding. Your movements are further supported by the toebox and the straps around your ankles.
Pros:
Elegant and classy design
Thick soles made of suede ensure comfort
Adjustable fit
Cons:
Might be a little smaller than the actual size
3. YYTing Low-Heel Women Ballroom Dance Shoes
What do you do when you want perspiration absorption, breathability, flexibility, comfort, and sleekness all at the same time? YYTing combines satin upper, suede insoles, cotton lining, and latex midsoles in their ballroom shoes. It's an ambitious but very reasonable move.
The elastic bands and the heels are responsible for the quick and easy fit as well as protection for your feet when you dance. Therefore, while these shoes don't put any weight on you, they keep you safe from possible injuries.
The minimalistic but elegant design opens up many occasions where you can adorn YYTing ballroom shoes. Aside from practice and performance, they are as good as you can imagine when styled with semi-formal attires for dates or ceremonies.
Unlike many other dance shoes, this product stays true to the street sizes of the brand. So you can use the chart, pick your size, and give them some time to adapt to your feet.
Pros:
Fashionable design with various colors
Breathable and comfortable
Many applications are available
Cons:
Might be large for narrow feet
4. iCKER Women's Professional Latin Dance Shoes – Best Price
Leather and canvas can take a break for a while, as iCKER introduces to us their beautiful satin shoes. They are so smooth to the touch and weigh like nothing. We can see the brand is focusing on aesthetics with the variety of colors they are putting on the table.
You might be concerned because how is satin going to endure the pressure a dancer goes through? Fret not, these shoes are still backed with suede soles for balance and slip resistance. Even polished wooden floors wouldn't be too much of a threat to you.
Furthermore, the adjustable buckles will make sure the ladies feel completely relaxed when they are standing on the 2.4-inch heels. These shoes flatter the figures so naturally and effortlessly, hence you can utilize them for ChaCha or Rumba as well.
Pros:
Fancy-looking with satin
Lightweight
Various colors for your choice
Cons:
Lacking support for the outer lines of your feet
Not fitting wide feet
5. Very Fine Dante Men's Ballroom Dance Shoe – Best Quality
Very Fine dance shoes would never disappoint. For gentlemen, the manufacturer offers the Double Sole feature to increase the comfort they will receive and ensure they can lead their partner without unwanted slipping.
Between the suede sole and the heel is high-density EVA. It is another premium feature to reduce the impact your feet have to endure in ballroom dancing, which looks easy and gentle but actually feels as vigorous as any other genre.
Not only are they the best Latin ballroom dance shoes for men, but they also perform really well in other dance styles like Waltz, Salsa, Tango, and more. The premium arch support gives you comfort and stability enough for the most powerful movements.
Tear and wear are no longer your concern when your feet are protected by pads with memory foam.
Pros:
Double Sole and EVA technologies for extra comfort
Versatile with various dancing styles
Memory foam padding for protection
Cons:
Fairly expensive if you only want practice shoes
6. Capezio Women's Practice 1″ Ballroom Shoe
Capezio is never absent from the top brands for dancewear with advanced technologies such as stretch-insert, split-sole, Tapsneaker, and Dansneaker. You will get a little bit of everything in their best practice ballroom dance shoes for women.
Leaving the concern about maintenance behind, Capezio uses 100% canvas to give their shoes a not-so-formal look and maximum durability. The soles are made by skilled craftsmen with an admirable amount of details, cushioned to provide comfort.
It is also lined with cotton and padded around the Achilles notch to embrace your feet thoroughly with every step you take. On the front, you will have all the freedom to customize the laces, hence these shoes are suitable for wide feet as well as narrow feet.
Users are relieved when they consider this product, as the size stays true to regular street sizes.
Pros:
Durable canvas and moisture-absorbent cotton
Handmade suede insoles
Customizable fit
Cons:
Not following the down-a-size rule like other dance shoes
7. Very Fine Dance Shoes SERA702BBX Ladies Practice Cuban Low Heel
Very Fine follows the standard very well and uses suede for the soles of their dance shoes. These soles are non-slip with 1.5-inch heels, a very suitable height to commend the dancer's figure without being an obstacle to their movement.
The insoles live up to the outsoles with nano-fiber that removes bad odors and lets the air circulate more regularly. They are backed by footbeds with cutting-edge padding for more durability and comfort.
You can imagine the shock your feet might have to endure when you jump or stomp your feet too hard. But the multi-layered soles absorb the impact so well.
Don't rush to the conclusion that they focus too much on the soles and neglect other parts. They designed the upper very well for breathability and appearance with leather and mesh distribution.
With a Very Fine purchase, you also get a folded brush to keep your shoes in prime condition, which will come in handy with how much maintenance you need to do for leather and suede.
Pros:
Nonslip and deodorizing insoles
Thick memory padding to reduce shock
Durable and breathable mesh upper
Cons:
More expensive than other products
It takes some time to break in
How To Choose The Best Ballroom Dance Shoes?
Fit
Ballroom dance shoes are not the same as regular street shoes. We always want our footwear to fit, yet ballroom shoes need the fit to be perfect.
If your budget allows, you can have customized shoes that fit faultlessly. Otherwise, here are some tips:
The brand you are having your eyes on should offer half sizes along with a range of widths. So, you can make sure the shoes fit snugly without forcing your feet inside or using inserts to fill the gaps.
Ballroom shoes often include a see-through strap that you can adjust and fix the fit without ruining the aesthetics.
Styles and sizes have a connection. Rounded-toe shoes would always feel more roomy than pointed-toe, for example.
Always try the shoes in the evening or after engaging in some activities because your feet will be warmer and enlarged by then, almost identical to when you are dancing.
If the shoes don't fit you perfectly, there will be clear signs indicating the issue:
The front and the back of the shoes constantly slip off.
The sides and the ankles feel wobbly.
Your feet feel like they are being squished.
You wear the shoes once and they have already become uncomfortable.
Material
When it comes to shoes for men, there is hardly anything better than ordinary leather.
We agree that patent leather looks amazing, though new and intermediate dancers might find it too stiff. They might also get discouraged if their first dance shoes keep cracking.
On the other hand, women have plenty of choices: leather, silk, or satin are all good for their feet. You only need to ensure the shoes look good with your outfit and give you enough flexibility.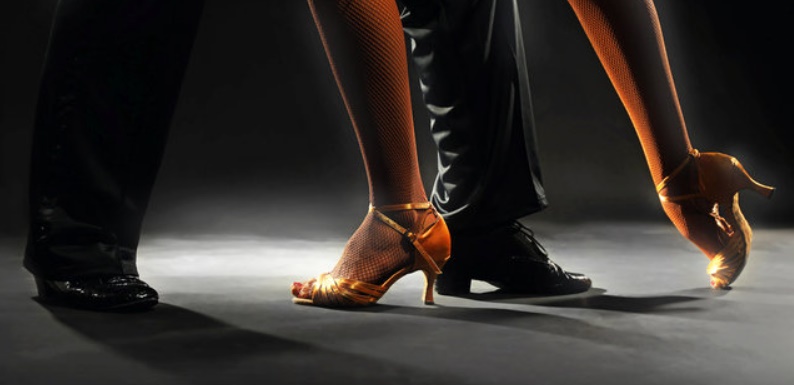 Heel Height
Many new dancers might assume heel height is a matter of preference, or that higher heels would elongate their figures and make them look better. But it is far from the case.
Heel height is extremely important because it determines how your weight is distributed and balanced. Therefore, it has a say in how you dance.
Your heel height would be fairly consistent regardless of the styles and shapes. A heel of 0.5 inches would allow you to execute all techniques effortlessly, though Latin shoes might raise this number to 1.5 inches.
You have more choices, especially if you are a learner. The instructor would evaluate your skills and suggest a suitable heel height based on it.
Generally, flare heels offer more stability and are thus better for newbies – about 2.5 inches.
Meanwhile, stilettos are all about aesthetics and compatible with advanced performers only, though they wouldn't go further than 3 inches.
Arch Support
Even a commoner should have enough support for the arch of their feet. For professionals in dancing and sports, this feature has become more necessary than ever.
No matter what type of dance you're performing, your arch is always under a remarkable degree of pressure. If the heels are high, this pressure will only increase.
Insufficient or incorrect arch support might lead to foot problems and later injuries.
The Shoe's Toe
Closed-toe and opened-toe are a dilemma for female dancers (or followers). They make great differences in your dancing and not only your appearance.
As a result, ballroom dancers put these two types into two separate categories.
When you perform Smooth/Standard dances such as Waltz or Tango, closed-toe footwear is your go-to choice. They are firmer with better support, so you can move across the floor with control and precision in your steps.
With Latin dance styles that demand quick-paced movements, having the toe box opened means you have a tight grip for agile steps and proper alignment.
The Shoe's Sole
Thick soles give you more protection and durability, yet it isn't what you need in ballroom dancing.
With a thin sole, your steps will be more responsive against the floor, thus minimizing the energy spent as well as the risk of injuries.
Suede is the most popular material for ballroom footwear, followed by leather, for they both provide sufficient traction.
What you need to avoid is rubber and plastic. Rubber has too much grip for you to comfortably glide and spin, while plastic is the exact opposite: slippery and quick to wear out.
The Shoe's Style
Indeed, the fit is more important than the look, though it doesn't mean you shouldn't pay any attention to your style.
In a professional competition, the judges will take everything into consideration, including how glamorous and befitting your outfits are.
Most of the time, you would want your shoes to have closed sides, the straps are optional. They should resemble your costume or be as neutral as possible.
The Shoe's Color
Shoes for men tend to be black or brown since they blend well with the formal attire used in ballroom dances.
Any color too bold might stick out like a sore thumb and even distract the audience from your movements!
Once again, women have more options. Aside from similar colors with men's shoes, flesh tones are not bad at all because they add some length to your legs without tempting the audience to stare at your feet.
Some competitions have strict rules about decorations and patterns on shoes. It's better that you consult them before walking onto the stage with your brand-new shoes.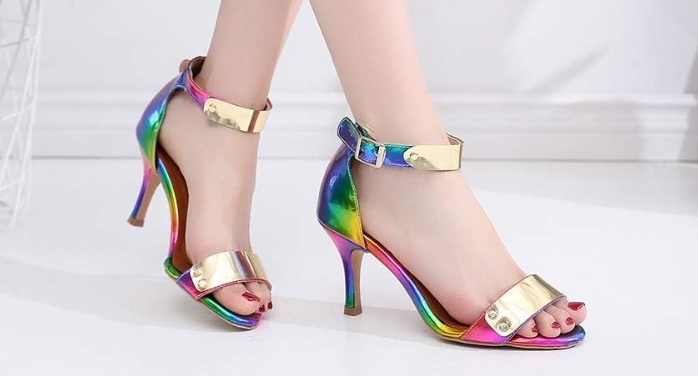 Check This Rainbow Ballroom Shoes On Amazon.com
Maintenance
Once you have got the perfect shoes, the next thing to worry about is how to maintain their prime form.
Although you might not feel it, the shoes are always laden with sweat and dirt after you practice or perform rigorously.
The first step you can do is put your shoes back into their original box or something with the same condition. Unfavorable temperature or weather might shorten their longevity tremendously.
Secondly, ballroom shoes are made of specialized materials, hence they are less durable than regular footwear.
Another reason for their fragility is they have to endure intense uses. Therefore, you can take care of them with maintenance kits but don't expect them to last for years.
A simple solution: Use another pair of shoes when you commute or run errands, so the workload will be divided evenly and not wear your dance shoes out.
FAQs
1. What Type Of Shoes Is Best For Ballroom Dancing?
For performance and competition, you need shoes that are specifically designed for ballroom dancing. For practice and recreation, the most comfortable shoes you have will suffice.
Ballroom heels have suede soles and feel more flexible than normal heels. It provides enough friction for you to slide across the dance floor without taking away your support. However, ballroom heels might lack a bit of comfort.
Jazz shoes can be bent comfortably as you tip-toe and do a difficult slide.
Ballet flats are very well known for comfort and flexibility. Furthermore, they are also pleasant to look at.
Sneakers win as affordable shoes with decent support. They are also very versatile with other activities.
With that said, there are some types of shoes you should absolutely avoid: slippers, socks, flip-flops, and barefoot. They might be fun options but not for dancing with zero protection and support for your feet.
2. What Makes Ballroom Dance Shoes Different?
People might get confused by different types of dancing shoes, which is very understandable. However, shoes to wear for ballroom dancing have some distinctive features that might help you spot them among a heap of other shoes.
Soles: Microfiber and suede are the most common materials because they reduce slipping and enhance support very well. Compared to other types, the soles of ballroom shoes are remarkably stiffer, as the dancers don't need to stand on their toes at all times.
Heels: Alternatively, we call ballroom dance shoes 'court shoes'. The heels are thin and not too high, hence the body weight is distributed evenly across the feet and gives you no pain.
Design: If you can only observe, you can still tell which shoes are for ballroom dancing. These shoes are usually closed and not open-toed, providing a more traditional look as well as adding to the length of your legs.
Check more: Clogging Shoes vs Tap Shoes: Are They The Same?
3. How Long Do Ballroom Dancing Shoes Last?
Many factors will leave an impact on your shoes. The quality of the shoes themselves, how much you use them, and how well the maintenance is. If you are happy with an approximate duration, 5 months – 1 year is the time you have for a regularly used pair of shoes.
Quality is one of the most important elements. The finest shoes might cost you a bit more, but it is still more economically wise than repeatedly buying new replacements.
Professional use and personal use are different too. Professional dancers practice almost every day, hence their shoes might wear out much faster.
We can expect professionals to know how to take good care of shoes better than people who dance for recreational purposes.
4. How Tight Should Ballroom Dance Shoes Be?
You should take one size out of your regular shoes and make sure your shoes fit tightly but not painfully. Don't worry about the stiffness at first, as the materials will stretch as time passes, and shoes that feel loose since the beginning might end up completely sloppy over time.
Our Top Pick
If Stelle 1.5″/2″ Women Character Dance Shoes Ankle Strap Heels are the best ballroom dance shoes for the ladies, the gentlemen have Very Fine Dante Men's Ballroom Dance Shoes to rely on. They might be a costly purchase compared to casual, all-purpose shoes, but the high-quality materials, the professional design, and the amount of support they have will convince you.